As always, welcome back to another Knife Review, everyone! If you can't tell, i've been having a blast reviewing some great hiking and camping gear as of late. And today, i'm coming at you with my Cold Steel Finn Hawk Review!
I recently got my hands on this knife and it's littler folding companion, the Finn Wolf and I have been extremely impressed by both. But more on the Finn Wolf in my next review.
For now, let's dig into my thoughts on this $20 Finn Hawk and see how it stacked up in my testing…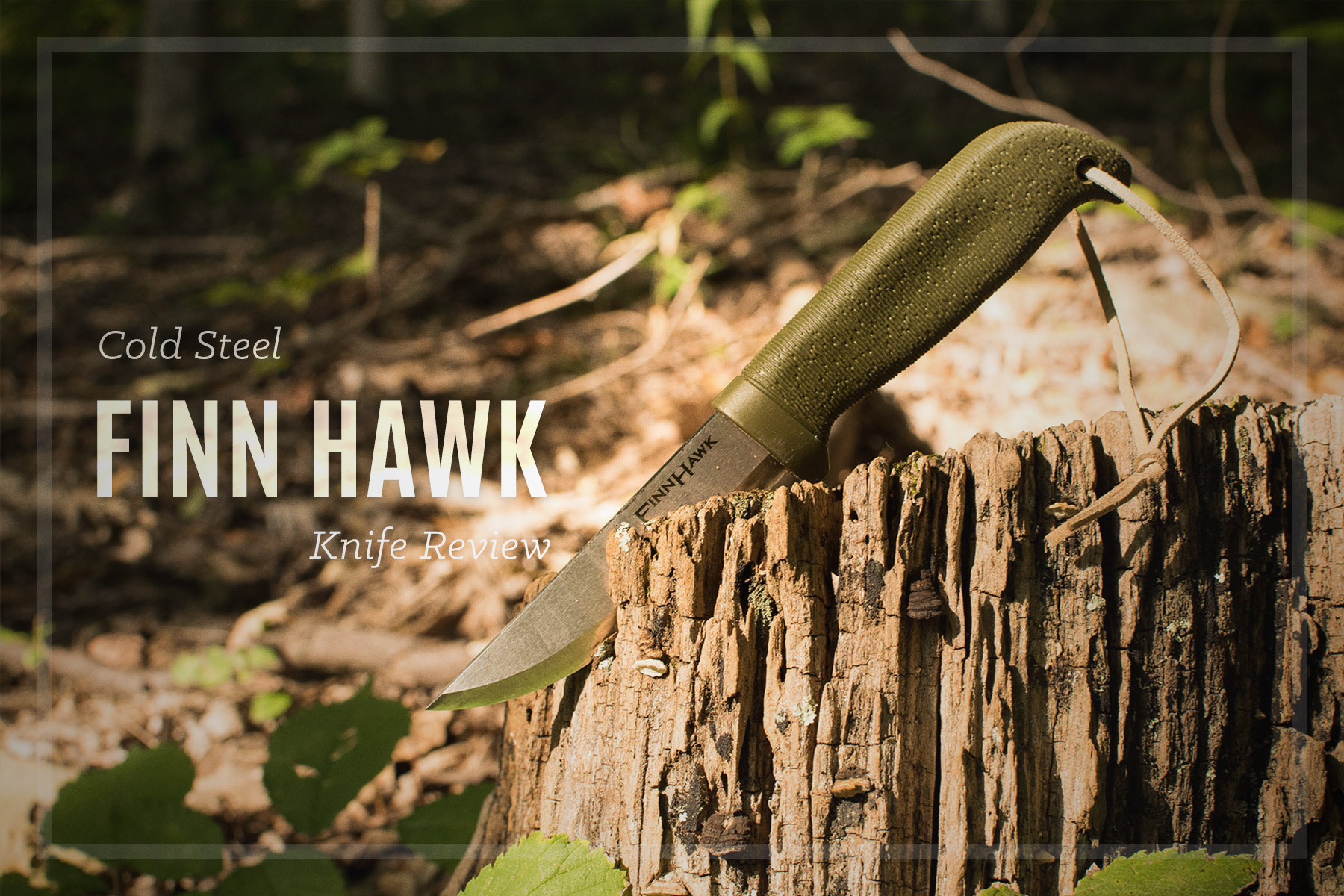 Intro into the Cold Steel Finn Hawk
Some Generalized Specs:
I won't dive into the full specifications of this knife, as these can be found on Cold Steel's website. But i'll give a brief intro into this knife. It's a very lightweight fixed blade knife (5.1 oz.). It sports a Scandi Grind and utilizes 4116 German Stainless steel. The blade length is 4″, with an overall (handle included) length of 8 1/2″.
My purpose in buying this:
For me, I acquired this knife as a lightweight option to bring into the woods when weight is a concern for me. I figured this knife would handle general camping and hiking chores very well – With the ability to handle some heavier tasks if needed (given Cold Steel's insane knife durability).
And let's just be honest…This knife is so affordable that it is a "why-not" to give one a shot. Especially if you're a fan of Cold Steel's other light weight knives like the Finn Bear, Roach Belly or Canadian Belt Knife (which I own as well – with the exception of the Canadian Belt Knife).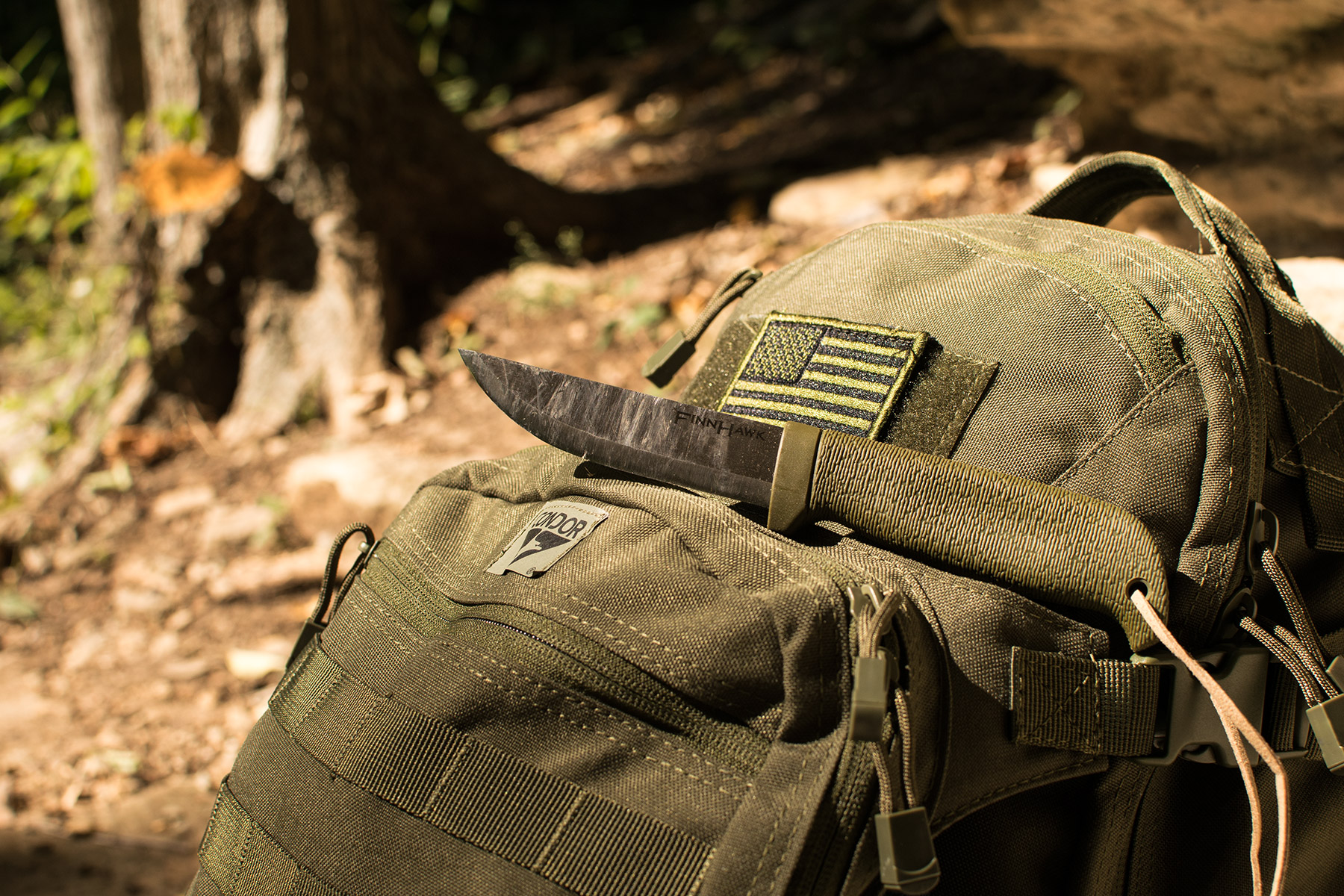 Cold Steel Finn Hawk Review:
Handle:
As soon as I tore open the blister packaging and picked the Cold Steel Finn Hawk up, I was immediately impressed. The rubberized handle fits your palm like a glove! I wear a size medium glove and it felt right in my hand, with some spare room still available for larger hands. And just the same, if you have smaller hands like my wife – It is still a comfortable knife.
I also love the pommel end, as it has a little indention that your thumb cradles perfectly into if you're in a reversed grip for drilling tasks.
Blade:
This is a Sub-$20 knife, keep this in mind. But the blade looks, feels and performs as if it's an $60-80 knife. Cold Steel got smart and put a perfect 90° spine on it, which is rare to find on a knife within this price range. The scandi grind was perfect out of box and the knife came razor sharp.
(This can be our little secret, so don't go and tell Cold Steel this: But based on the blade alone I could see them charging a lot more for this knife…Thankfully they're not, so we can afford to buy a couple of these.)
Sheath:
The sheath on this knife is very Mora-Like. Which i'm not complaining about, as I love this style of sheath. Cold Steel call it's their "Secure-Ex" Sheath. It's essentially a hard molded, Kydex style of sheath with a generous belt clip that can accommodate a 1.75″ belt.
On the same token this is the only area of the knife package that I have a small complaint. The rubberized handle, mixed with the amount of retention that this sheath has makes un-sheathing a task in and of itself. You really have to pull the knife to remove it from the sheath. I could do with about 25% LESS retention to make unsheathing a bit easier. But it's better than the alternative, which is your knife being loose and falling out. So I can live with this. And as I really started thinking about it, the handle is rubber – So I anticipate that it will wear in over time and make things a bit easier for unsheathing. Time will tell…But again, I can live with this.
Lanyard Hole:
Sure, this isn't probably a feature that most people would get excited about, but I do. I love feeding leather or paracord lanyards through my knives. It makes it easier to grab while wearing gloves. And having a lanyard on a fixed blade allows you to wrap it around your wrist while working.
The lanyard hole on this Finn Hawk is generous enough for 550 cord as well…Thumbs Up, Cold Steel.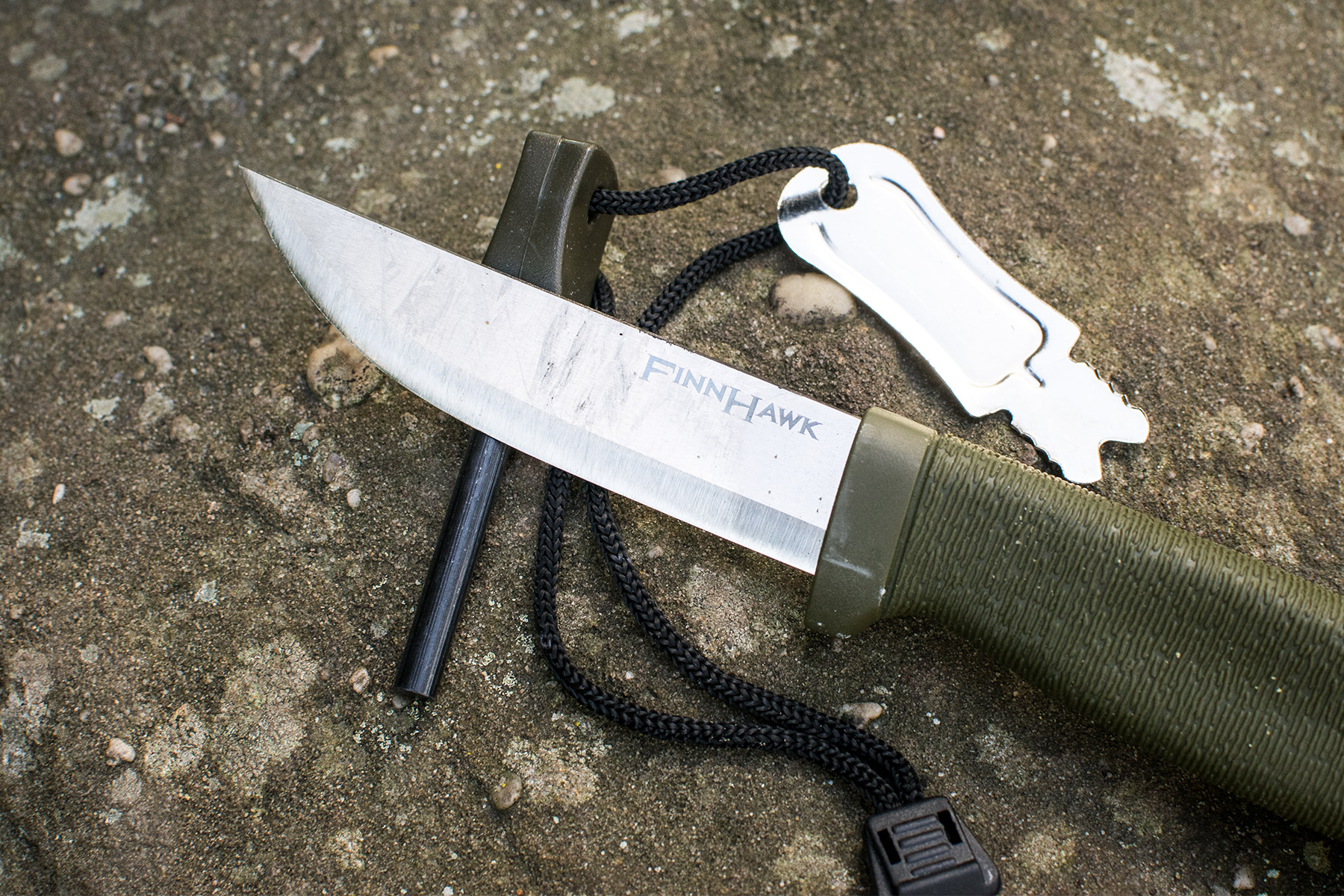 90° Spine:
Let's talk about this feature one more time. I do a lot of trail cooking. So it's really important for me to have a nice 90° surface to strike my ferro rods with. The fact that the Finn Hawk already has a perfect 90 on it is another feature that adds a lot of value to the knife for me.
If you haven't purchased or used a lot of bushcraft or camp knives you may think, "okay what's the big deal – it's a sharp spine on a knife". Well, most knives within this price range have a rounded spine that won't bite into a ferrocium rod to create sparks. Which leaves you having to carry an extra striker, grind the spine of your knife to a perfect 90° angle or you have to use the cutting edge of your blade (which is a HUGE no-no in my book). Neither of the other options are ideal in my book either though. So, hopefully that sheds some light on why people like myself get excited about this feature being added in from the factory.
So again, Cold Steel – Two Thumbs way up here! Great work.
Where does this knife excel?
This is an all-around hiking, camping and bushcrafting style of knife. If I had to point out just one area in which this knife excels in it would be wood working tasks.
On the outing that you're seeing pictures of, we took a break and found some downed wood to make some walking sticks out of. The downed wood that we found for our walking sticks had to be cut to the proper length, de-barked and then smoothed out for a nice/comfortable grip. The Finn Hawk performed admirably for these tasks, even with some lightweight batoning thrown into the mix. And to beat it all, the knife would still shave arm hair near the end of this task.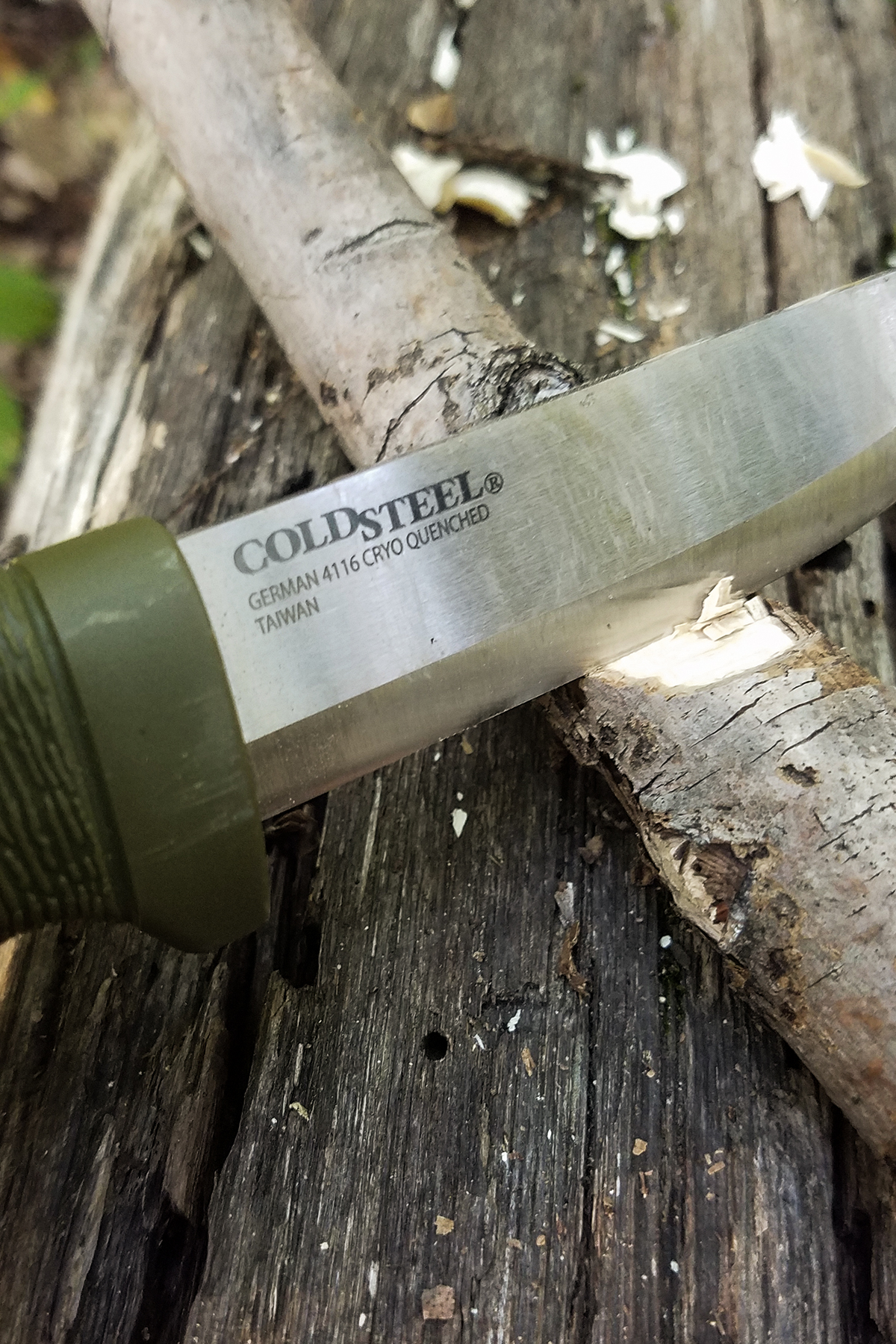 Who would I recommend this knife to?
Hikers.
Campers.
Outdoor Adventurers.
People putting together bug-out/emergency kits.
Knife collectors who love trying fun new knives that don't break the bank.
For me this is the perfect knife to bring along on outdoor adventures. It handles all of my normal tasks with ease, and even some uncommon things like light-batoning.
I would however give a disclaimer if you're putting together an emergency kit with this knife. Even though this knife handled batoning very well, I would not try to force this knife into this role on a regular basis or for wood much larger than what you're seeing above. For heavy tasks I would recommend adding a heavier-duty fixed blade or small axe in to accompany this knife.
Notice I said to "accompany this knife (the Finn Hawk)": Even with the added weight of an axe or heavy-duty fixed blade, the Finn Hawk is undetected in terms of weight. And it will do fine work that a heavy knife would never think about being able to do.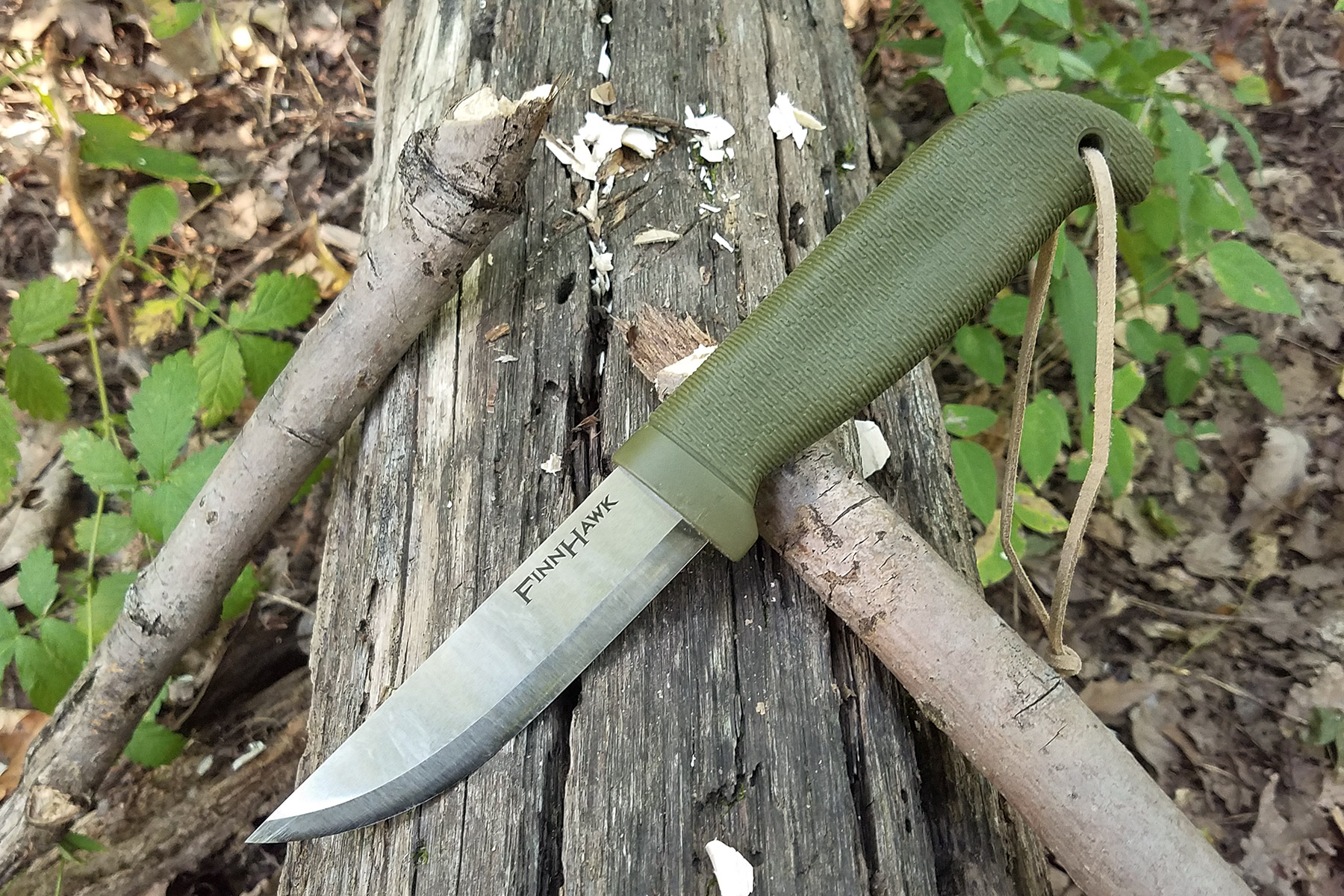 My final thoughts:
This knife is an A+ for me. This is the best Sub-$20 knife that you can buy in my opinion. I would honestly put this knife hand-in-hand with the Bushcraft Black that I recently reviewed. They are different in some ways of course, but they have a lot of similarities at the same time. So, if you are thinking of buying the Bushcraft Black but are hesitant about the price tag, this could be a great competitive option to look into.
The Finn Hawk performed perfectly and blew my expectations out of the water. At the end of my full testing for this knife, the blade was fairly dull during shaving tests. And it did receive some small chips near the end of the blade, most likely from batoning. However, the chips were a quick fix with my sharpening system. And the blade came back to a razors edge with minimal effort on my behalf.
The blade did retain some scaring and usage marks upon being cleaned back up. But, i'm a fan of this look. All of my commonly used knives bear some scars and I expect to put plenty more on this knife in the years to come.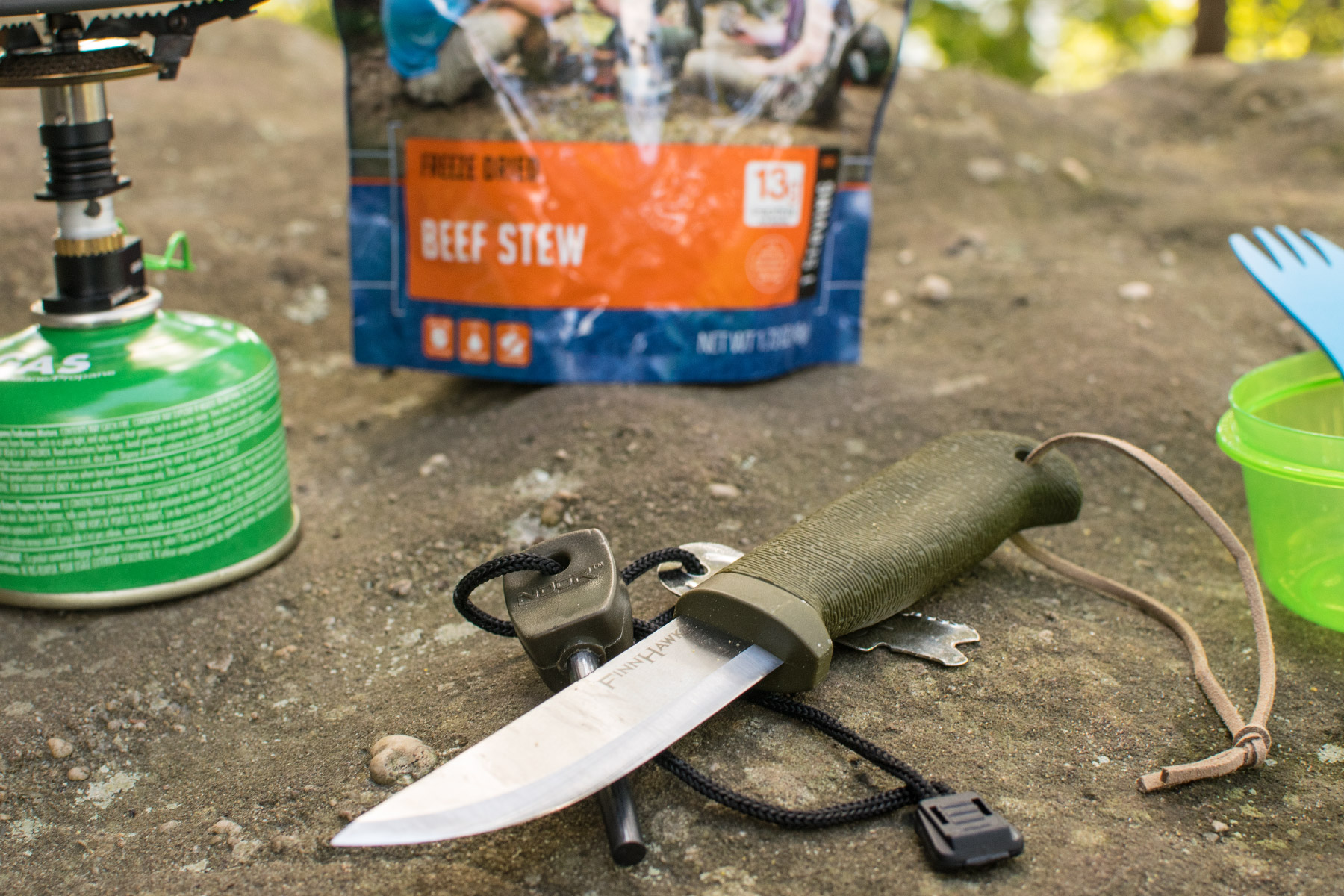 Go ahead and Buy this Knife!
Below is a link to my Amazon Affiliate account – If you decide to buy one from Amazon please use this link. By purchasing through my link I will earn a small percentage from each sale, which helps out while i'm doing these reviews.
Follow me on Instagram
If you aren't already – Please follow me on Instagram @AnthonyAwaken. I post frequent updates about my gear and adventures there, as well as mini-reviews.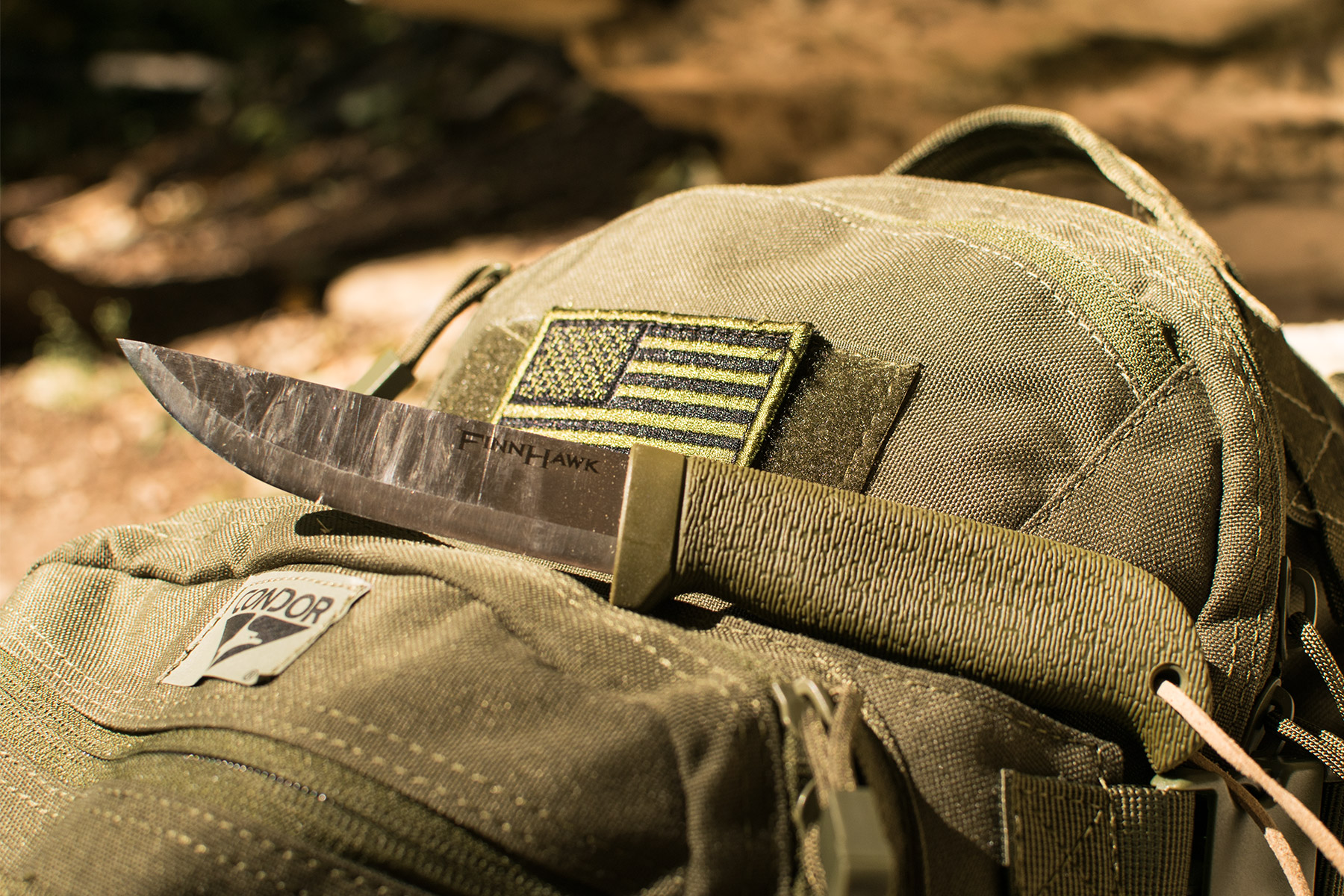 Stay Tuned for the Finn Wolf Review
I am wrapping up my full written review for the Cold Steel Finn Wolf right now. This is the folding knife companion to the Finn Hawk. So far, i'm really impressed by this knife as well. But I'll share more on that in the next review