Welcome back to another gear review, everyone!
Today i'm going to share my personal experience with the beautiful knives from Hogue. Particularly the 4″ Drop Point, manual opening EX-01 Models. For the sake of this knife review I will be judging the EX01 by Hogue on it's ability to be an EDC, or "Everyday Carry" knife.
They look slick – But are they?
I have been carrying both of these knives as part of my EDC (Everyday Carry) for a little while now. I purchased both of these in the 4″ drop point blade configuration, which was the easy part of my decision making as I like larger drop point blades. The hard decision came when I had to decide between the Aluminum or G10 handles. Both were extremely beautiful and I couldn't decide, so I bucked up and bought both. And I have to say, both of these knives are as smooth as they come in terms of operation. With a slight edge (no pun intended) to the aluminum version.
They are both manual opening knives, that deploy via their thumb studs and a flick of your wrist. Both knives rocket into deployment and lock up tight/securely with a button style lock, with an optional safety lock bar similar to those found on auto-knives (which I honestly don't use). When you're done using the knife it can easily be closed one-handed by depressing the button lock and flipping the blade down. The Hogue EX01's are easily the smoothest manual opening knives that i've handled and I really enjoy their ease-of-operation.
Fit & Finish/Quality:
The dozen or so Hogue Knives i've handled have all been phenomenal. Just the same, the fit and finish of both of my EX01 knives is phenomenal as well. I couldn't be happier. For the price range these knives are in ($150-200) they are out of this world and no other manufacturer (that i've seen) is matching the quality for the price. But, even if we branch into knives that are more expensive than the Hogue EX01's some still don't even compare.
Hogue did not skimp on their parts, materials or design. The grips are typical Hogue-Awesomeness, which is to be expected since that's their claim to fame. The blades are made from 154CM, which has proven to be a great steel for my use. The overall ergonomics of this knife are very comfortable while in use. And they're flat out gorgeous blades!
Immediately when you handle these knives you will see and feel the quality as well. I handled the knives before I saw the price tag and kinda sighed as I handed it back across the counter, because I figured they would cost $300+. But, when I saw the Sub-$150 price tag I was pleasantly surprised and hopped right on it.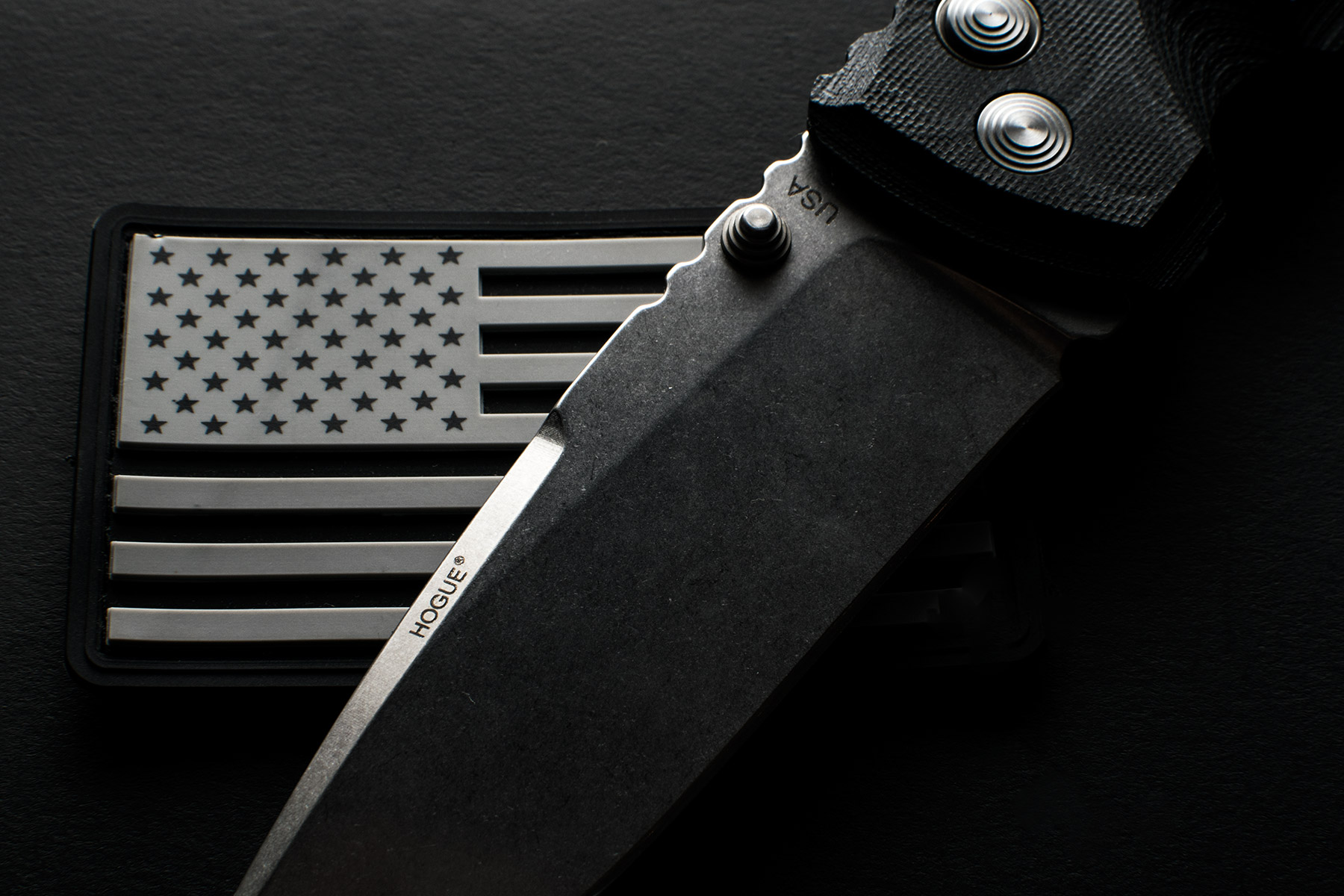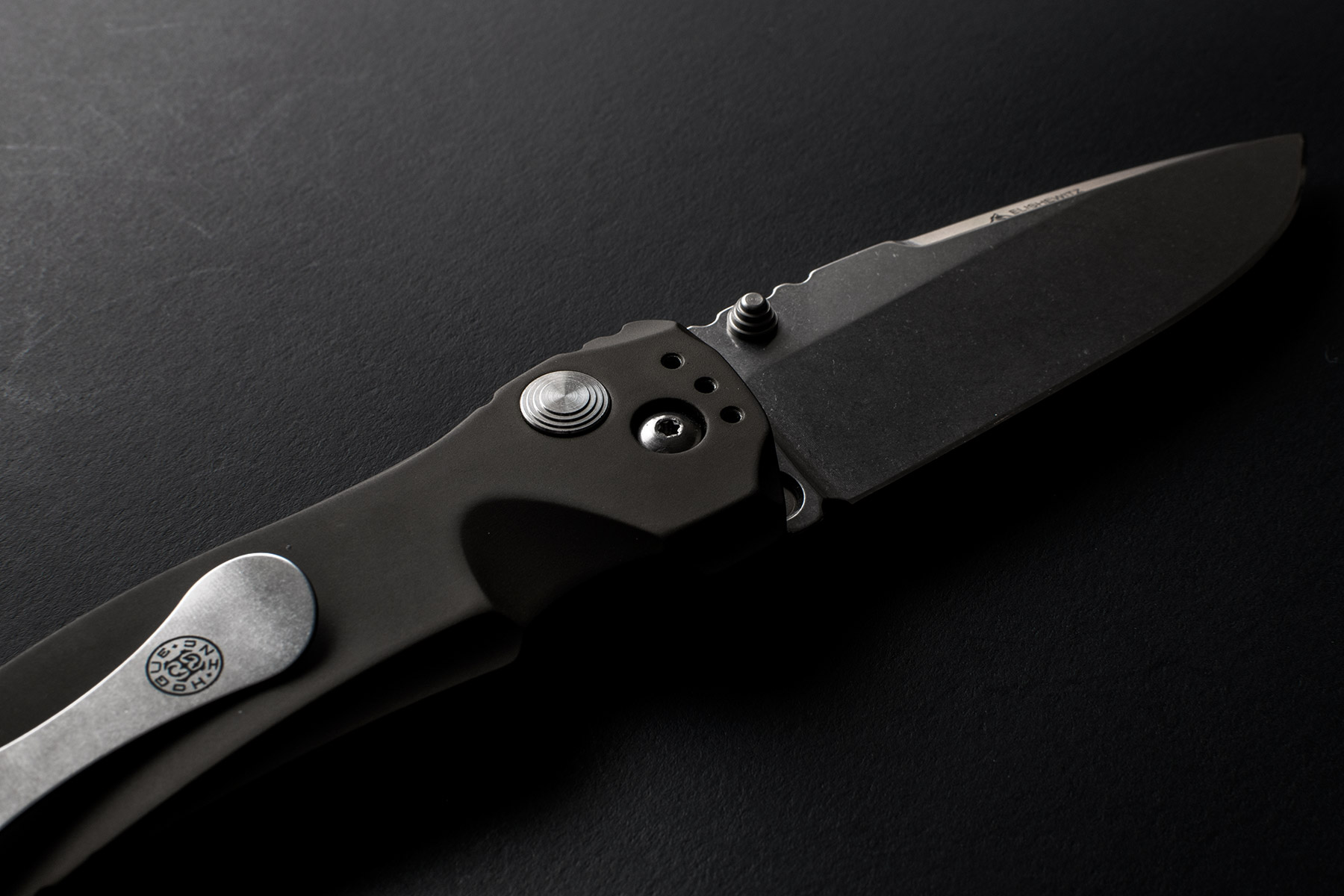 Performance:
I ran this knife through a series of tests (detailed below) and have been using it as my EDC blade as well. So I have a fair amount of experience with it that i'll share. Admittedly I have not beat the crap out of this knife, and I don't plan to do so (i'm not in the business of torture-testing). I have used these knives under normal EDC circumstances, and that's how I will base this review.
So let's chat more about the testing that I ran the EX01 through. This is just a simple 1-7 checklist that I will run my knives through when I do these reviews. It allows me to have a set number of tasks that are common for everyday carry in order to gauge how well a knife performs.
Here's how the knife stacked up in this standardized test:
Cutting Duct Tape (10 layers):
The goal for my tape testing was to use a surgical cut to slice through the layers of tape. Then pry upward to ensure the tape was cut clean through. The duct tape was tough to cut through as it was pretty sticky, but the knife handled it well enough with a few slice-throughs.
Electrical Tape (10 layers):
This test was extremely easy for the Hogue Knife, which kind of surprised me as this tape is really flexible. But the G10 Handled Hogue EX01 made a very clean and easy cut on the first slice.
Masking Tape (10+ Layers):
Same here. Clean and Easy cut on the first slice.
550 Paracord Cutting:
For this test I cut single layered 550 cord, then doubled it up (cutting 2 strands at once), then quadrupled it (cutting 4 strands at once). All of the paracord cutting tests were extremely easy and smooth.
Food Processing (cutting carrots to 1/4″ of an inch or so):
The Hogue knife did a fair job here. It was sharp enough for the task of course, but it was honestly a little too big and bulky for food prep.
Fatwood Feather Sticks and Tinder prep:
I really liked the Hogue Knife for this type of task. It created nice, fine feather sticks and produced some nice tinder shavings as well. The blade shape, jimping, and ergo's really made these tasks a joy. Granted I only tried delicate firewood related tasks, but i'd bet this knife could handle heavier duty tasks if you absolutely needed it to. With all of this said I would feel great with this knife in my pocket if it was accompanying a nice fixed blade on my belt for a day on the trail, or a night at camp.
Paper Test (cut 5 lines as straight as possible down the center of paper):
The knife was still extremely sharp and didn't  have any resistance during the paper cut test.
As you can see with these tests – There are a lot of common tasks included that we do everyday with our carry knives. This paired with my actual carrying of the knife gives me a pretty good base to judge from for overall performance of the Hogue Knives that I own.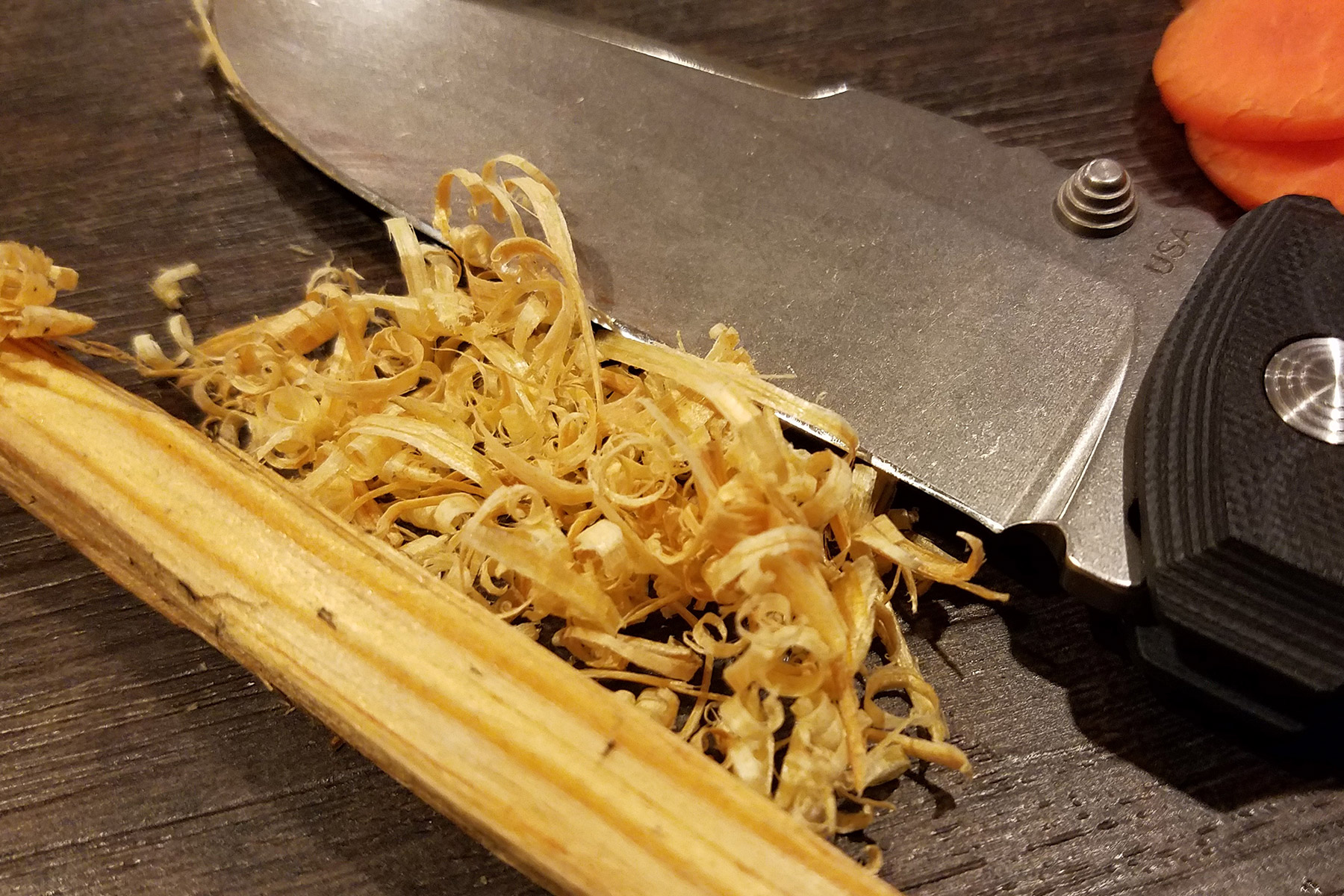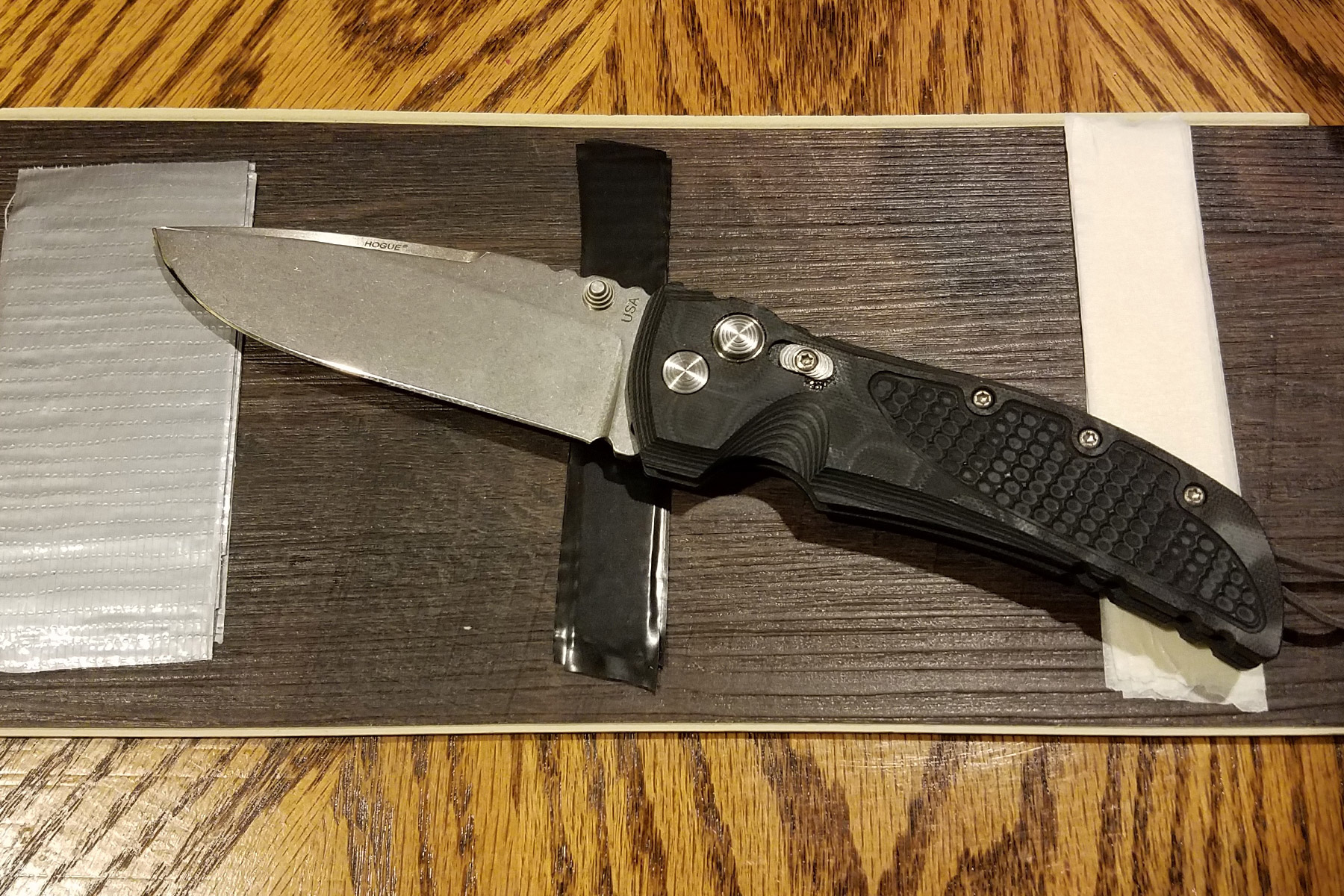 My Overall Thoughts/Final Verdict (9/10):
Overview: I am a HUGE fan of the Hogue Knives. I believe Hogue has hit a major home run by branching into the world of knives. They have several other great models in their lineup, but the EX01's are still my personal favorite. They have an extremely good visual appearance to their blades, seem to maintain great quality control and they perform very well as an everyday carry knife. For general EDC tasks I would absolutely recommend this blade. Opening packages, cutting cordage, general utility tasks, etc. Even as a heavy use camp/hiking folder I believe this knife would fit the bill. If it's any justification, it'll be clipped in my pocket on many upcoming hikes!
Where it isn't perfect: The only thing that it kind of lacks at is food prep. It could certainly hang in there and get the job done, but the bulkiness of the blade makes it a little less than ideal if I had another choice available. But, let's be honest – This knife isn't really designed to cut up veggies for a gourmet salad. It was built as a tough and heavy duty knife, made for manly tasks. However for the sake of my review and judging this as a "do-it-all" EDC blade I will deduct a little from my overall score, since it lacked a bit in the food prep area. (Now, cutting open a big juicy steak – Oh I bet it'd do that with ease)
Best Use: Large Everyday Carry Knife – Emergency/Defensive Blade – Heavy Use Folding Knife – Duty Knife
Would I recommend it? Absolutely! Go buy 2 like I did.