Welcome back to another gear review, everyone!
Today i'm bringing you the follow up to my Cold Steel Finn Hawk Review. I'm going to introduce you guys and gals to the Finn Wolf, by Cold Steel. Which is essentially the folding version of the Finn Hawk. Let's see if this knife stacked up to the expectations and hopes that I had for it…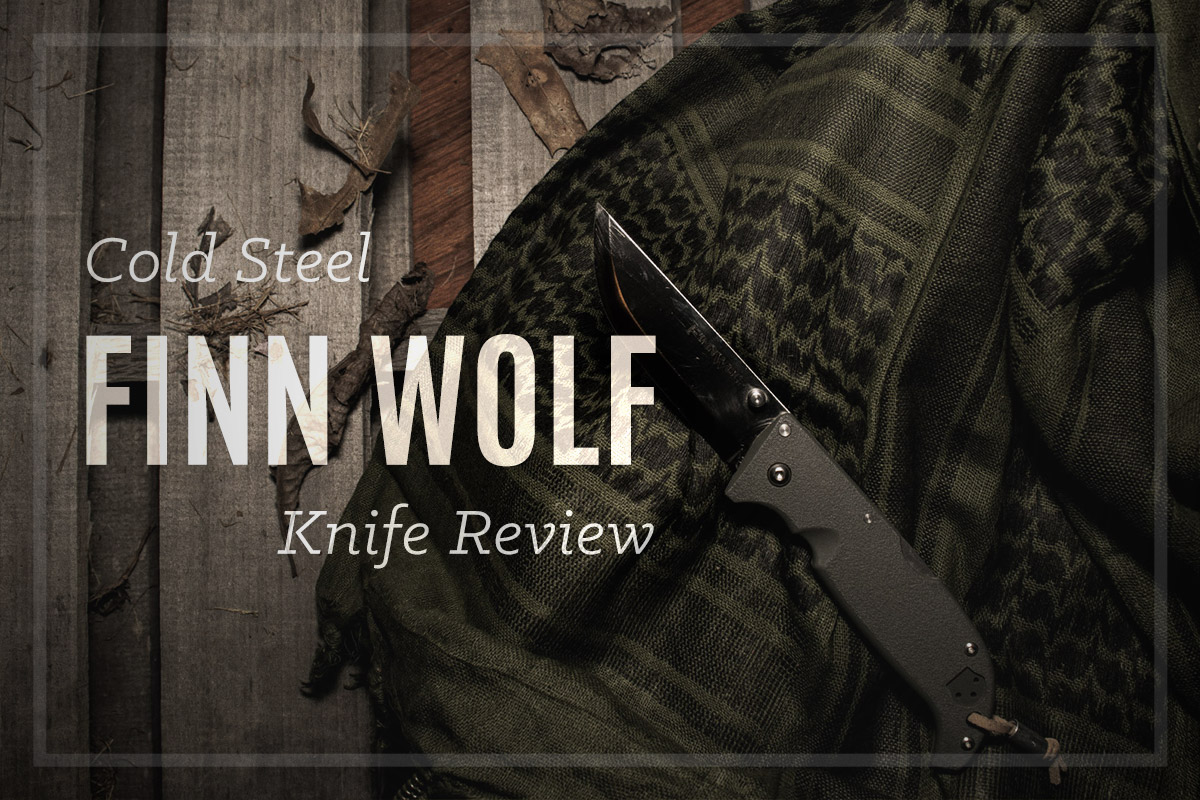 Intro into the Cold Steel Finn Wolf:
The Finn Wolf by Cold Steel is what i'm calling "The Pocket Woodsblade". The knife sports a 3mm thick, 3 1/2″ long, Japanese AUS8 blade. This knife is inspired by the classic Pukko blade design and has a scandi grind.
By hearing those specs alone it may sound like this blade finds it's home in a small fixed bladed knife, but it doesn't. This blade calls a 4 3/8″ Griv-Ex handle it's home. Topped off with Cold Steel's famous Tri-Ad Lock. I honestly can't speak higher for the specs of this knife. It really is a folding version of their Finn Hawk (which I loved).
…So, the specs of the knife are impressive…but did it actually perform well?
Short answer….yes it did! Now, onto a little bit of my purpose in carrying this knife. The Finn Wolf is my companion knife while hiking or doing anything outdoors. If i'm outdoors, you will likely find this knife clipped onto my pocket.
…I call this little guy "The Pocket Woodsblade"…
This knife often times accompanies a larger belt knife. Like my Finn Hawk, Bushcraft Black or a Condor Bushlore (yet to be reviewed, but still awesome). While I typically rely on my belt knife for hard work, it's nice to have a knife that I can grab from my pocket and use quickly one-handed. And to beat it all…
…This isn't just a knife that can cut some simple cordage or open up a mountain house meal. This bad boy is capable of some seriously hard work!
I have personally used this knife a lot for woodscraft types of tasks. For instance, above and below you're seeing a walking stick that I debarked and shave down a bit. (I fashioned two walking sticks on this adventure – one with the Finn Hawk, and one with the Finn Wolf)
Sure I wasn't cutting the forests canopy down and making a 2 room cabin with the Finn Wolf, but this was a realistic task that I threw at the knife while I was hiking. And it performed tremendously, folks. It debarked the walking stick in a hurry, and proceeded to make extremely nice/deep cuts. (And it was absolutely capable of making finer cuts as well).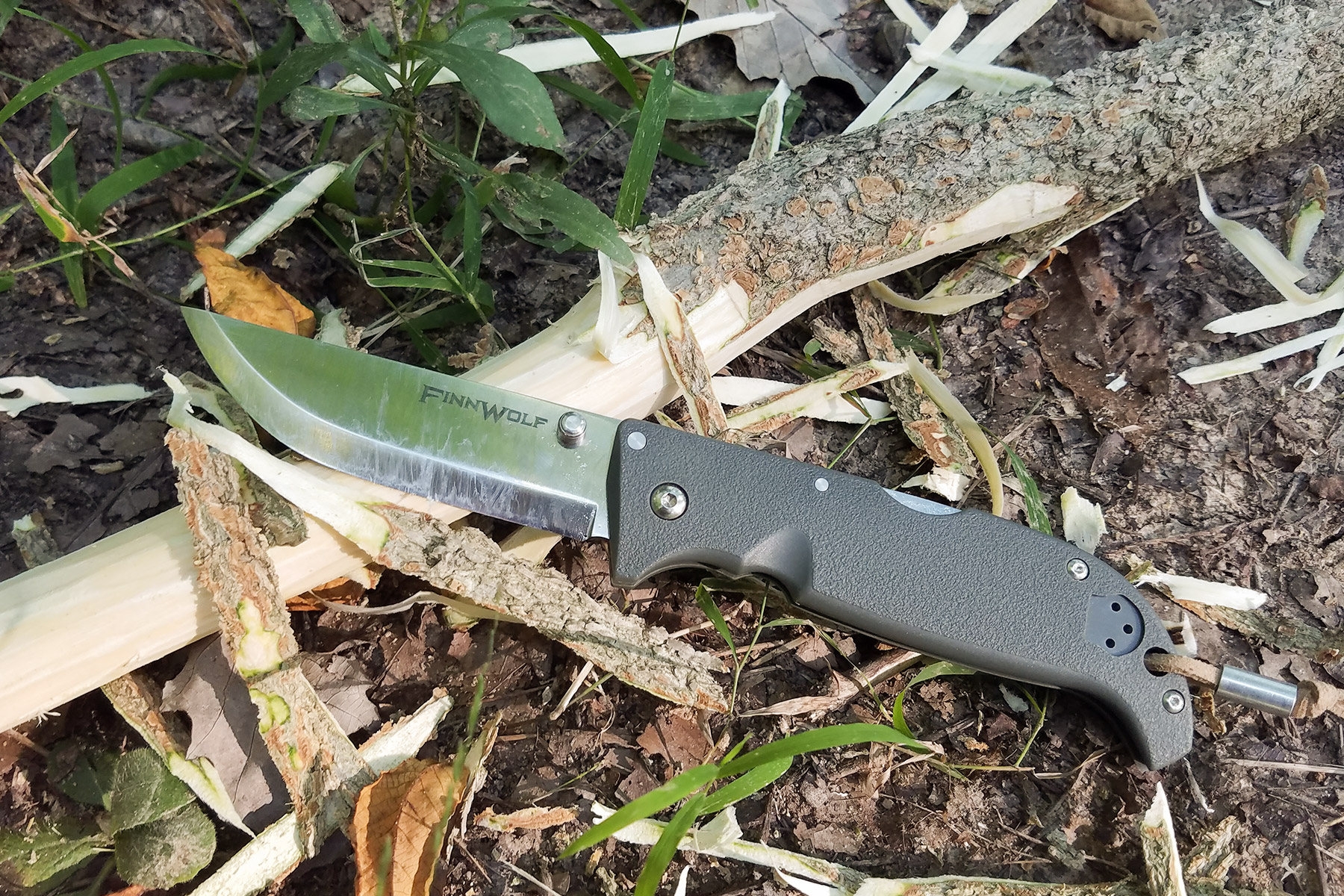 How does the knife feel in hand?
When I first picked this knife up at my local sporting goods store I thought to myself…Eh, this handle feels kind of cheap. That comes down to me being spoiled by high-end G10 and Aluminum handles as of late.
It wasn't until I actually sat down and used this knife continuously without stopping for a half an hour or so to appreciate the material selection for the handle. If Cold Steel had used an aggressive material here, it would've eaten your hand alive in use. But the Griv-Ex material allows your hands to get a firm grip, while still allowing for some micro-movement while pushing and working with the blade.
After using the knife, I have appreciation for this handle material. G10 has it's place in the knife world…But it wouldn't belong on this knife.
The pocket clip that Cold Steel chose for this knife is also perfect. The Finn Wolf might just be the only pocket knife with a pocket clip that i've found extremely comfortable after 30+ minutes of use. The clip is as close as I can imagine them making it to the handle of the knife, and they rounded the edges of it nicely as well. I can't speak higher of the clip on this knife. And it's super secure in your pocket as well.
Steel Talk: But it's only AUS8 and blah, blah, blah…
Look, I appreciate a high-end steel just as much as the next guy (I have plenty of knives with 154CM, D2, S30, S35V and I love them all). But folks, Cold Steel does it right with their AUS-8 Steel. The Finn Wolf is capable of being sharpened to a wickedly sharp edge and it holds it's edge really well too. After I fashioned those walking sticks it was still shaving sharp. Sure it eventually dulled out and wouldn't shave after some other tasks, but that was a quick fix on my Lansky Sharpening Sticks when I got back home.
But to the steel talk again…For use in the woods:
I'm a huge fan of 1095 Carbon Steel or an easy to sharpen stainless steel, such as this AUS8 blade while i'm in the woods. I never carry anything more than a simple Arkansas stone with me while i'm in the bush. So you can imagine why i'd rather have an easier to sharpen blade steel in this case. Can you imagine trying to resharpen a D2 or S35V blade without your best sharpening kit? No thanks to that.
The "budget steel" used on this Finn Wolf (AUS8) is totally fine by me, and I couldn't need more based on my experiences with it.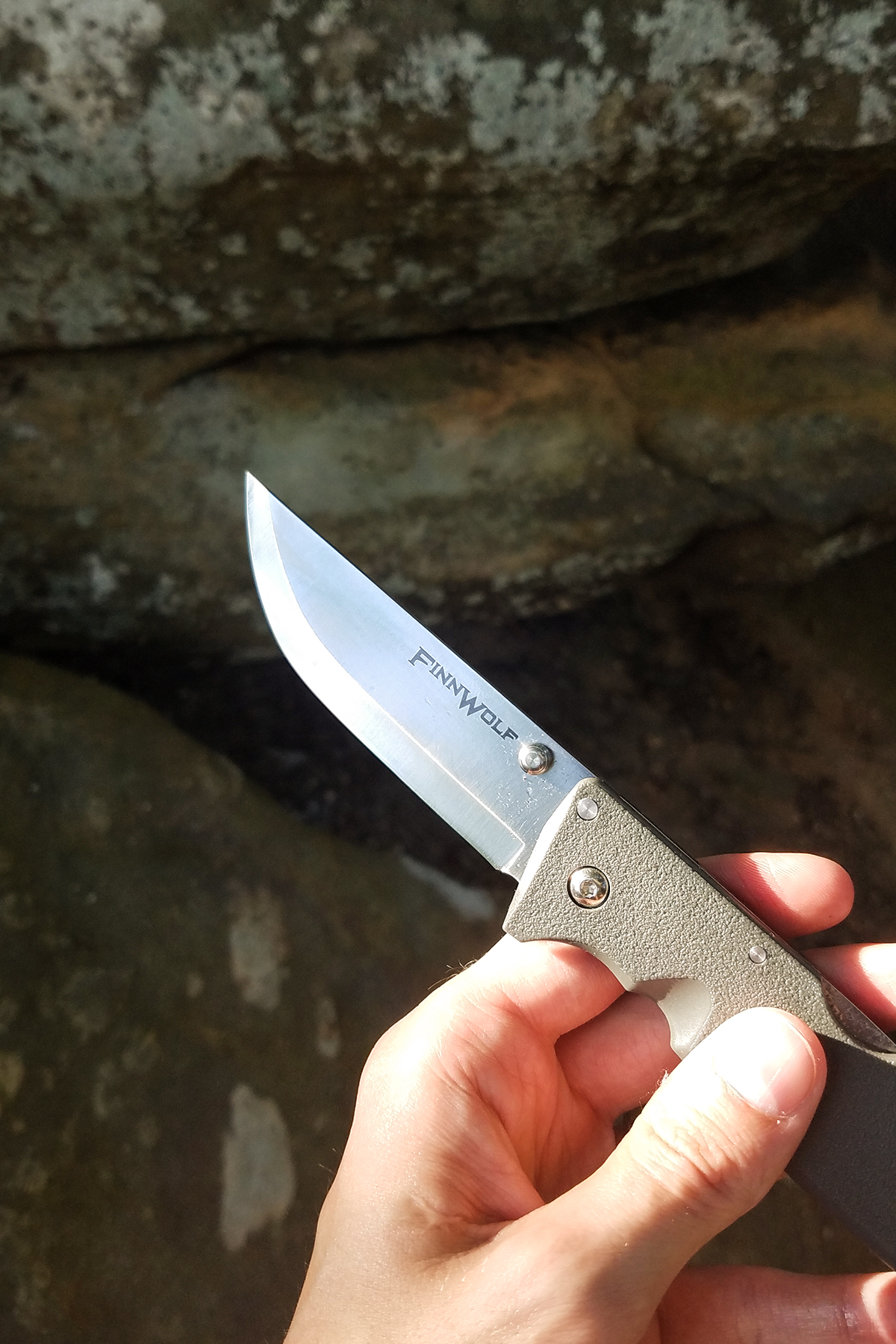 Who would I recommend this knife to?
If you're an outdoorsy person who hikes or camps, i'd recommend this blade to you in a heartbeat. It's proven to be capable of a lot of different types of camp chores in my experiences. And it has all of the characteristics that it needs to provide a tough long lasting service to you.
Is it priced right?
I bought mine for right around $40-45 because I needed one the same day for an adventure I was going on the next day. However, you can purchase them on Amazon for $34 or so (prices are subject to change over time). Do I feel bad about paying $40-45 for mine? Absolutely not. It's totally worth the price that I paid. And it's an absolute no-brainer for $35 or so.
This and the Finn Hawk can be purchased together for right around $60 on Amazon…That's a heck of a deal!
My final thoughts on the Cold Steel Finn Wolf:
This knife is a 10 out of a 10 for me. It's a no non-sense Pocket Woodsblade. You just don't see other knives within this price range that have a scandi grind, and the other specs that this one does.
The AUS8 blade steel selection helps to keep the price down making it an extremely high value option, while still retaining it's quality. The scandi grind is so awesome to have in a folding knife. The Tri-Ad lock is bombproof. And the handle is extremely comfortable to use!
What's not to like? This knife is my new best friend in the woods and it will remain such for a long while to come.
Purchase this knife now:
If you like what you see in my review you can purchase the Cold Steel Finn Wolf on Amazon by following my link below. And by doing so I will receive a little bit of a kickback when you purchase….Which helps me out financially to keep doing these reviews.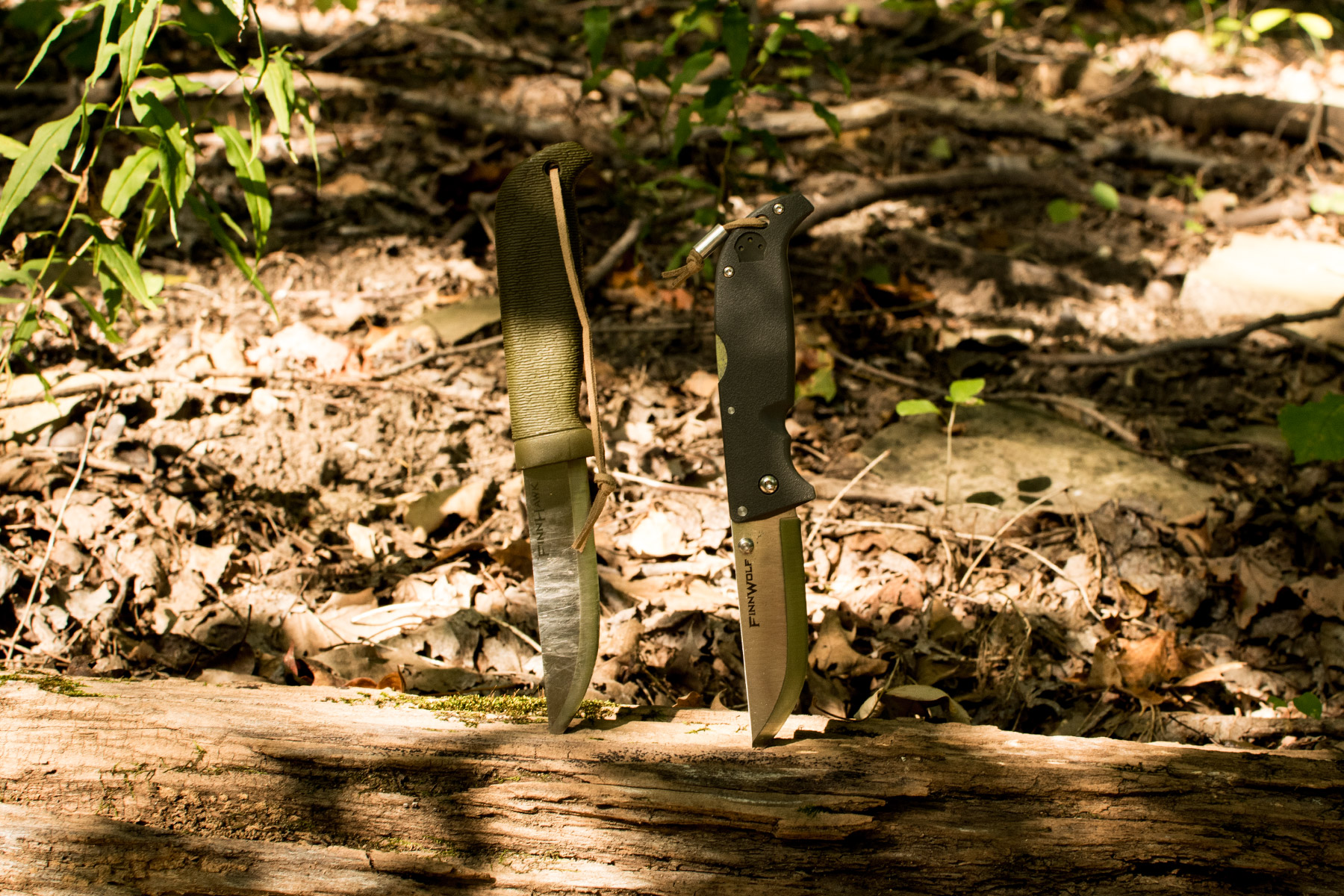 Follow along on my adventures:
Follow me on Instagram: I post daily on my Instagram. So please, keep up to date with all of my adventures and latest product testing on there!
---