Welcome to the first of many First Impressions articles here on the adventure blog. My 'first impressions' articles will differ a bit from my full length gear reviews, as these products are still early on in their testing…
But they're products that I feel confident to go ahead and share my initial thoughts about. The only thing these reviews will lack is feedback regarding their long term durability and like-ability.
Think Tank StreetWalker HardDrive
With that said…I have been looking high & low as of late for the perfect camera backpack. So, as my 1st "first impressions" article I wanted to chat about the Think Tank StreetWalker HardDrive backpack.
That's right, after months of looking around and window shopping I finally made a decision on my new camera/work backpack.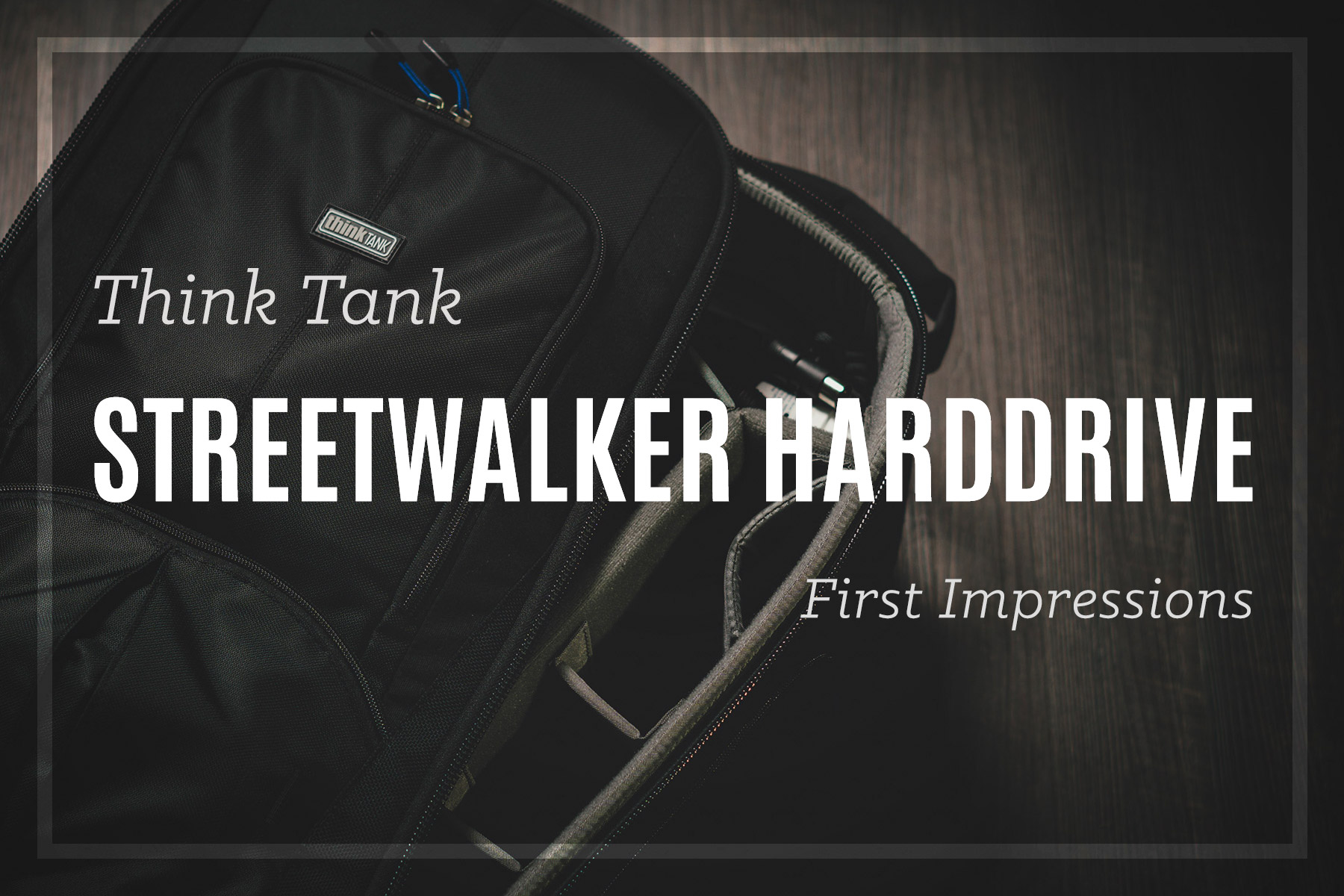 My New Camera / Work Bag
I looked at no less than 50-75 bags in person and 4 times that on the internet during my search for my new Camera/Work Bag. I wasn't pleased with anything I saw. Until I narrowed it down to the Think Tank StreetWalker HardDrive and one other bag (see below).
ThinkTank Streetwalker HardDrive vs Lowepro ProTactic 450
My final decision during my search came down to the ThinkTank StreetWalker HardDrive and the Lowepro ProTactic 450.
Both the Think Tank and Lowepro accommodate a 15″ Macbook, a slew of camera gear, both feature YKK Zippers, have rain covers, a nice suspension system and shoulder straps. This is kind of the quick-list that I desired in my new work bag and both of them seemed to hit the criteria very well.
I chose the Think Tank StreetWalker HardDrive…
But I ended up going with the ThinkTank StreetWalker HardDrive over the Lowepro ProTactic 450 for a few quick reasons, which i'll list below:
Stock/Availability:
The LowePro ProTactic 450 was not in stock at my local retailer, so it made it a bit easier to shift over to the Think Tank StreetWalker HardDrive as my final decision. If the LowePro had been in stock I honestly would have walked out with both of them.
Built In Side Stretch Pockets (for water bottles):
I know the LowePro can accommodate modular pouches on the exterior of the pack. But nothing beats having them built in. However, not all that glitters is gold….I'm not the biggest fan of the Think Tank side stretch pockets for water bottles (more on that further down).
Exterior Pockets for easy access:
The ThinkTank bag has a total of 4 exterior pockets, which I really like. Whereas, the LowePro exterior pocket setup wasn't as extensive.
This is where my list stops in terms of why I chose the ThinkTank over the LowePro. I realize both packs are catering to a different demographic in terms of looks. However, both of them would have suited my needs very similarly I believe. And i'm sure I would have been happy with either. In fact, I would still love to get the Lowepro ProTactic 450 in for testing at some point.
But enough on that…Let's get on to the Think Tank StreetWalker Harddrive, since that's what you all are here for.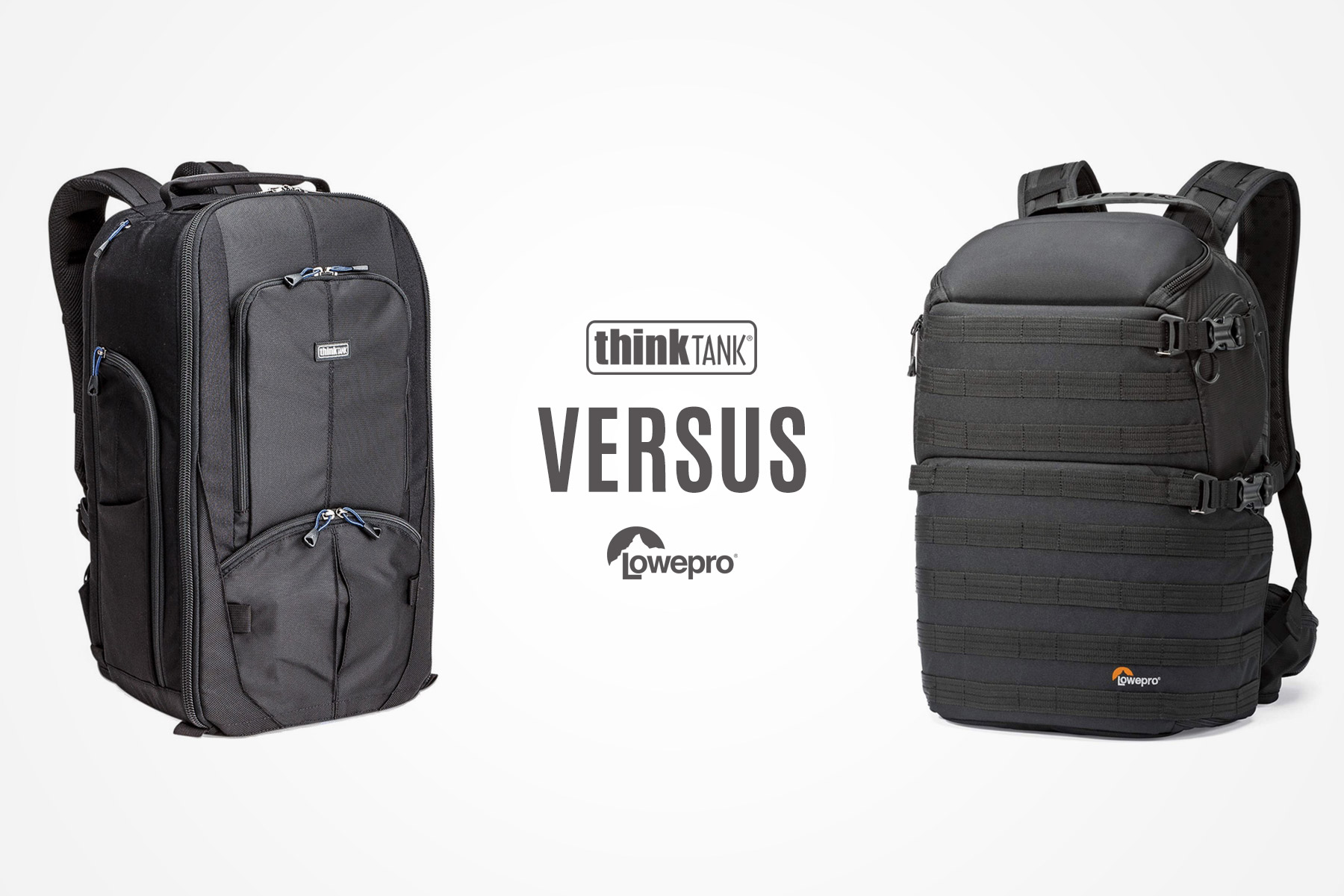 Think Tank Streetwalker HardDrive Review
Let's talk about why my first impressions with the Think Tank StreetWalker HardDrive backpack have been positive. And keep in mind throughout this article, these are my "first impressions".
The StreetWalker backpack has NOT been through any major testing yet, so I can't offer feedback on long term durability or like-ability on certain aspects. But, I will certainly follow up with more thoughts if things change in the future.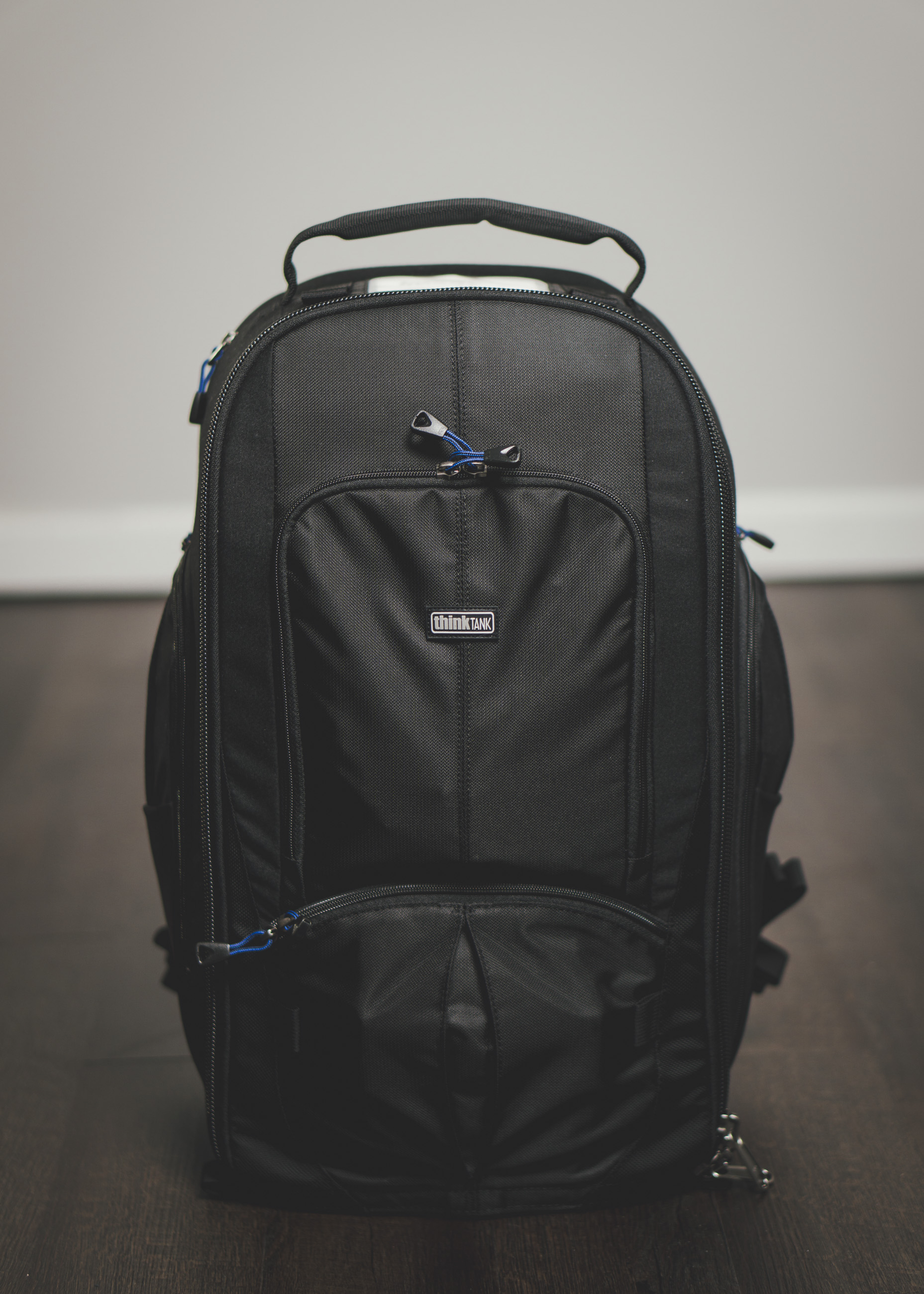 Size of the Think Tank StreetWalker HardDrive
There's no denying this is still a fairly large bag by some people's standards (11.5" wide x 19.8" high x 8.5" deep). But for me, it is the perfect size based on what I need it to do. It holds all of my camera equipment and then some:
15″ Macbook Pro Retina
Sony Mirrorless Camera
3 Lenses
2 Speedlights + Battery Pack
Bowen Lightstand Bracket
Transmitters, Receivers, Triggers, etc
Filters, Batteries, Cords
External Hard Drives, Wireless Mouse
Tech Cleaning Gear
General Everyday Carry types of gear (first aid kit, notebooks, mints, etc)
And so on, and so forth.
Not only will the Streetwalker backpack accommodate a TON of gear, it is also convenient to carry around.
It fits where I need it…
In the car: The StreetWalker HardDrive will easily fit in my passenger seat, which is where I keep my bag when i'm traveling alone. It will also fit in behind my drivers seat when I have my wife, kids or other people in the car.
On Airplanes: From everything i've read online it is carry-on compliant. Which will be nice for future trips that involve airlines (no way am I putting all of my gear under a plane).
Protection for my Gear
Protection for the gear I would be carrying around was my #1 requirement for my new camera bag. And the ThinkTank StreetWalker is phenomenal in this regard. The internal dividers are 100% customizable, so I can adjust them and reposition them to cradle all of my gear perfectly. Everything is also very well padded to ensure a secure ride for all my of valuable work equipment.
The laptop sleeve for my 15″ Macbook Pro feels bombproof. I can't get over how much padding is surrounding this area. I have no fears about cracking my screen, or damaging the body of my laptop in any way while carrying it in this compartment. Which is a big relief, as i've always been afraid of carrying my laptop around.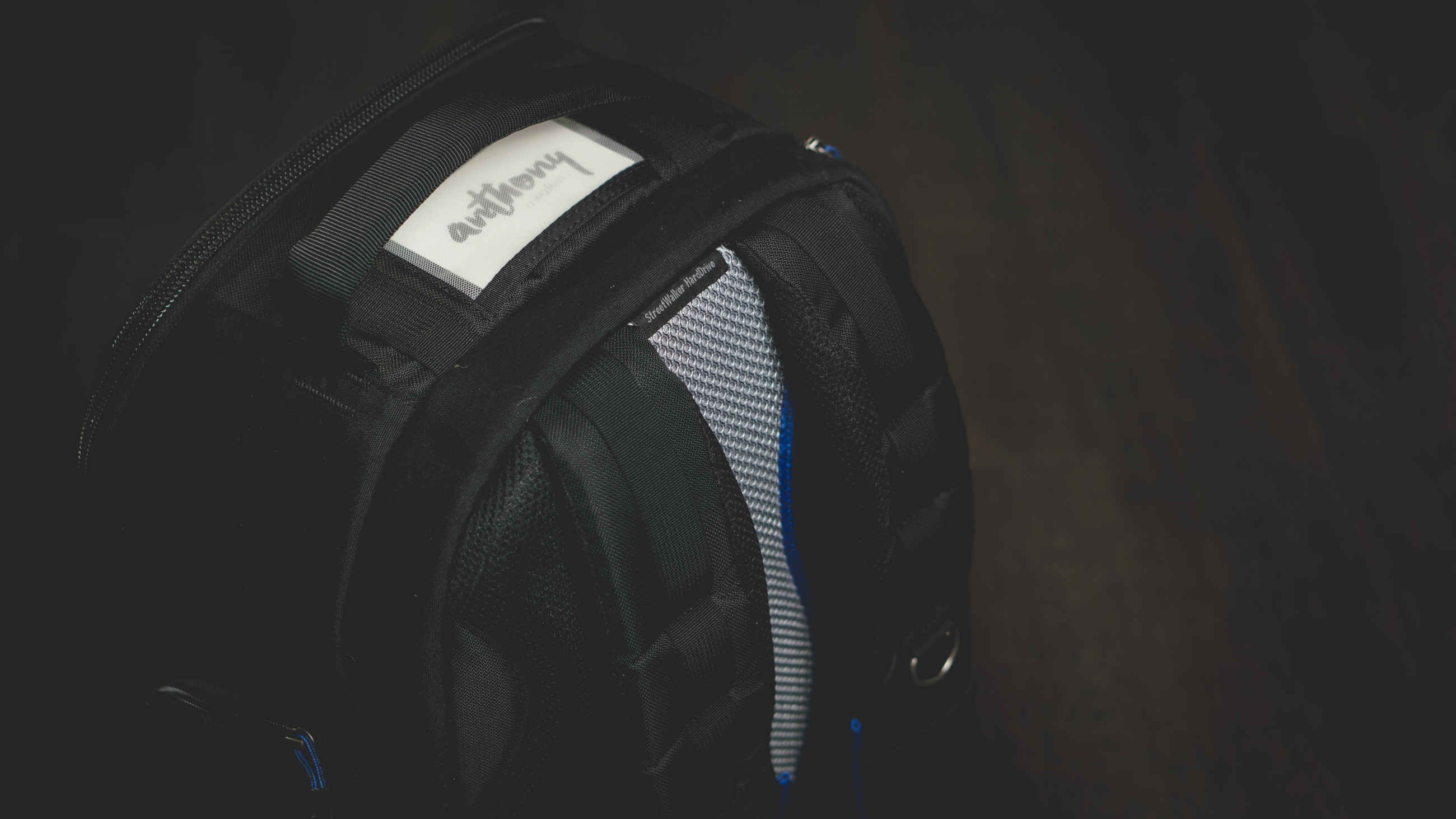 Comfort of the ThinkTank StreetWalker HardDrive
The ThinkTank straps really impressed me out of the gate. I'm coming from a hardcore background in hiking and backpacking. So I know good and bad backpack straps when I see them (and feel them).
The straps on the StreetWalker HardDrive feel very well padded, are flexible enough to move with your body and seem to be well produced. I am also impressed by all of the padding and ventilation that ThinkTank put into the back panel.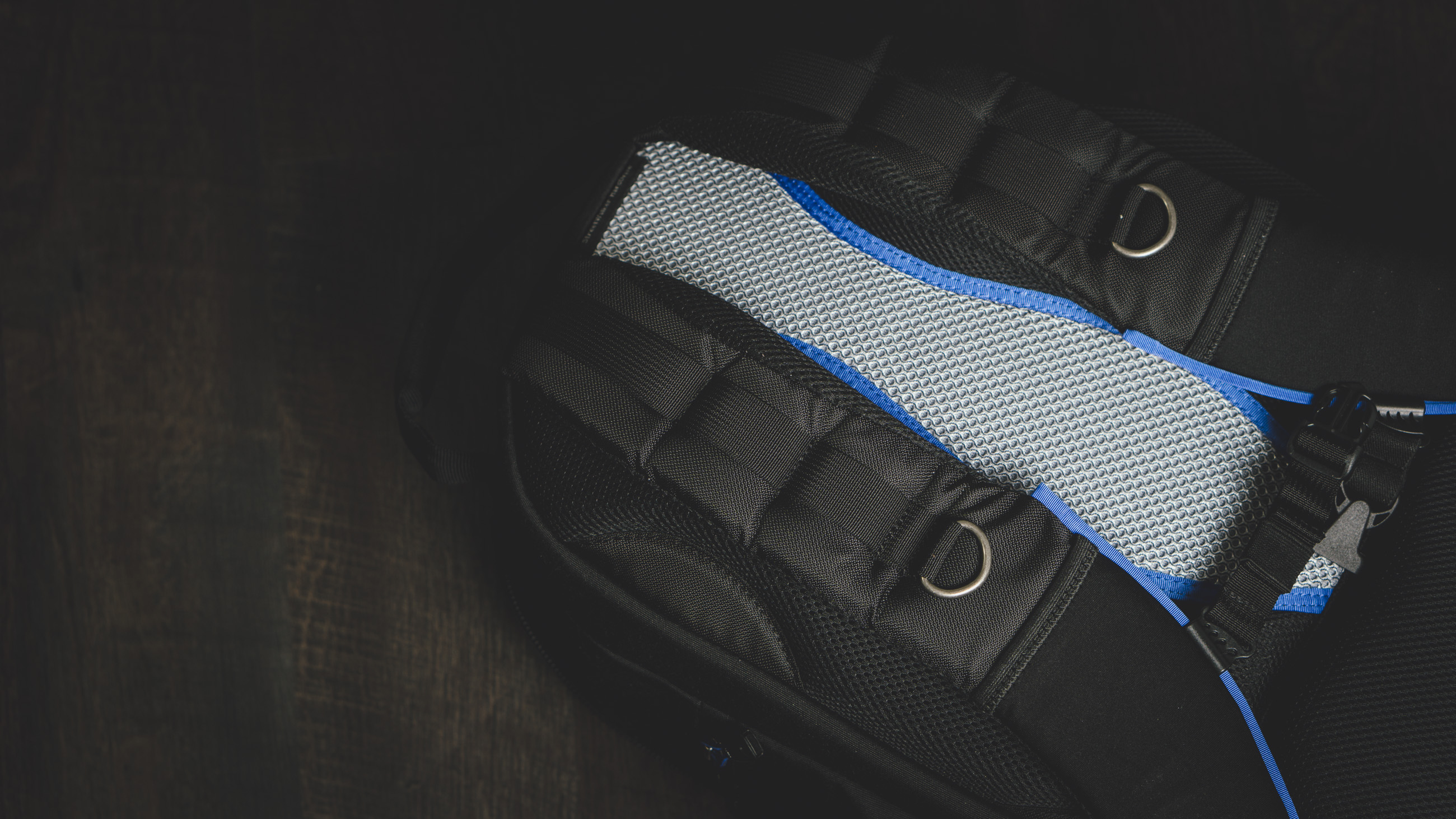 Overall First Impressions for Comfort…
My first impressions are positive for the comfort of this pack. Granted, I have not carried this pack for miles yet. But I have a good feeling about it. (If my thoughts change i'll annotate them here)
Exterior Pockets on the ThinkTank StreetWalker HardDrive
As I mentioned earlier in my comparison with the LowePro ProTactic 450, I really needed exterior pockets. Which is what helped sway me towards the StreetWalker bag from ThinkTank.
I use these quite regularly for my travel notebooks, quick snacks, my phone, wallet, etc. So, given that the StreetWalker bag has 2 large pockets on the side and 2 more on the front, I'm a happy camper!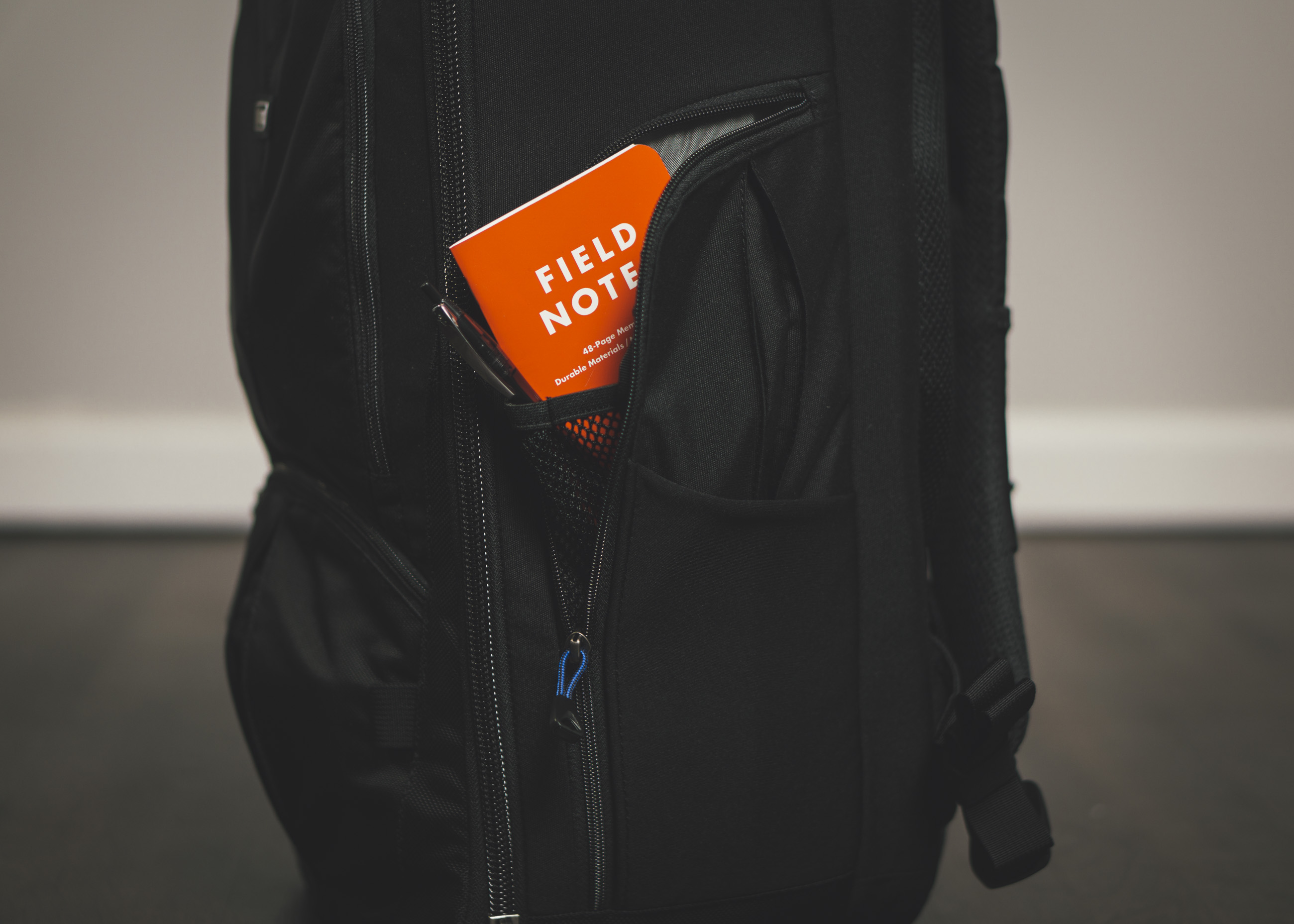 Side Pockets on the StreetWalker HardDrive
I've noticed that the side pockets are a bit tight when trying to accommodate certain gear. Unless it's flat like a notebook or a tin of Altoids. You're likely to have some trouble if you try to put objects in that are round, even if they're relatively small in diameter (ie: small bottle of Advil, lens spray, etc).
I don't quite know if this will be a problem yet and it's certainly not a deal breaker since the other pockets offer a lot of storage space. But it's something i'm keeping an eye on and thought was worth mentioning to you all.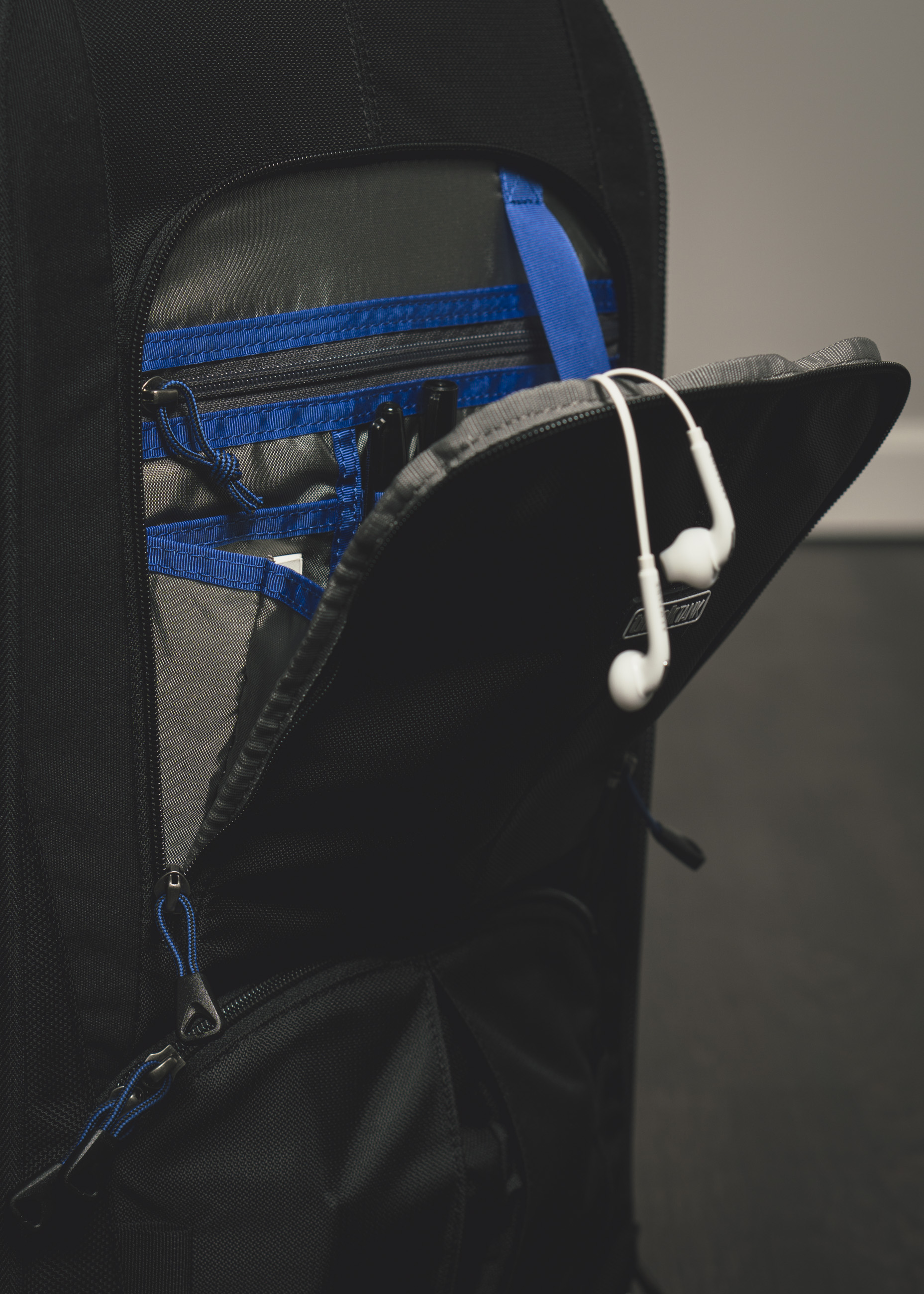 Front Pockets on the StreetWalker HardDrive
While i'm unsure about how i'll like the side pockets for certain items, I can certainly tell you that i'm a fan of the ones on the front. I have come nowhere near to filling these up yet and I don't believe I will.
I currently have some misc everyday carry items in here. Such as my earbuds, germ wipes, pens, business cards, lens cloth/spray and a few other things. I'm very pleased with both of the front pockets.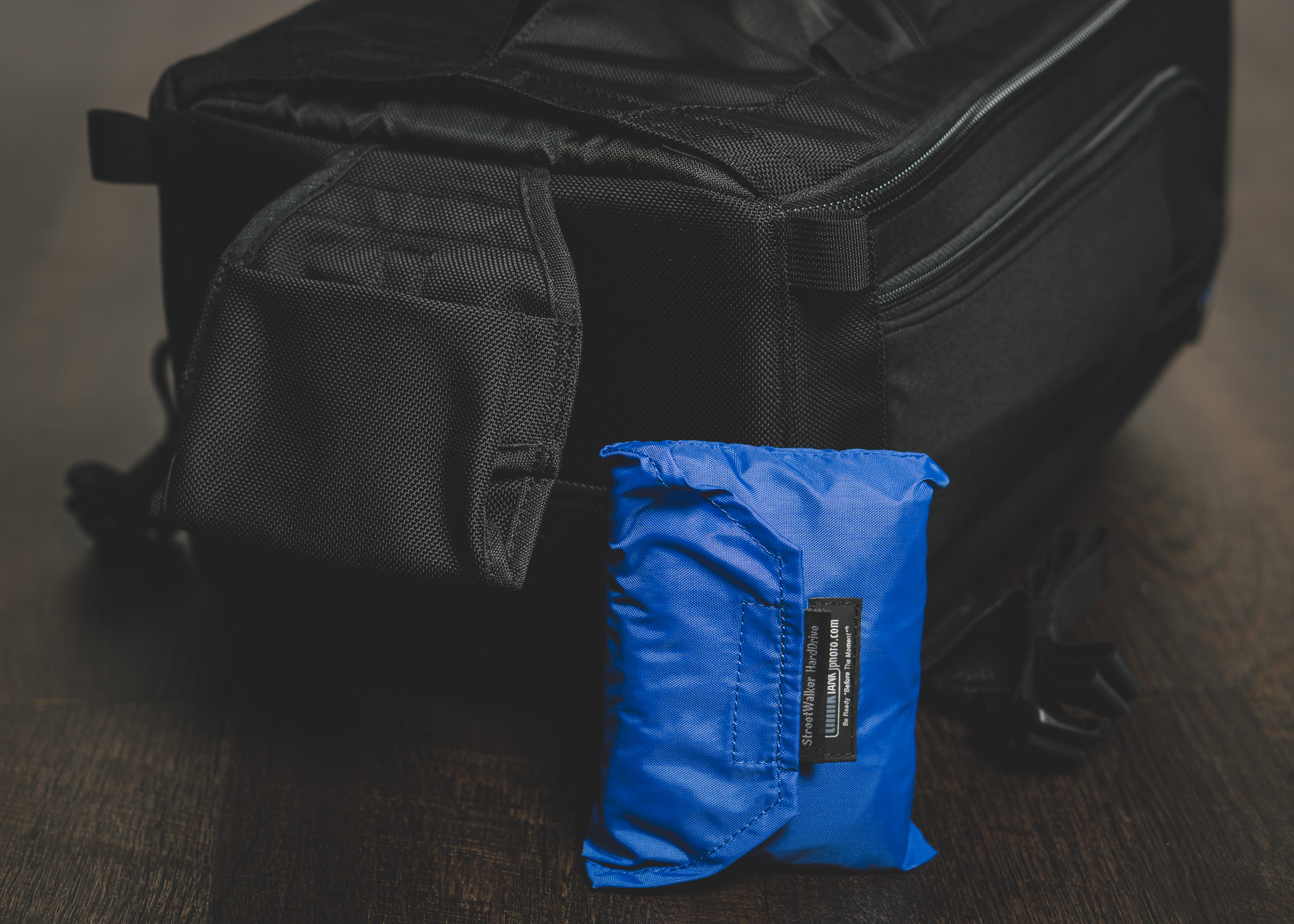 ThinkTank StreetWalker Rain Cover
A fitted Think Tank rain cover was included with the StreetWalker bag. Which is a nice bonus and gives some extra peace of mind should I get caught outside in a downpour. I keep the rain cover shoved down under one of my flashes in the bags main compartment.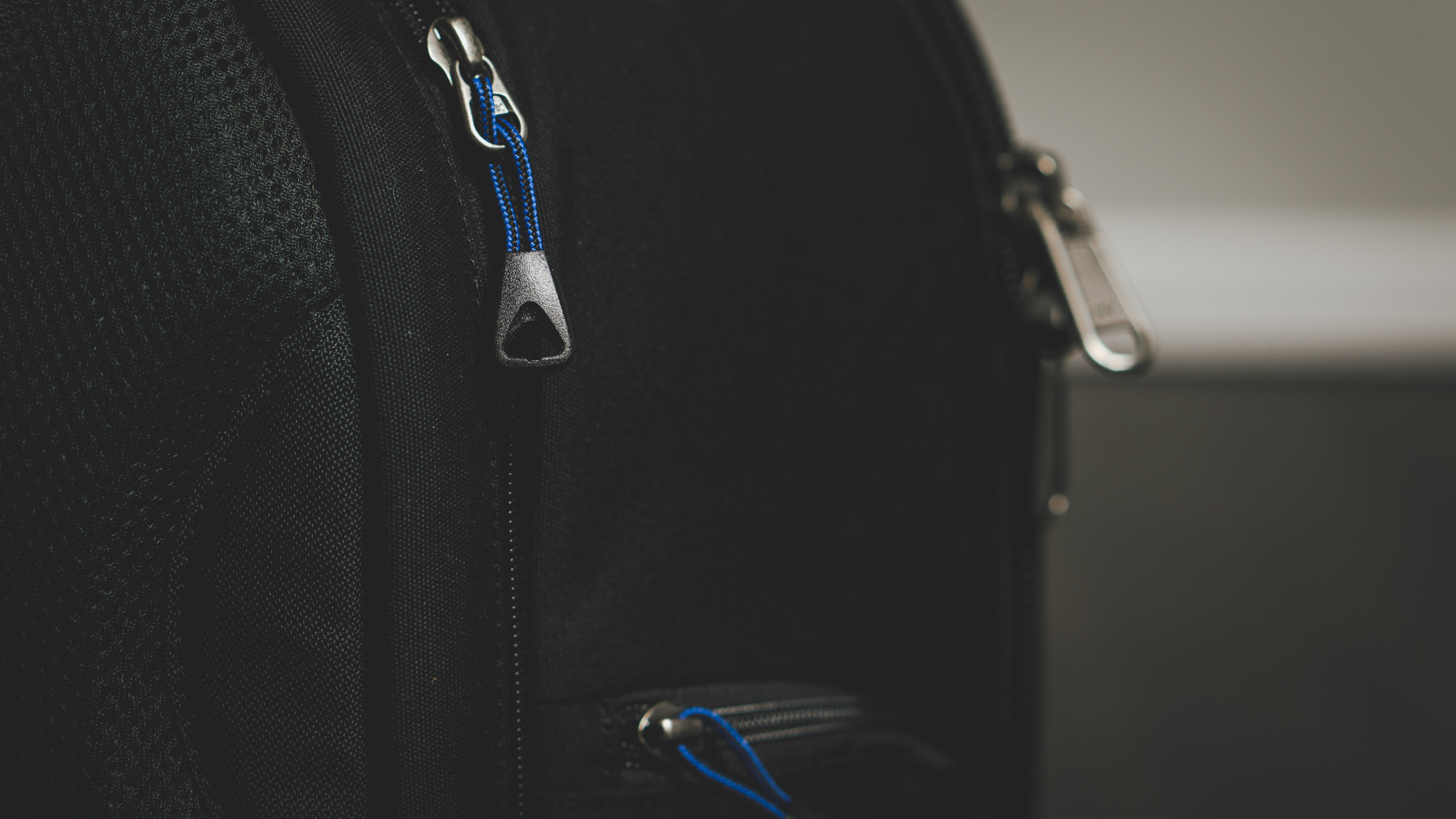 YKK Zippers throughout the Think Tank StreetWalker
Anyone who knows me, knows that I rave about YKK Zippers! I just love 'em. They're super smooth, self healing, self lubricating and only get better with age. I have owned a lot of bags with YKK Zippers and have never had a single hang up or breakage from them.
Think Tank also included nice pull tabs with blue accent cording on the small zippers. While they integrated a large locking type zipper for the main compartment. This is a great touch for security purposes.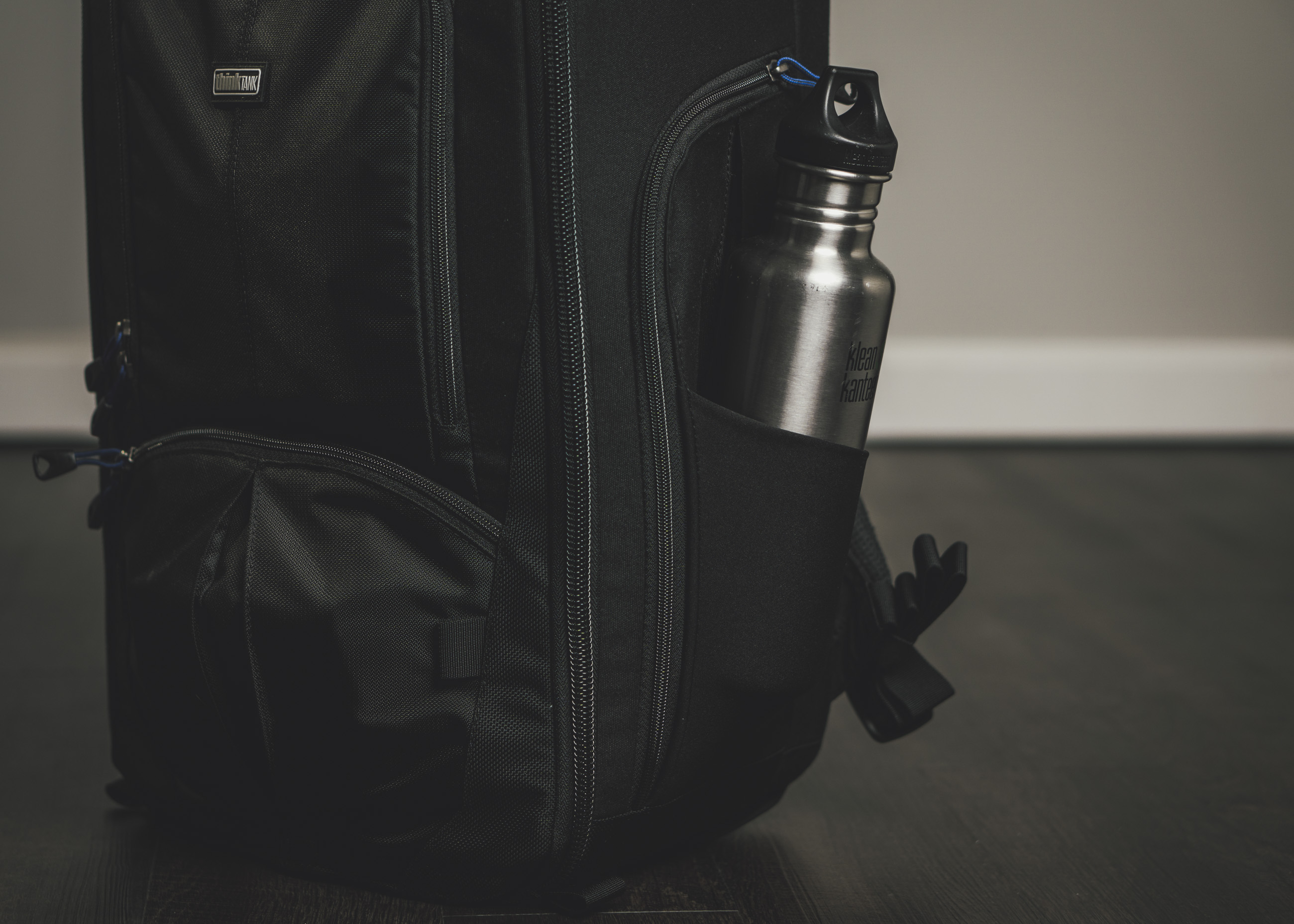 Side Stretch Pockets on the Think Tank StreetWalker Hard Drive
This was one of the reasons why I really liked the StreetWalker lines of bags. They had side stretch pockets.
However, I'm not as impressed now that i've tried fitting my normal line up of water bottles in them. Shown above is a 27oz Klean Kanteen (the smallest bottle that I use). As you can see, it fits. But it is very precarious in how it's held in. I imagine that this will be a problem in terms of it staying in place as i'm walking around.
Being able to have water readily available in side pockets is a huge deal while i'm out on a hiking or street photo session.
I would like to see the side-stretch pockets redesigned a bit if Think Tank ever does a revamp of this bag. I imagine if they were extended a bit higher and were made out a bit stretchier material they would be able to hold onto a bottle a lot better.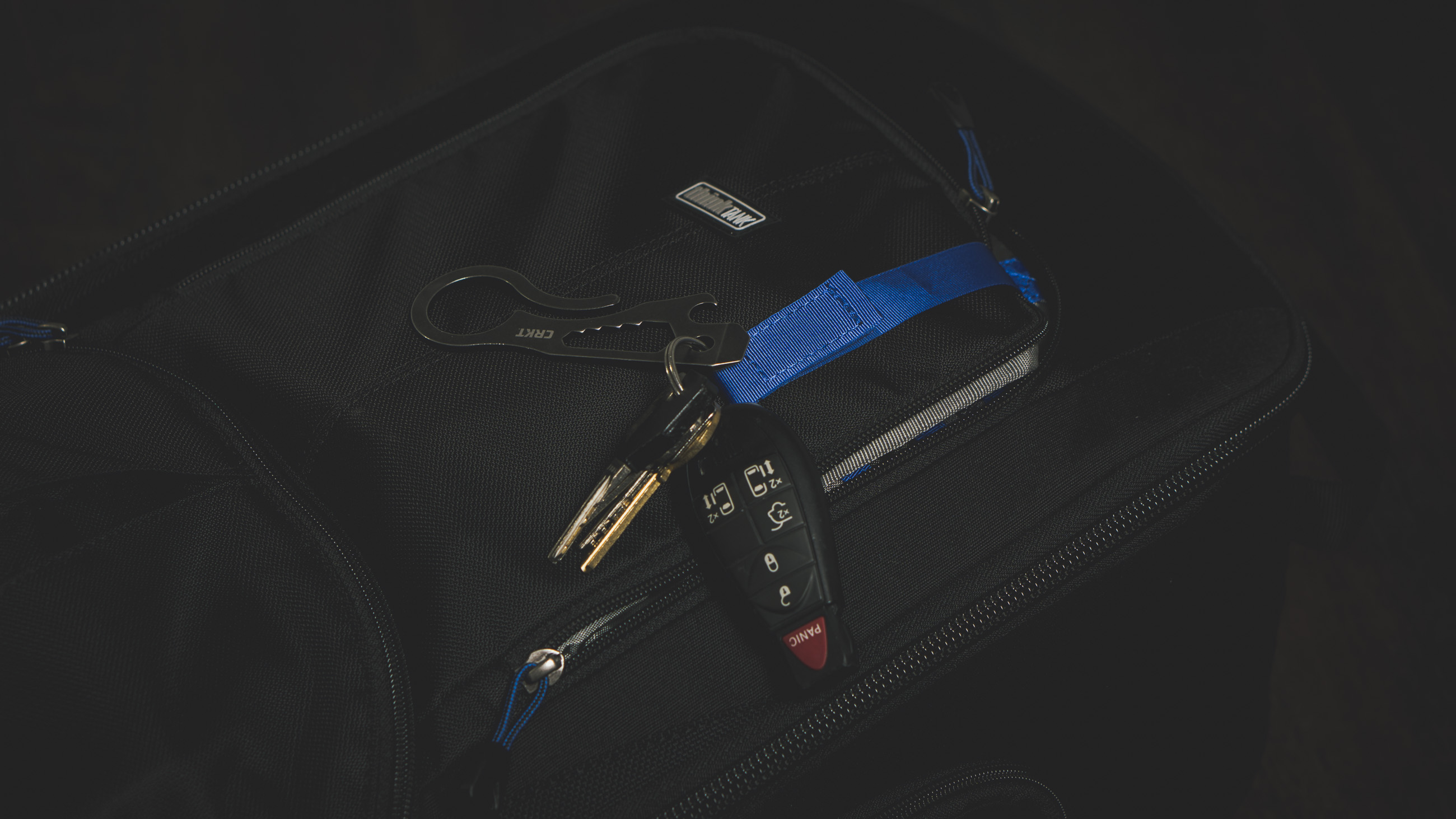 Key Lanyards in the Think Tank StreetWalker Backpack
There are 2 lanyards in the StreetWalker HardDrive backpack. And I couldn't be more excited about them. First thing I do when i'm on an outdoor shoot is store my keys securely inside my backpack. This gives me the comfort of knowing they're not going to accidentally fall off my belt loop. Or jingle around every time I take a step (ie: being obnoxious lol). It's the simple details like this that matter….Nice job again, Think Tank.
'See Through' Pockets inside the Think Tank StreetWalker HardDrive
I'm a huge fan of see-through material on the inside of bags. It allows me to quickly and easily see what gear is in the pocket, before I go riffling through everything.
The see through material that Think Tank chose is really thick and feels durable. Time will tell, but i'm impressed so far.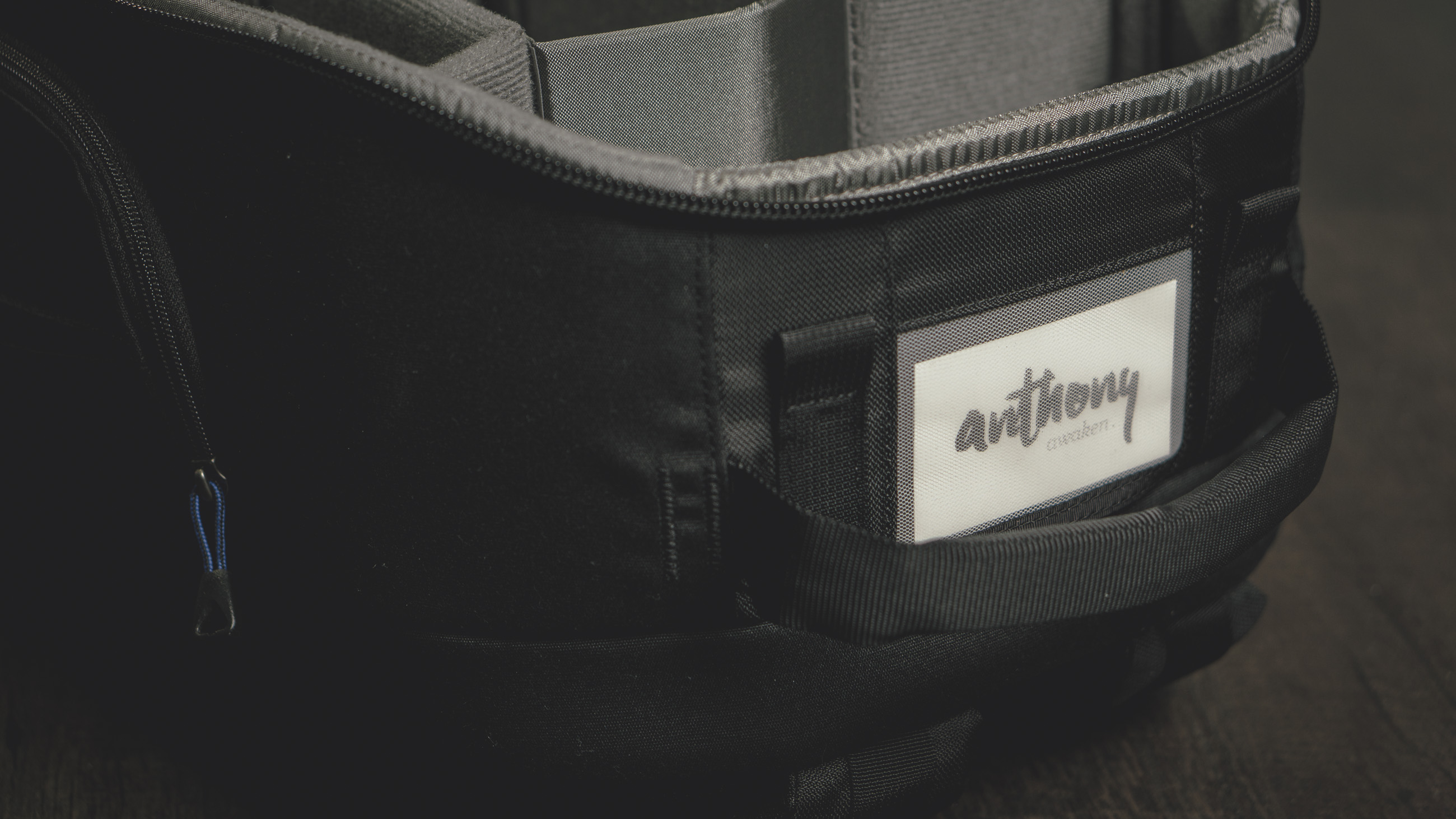 Clear Business Card Holder on the Think Tank StreetWalker
This is one of those goofy things that got me excited about this bag. Most people would probably think I'm crazy for getting so excited about a clear business card holder.
But I can't say how pumped I was to slip my business card into this slot, logo side up for the world to see!
It's just cool for branding purposes. People see the logo on my site, in my emails and then they'll see it at their shoot. This is super cool for consistency in my opinion.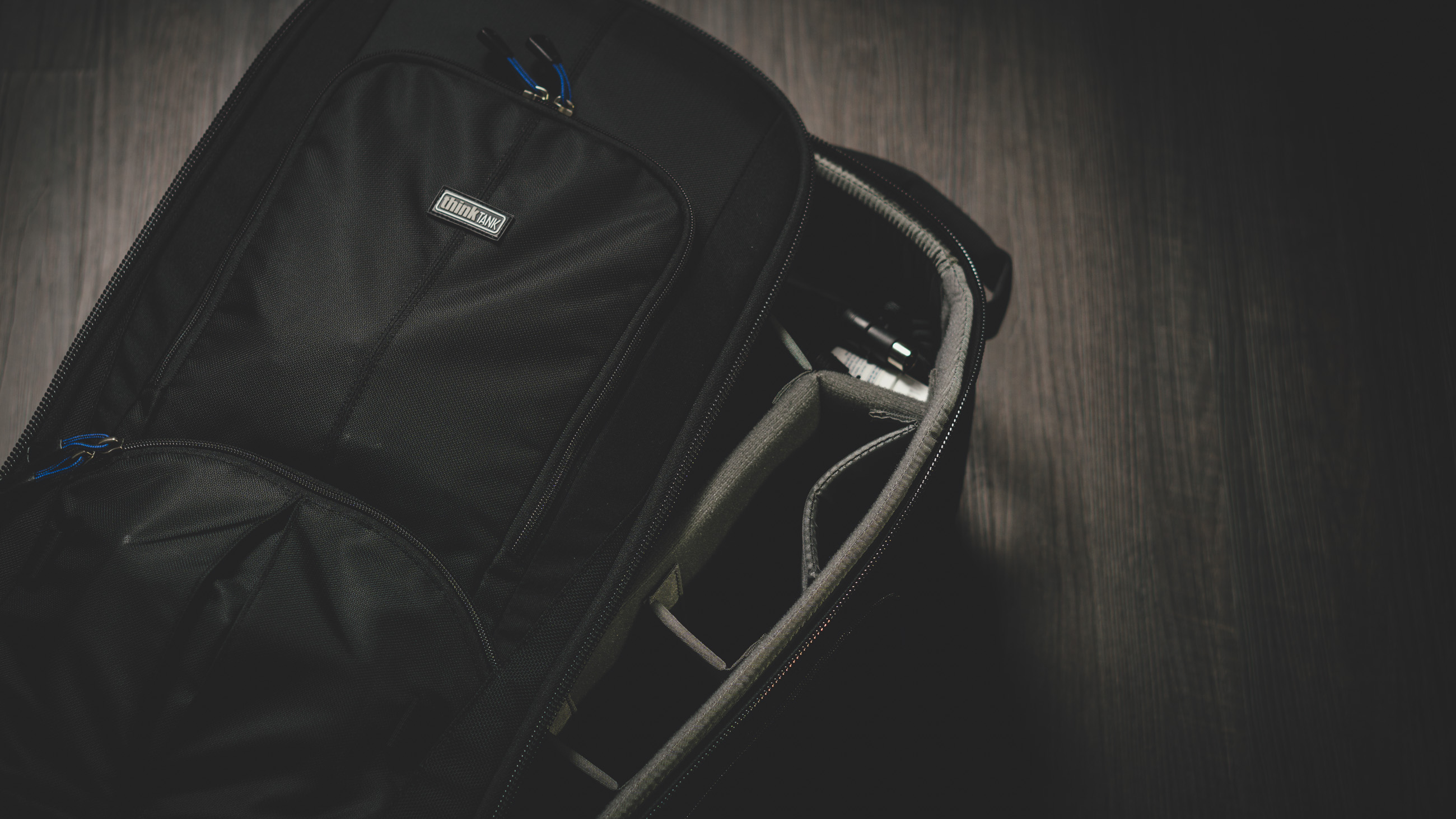 Think Tank StreetWalker First Impressions
(8.75 out of 10)
Out of the gate I am really impressed and excited about this bag! I feel like it's going to be a phenomenal backpack to carry to a variety of indoor and outdoor photoshoots. And will make an excellent travel bag as well.
I do have my reservations about how it's going to work with water bottles and that's a big kicker for me, as I often shoot outdoors for hours on end. I need to keep my hands on my camera so I don't miss my shots. Not on a water bottle. I guess we'll see if the 27oz Klean Kanteen's work out. But I may have to find an alternative (smaller) bottle.
Other than this small detail I am super impressed with everything else. I searched high & low for a bag that came as close to perfect as possible. And I fully believe it's going to work out phenomenally for me. So, I would certainly recommend it to anyone who's interested in buying one.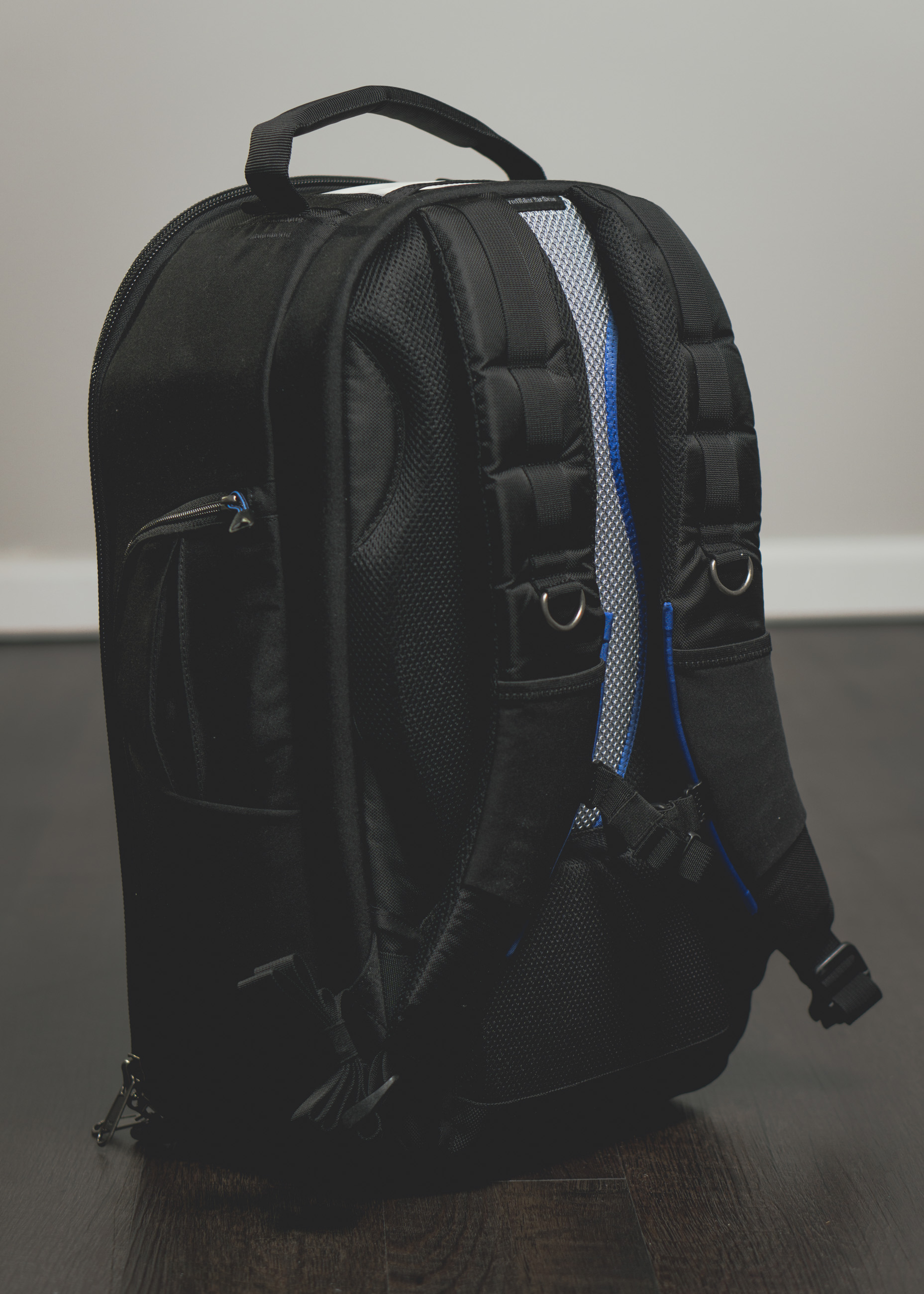 Looking to purchase the Think Tank StreetWalker HardDrive?
If you plan on buying the Think Tank Streetwalker HardDrive backpack please use my Amazon Affiliate Link below. Your support in purchasing from these links help to purchase future gear for reviews and goes towards adventures/trips to test the gear and get amazing new photos.
Follow along on Instagram & Facebook:


---