As always, welcome back to another gear review, folks!
Today i'm bringing you one of my favorite everyday carry blades, the SpyderCo Paramilitary 2…Specifically in the Digital Camo coloration.
Man, this blade has the looks! Now, find out why it's one of my favorites…
Intro into the SpyderCo Paramilitary 2:
I won't list all of the specs from this knife that excite me, because I would be listing all of them. So instead, i'll make mention of a few of my favorite things about it.
The first thing you notice when picking up the PM2 is how lightweight it is. It looks like it'd weight a bit more than it does. But it comes in at a humble 3.75oz, which makes it a joy to carry on your person every day.
The handles are constructed from some of the best feeling G10 that i've handled to date. And the 3.44″ blade is constructed out of S30V steel, which I really like on this knife. The knife also has a very generous thumb ramp and 2 finger choil areas. I really appreciate the way SpyderCo constructed the handle and ramp areas on this knife…It makes it incredibly comfortable to handle and operate.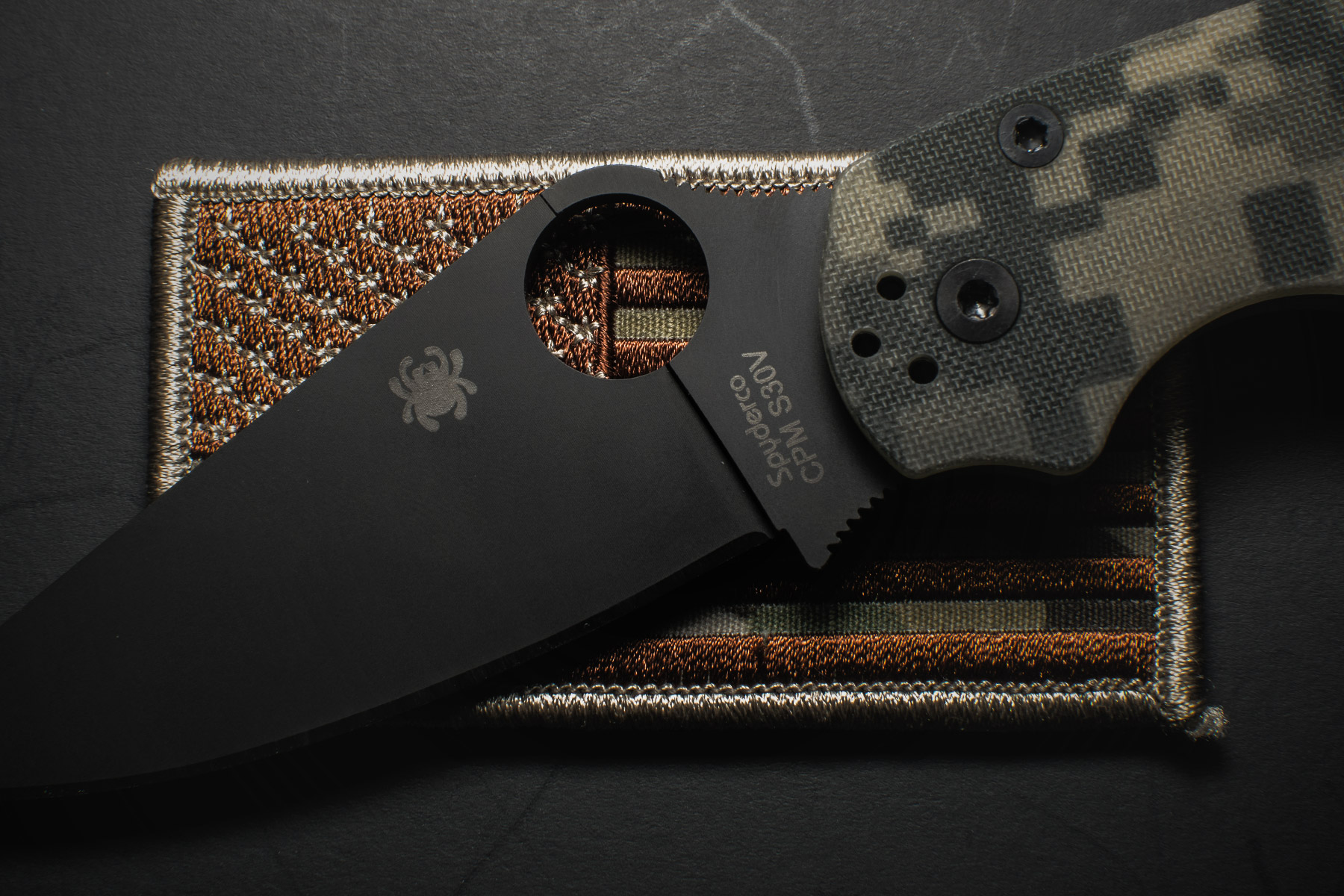 How have I been using the SpyderCo Paramilitary 2?
I've been EDC'ing (everyday carrying) this knife almost everyday for 2 months or so now. So the array of tasks that my PM2 has been subjected to are pretty broad and kind of boring if i'm honest (it's EDC, not building a log cabin in the forest with your pocket knife). Although the tasks have been mundane and far from sexy, the knife makes them enjoyable.
I've handled food prep with this knife, opened packages, cut cordage, done some minor whittling, cut various tags off of things i've purchased, among an array of other things that you'd imagine for EDC.
(You're seeing pictures of the blade when I first got it….Though it still looks brand new today) It performs perfectly as an EDC Knife. It's plenty sharp for any of the things you'll encounter, and the tip of this knife (which I seem to use a lot for EDC) is my favorite of any knife I own.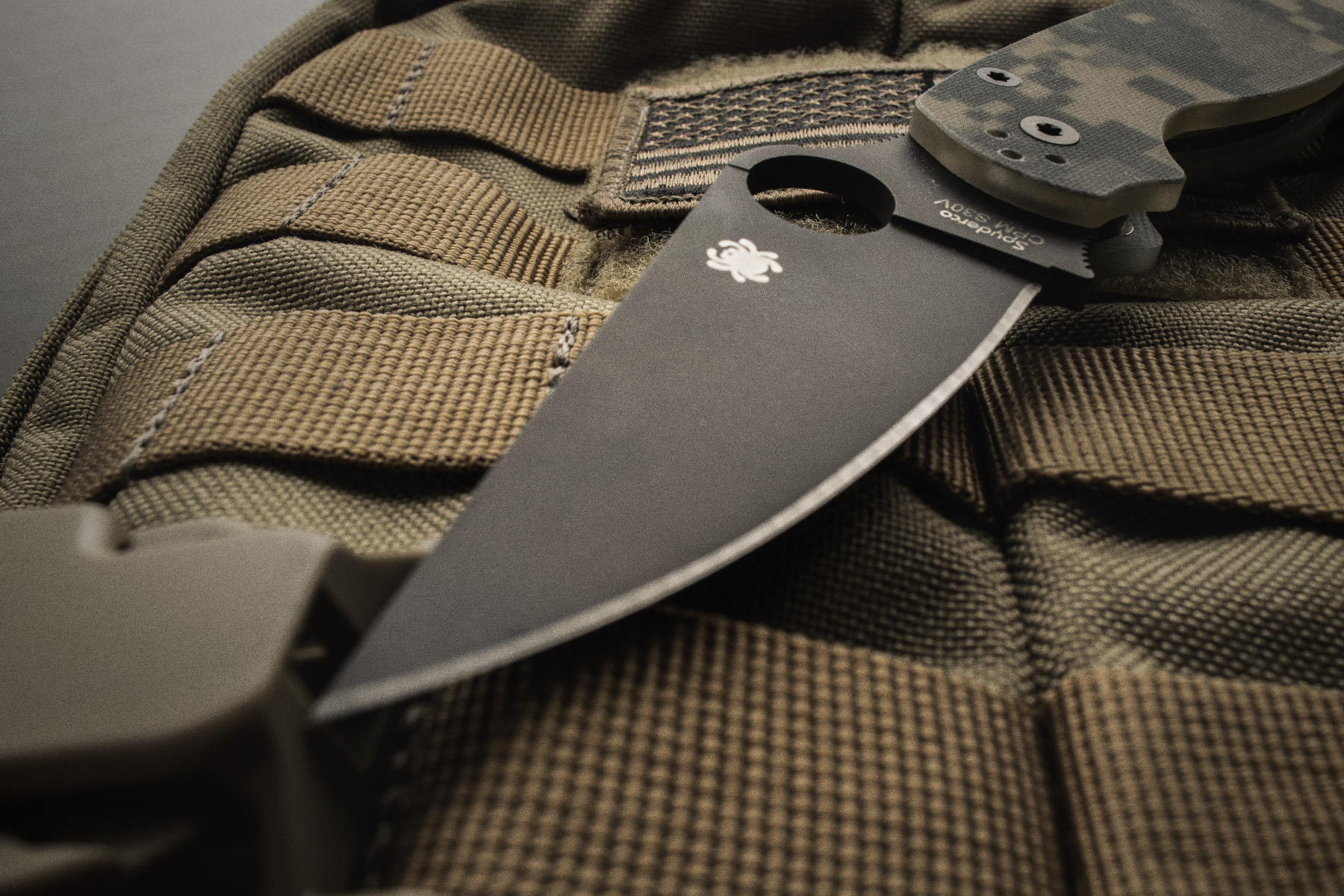 Some standout features that I like about this knife:
Handle ergonomics: I've already mentioned this above. But the handle on the PM2 has so many options for how it can be held. My favorites: You can grip the knife with your index finger resting up against the first choil area, or you can choke up on it which makes it excellent for finer work. That was a genius design move on Spyderco's behalf if you ask me.
The tip of the blade: So a bit more detail as to why I mentioned this. The tip of the PM2 is so daggon sharp. Why would that matter to me? Well, it comes in handy for a lot of my EDC tasks. Such as opening packages that arrive in the mail, or when a product is blister packaged from stores. But I notice it most when i'm cutting open packages of meat when i'm preparing lunch or dinner. Use this blade, then something with a more rounded tip and you'll see what I'm raving about this.
Generous Lanyard Hole: This is another area that Spyderco must've done their homework. The lanyard hole on this knife is large and in charge. I always strip the innards out of my 550 cord, but even if I didn't the PM2 lanyard hole would accept 550 cord with ease. Thank you Spyderco…I didn't have to fight with your knife at all to attach my lanyard!
Thumb Hole Deployment: I'll be the first to say that I was embarrassing to watch when I first started trying to use the Spyderhole. I would stand at knife counters and try to get the hang of it while the employee wasn't looking (in an effort to keep my dignity).
It wasn't until I bought a Spyderco for myself and played with it for 5-10 minutes that I really got the hang of flipping it, via the Spyderhole.
So, let me say this – If the Spyderhole deployment method is keeping you from buying a Spyderco (like it did for me, for quite some time) don't let it. It's easy to learn once you're in your own element messing with the knife. In fact, it's now one of my favorite deployment methods on a pocket knife.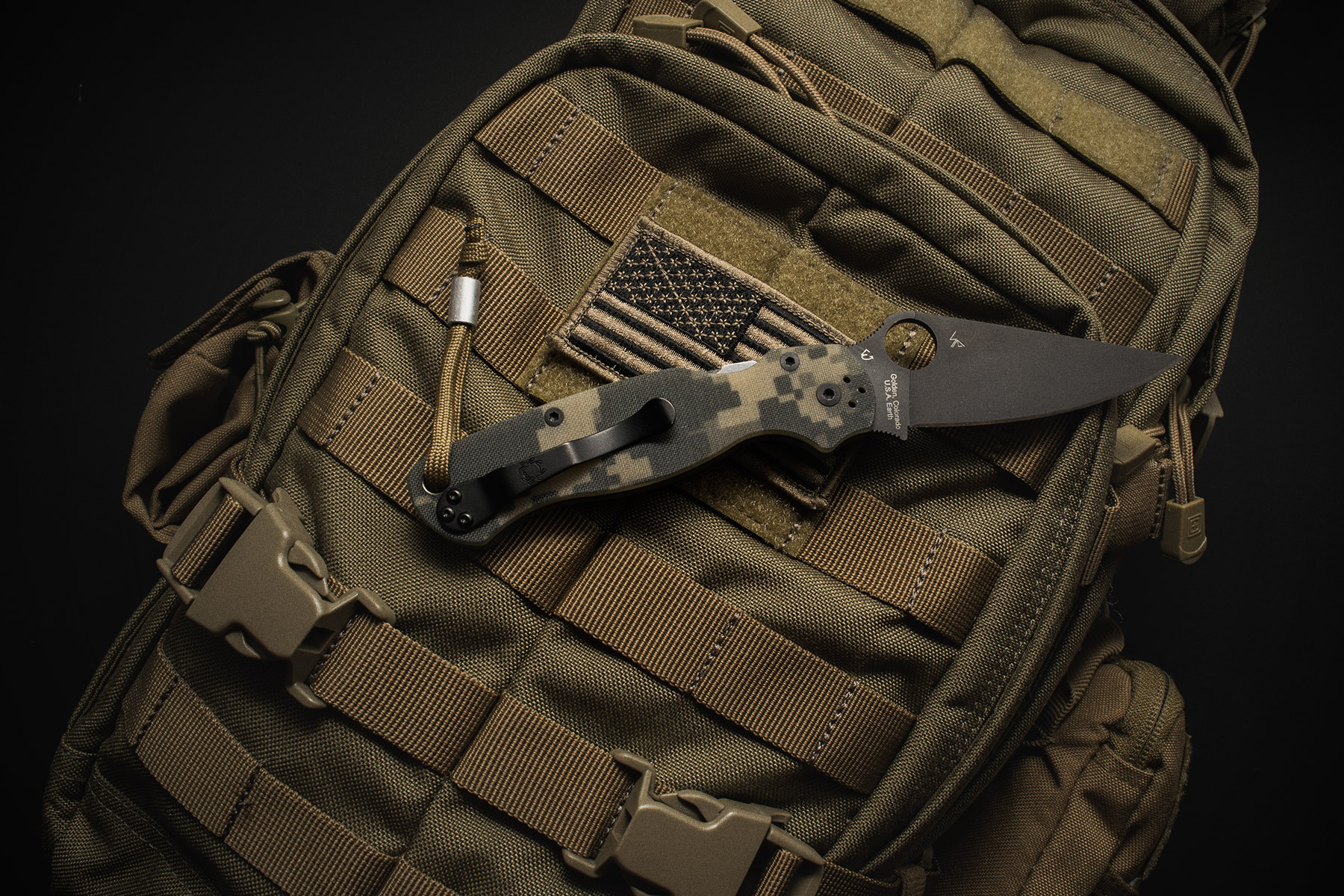 Compression Lock: Spyderco's lock type is called the compression lock. I've honestly never used anything quite like it before the Paramilitary 2. But I really like it for EDC purposes. From all the tests i've seen it's plenty strong and holds up well. And it's great for one handed use, which is why I really like it.
You can open the knife very easily one handed. And to close it simply choke back on the knife, depress the lock with your index finger and flip the blade downward to close. You can do all of this one handed like I said, and your hand/fingers are totally out of the way of the blades edge. This is one of my favorite knives for it's ability to be operated one handed.
Looks: This knife just looks good! I've threw this knife in pictures with tans, blacks and all sorts of other colors and it just looks good no matter where it's at! Yes that matters.
USA Made, Baby! USA, USA, USA….Okay sorry, I get a little excited about this aspect. These knives are proudly made in Golden, Colorado. Sure this impacts price, but I don't care. The knife rules and i'm supporting my fellow CountryMen (and Women).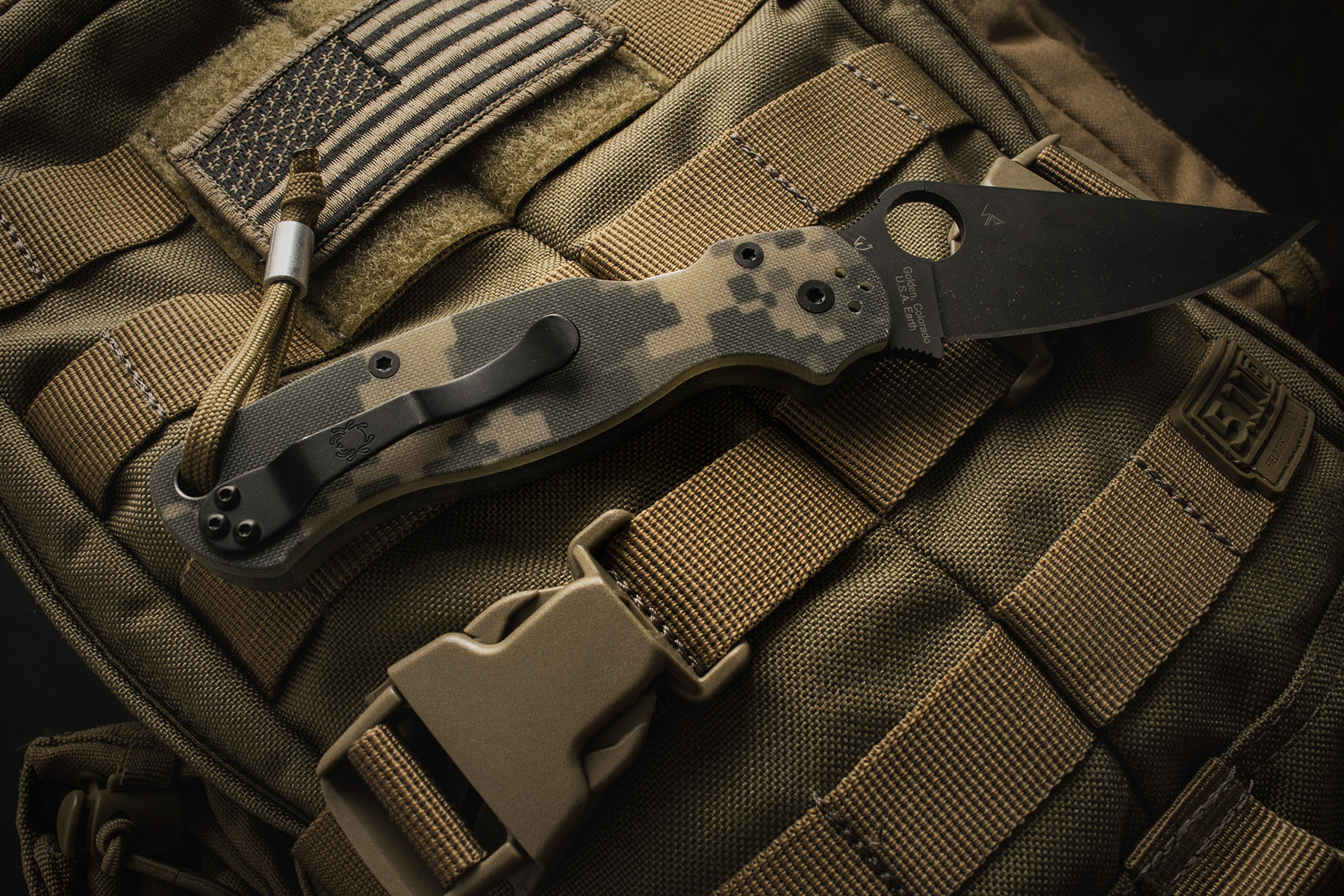 It's pretty expensive, is it worth it?
Sure it's definitely a more expensive knife. But I can say that it is indeed worth it. I've personally purchased and owned a lot of expensive knives. Some of them, such as this one and the Hogue Knives have been totally worth it. While others have been total garbage (I choose not to name names).
The SpyderCo Paramilitary 2 is a knife that I see as one of the most high value options out there. I picked mine up for around $120-130 from BladeHQ and I haven't regretted it once.
You get a phenomenal blade steel (S30V), a lot of useful EDC features and you're supporting a great company who chose to produce this beautiful knife in the United States of America. I feel like this knife would still be a good deal at $150 (let's just hope it stays around the $130 range).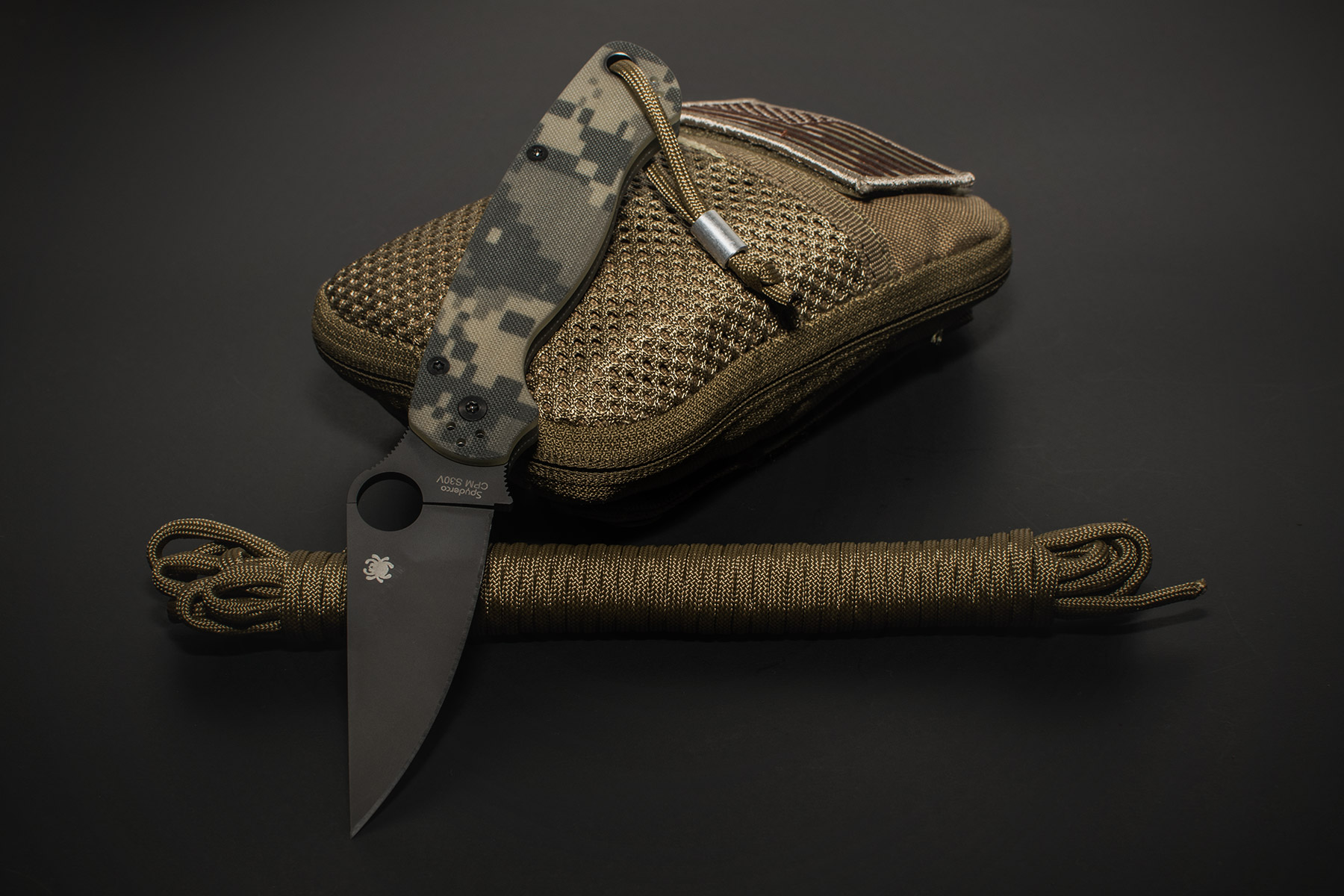 What category of use does this blade fit best into?
I would say everyday carry for sure. It is so lightweight, but packs a wide variety of capabilities. This is my #1 EDC Knife right now, and I don't anticipate that changing anytime soon.
And while I would still prefer packing my Cold Steel Finn Wolf on hikes and in the outdoors (based on it's wood working capabilities), this knife has made it's way on campouts and hikes with me several times. For all of the reasons i've justified in my everyday carrying of this knife, it makes just as good of a companion in the outdoors as well. I would probably pack it more, but i'm honestly afraid of it getting snagged on something, dropping out of my pocket and getting lost.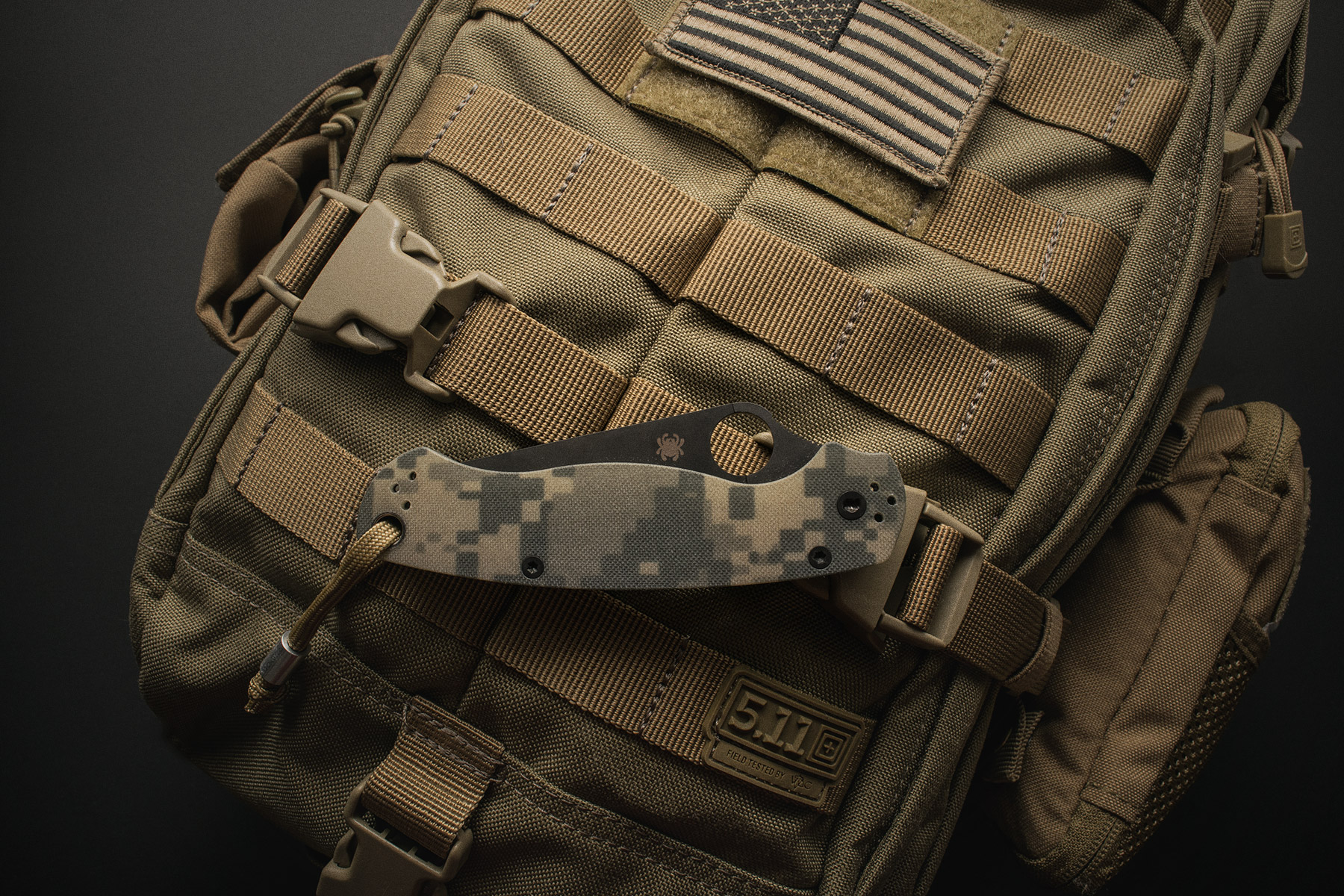 Bottom Line: Would I recommend it?
Yes! I give this blade an easy 10 out of a 10!
A quick note on my latest reviews and review "grades":
I know i've given a lot of my recent reviews a 10 out of a 10 as of late. But i'm honestly only doing written reviews right now for the stuff that I really like. I have limited time, and i'd rather not waste it on the stuff that i've used and disliked. I would rather spend time writing reviews on things that I would recommend to you all, and want you to enjoy as much as I have. So if you've been reading a lot of my reviews lately and wondered if i'm being too positive or bias towards the products, that's the reason why.
I'm sure i'll eventually post about something that hasn't lived up to my expectations. But it takes a lot of time to test, photograph and write these reviews. So i'm trying to use my time wisely at the moment and actually make recommendations for good gear, rather than the opposite.

Purchase the Spyderco Paramilitary 2:
If you've been looking to purchase a nice, high end EDC blade I would fully recommend the SpyderCo Paramilitary 2! Please consider purchasing through my Amazon Link (found below). By doing so I will receive a small kickback from your purchase, which helps me out financially to keep purchasing and reviewing new gear here on the site.
Follow along on my Adventures:
Follow me on Instagram @AnthonyAwaken. I post daily on IG, so you can keep up with my adventures and latest product testing. I hope to see you over there!
---