Welcome back to my first gear review of 2017! Today I want to share my thoughts and impressions on a knife that I have been extremely excited about….The Bushcraft G10 by Spyderco!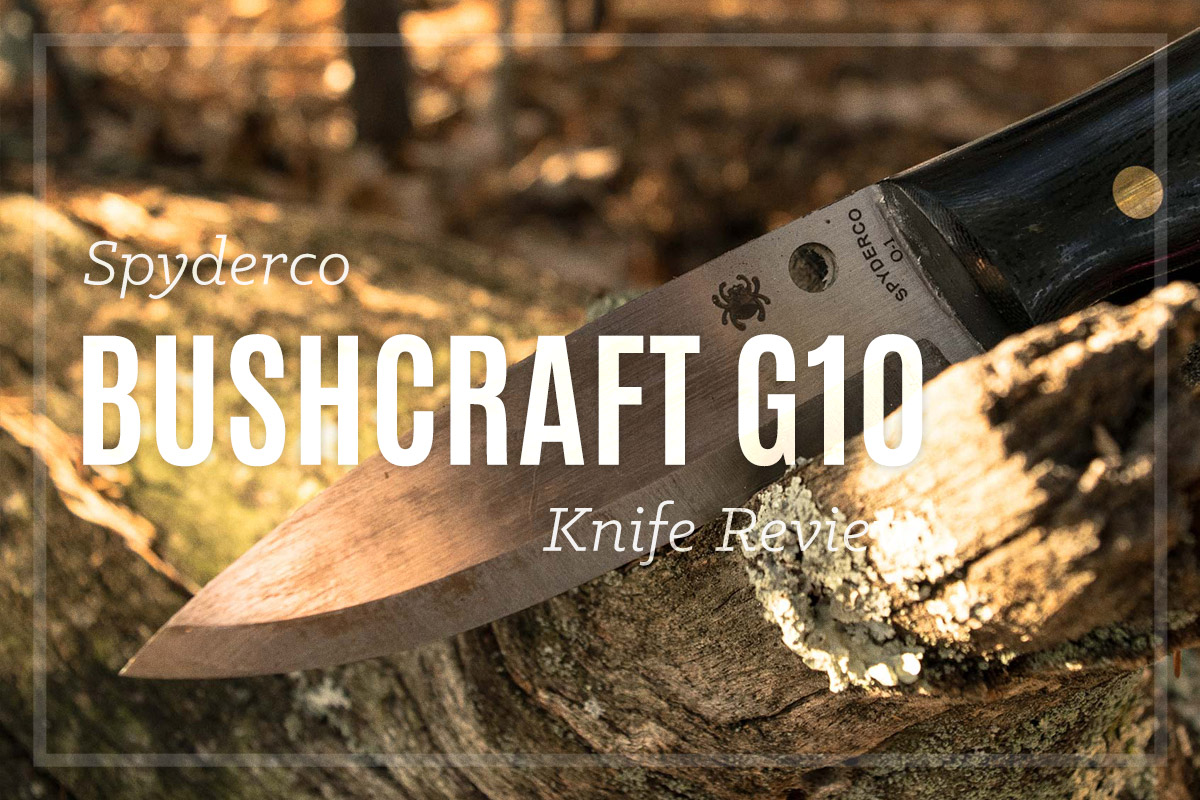 Spyderco Bushcraft G10 Review
I have been using the Spyderco Bushcraft G10 knife for a couple of months now and it has became one of my go-to knives for a few specific tasks.
But before I dive into what i'm using this knife for, i'll share some of its specs for those who are unfamiliar. And if you are unfamiliar with the Bushcraft G10, I wouldn't blame you. A lot of people know Spyderco for their folding knives (like the Paramilitary 2), rather than their beautiful fixed blades.
Overall Length: 8.75″
Blade Length: 4.10″ (3.398″ cutting edge)
Blade Thickness: .140″ (3.6mm)
Blade Steel: 01 Tool Steel
Weight: 7.8oz
Made in Taiwan
Sheath Type: Leather
Price: $210+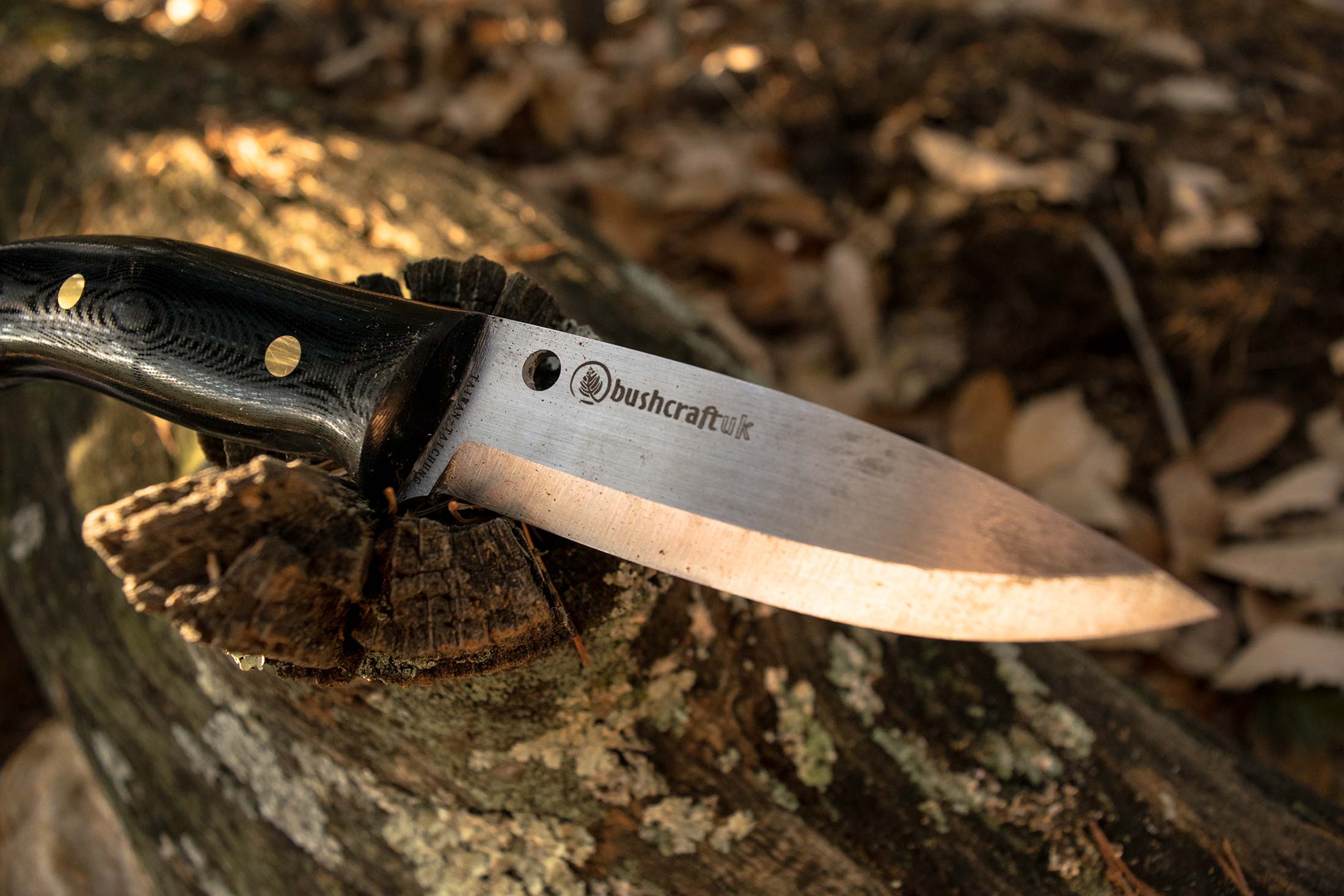 First Impressions with the Spyderco Bushcraft G10:
When I first received the Bushcraft G10 knife I could hardly wait to unbox it and get it into the outdoors where it belongs. But I was met with several precautionary steps that Spyderco took when packaging it. They took these steps to ensure the blade stays shiny & new before the end-user receives it. (01 Tool Steel by nature can be rather rust prone if you're not careful with it)
They put a corrosion resistant paper around the blade, some adhesive strips over the brass pins and moisture absorbing packs down in the package. This was a great move on their behalf to prevent oxidation on the exposed metal areas. I really appreciate this….If i'm going to see wear on the blade, I want it to be caused by me and not while it's been sitting in storage. Great job, Spyderco.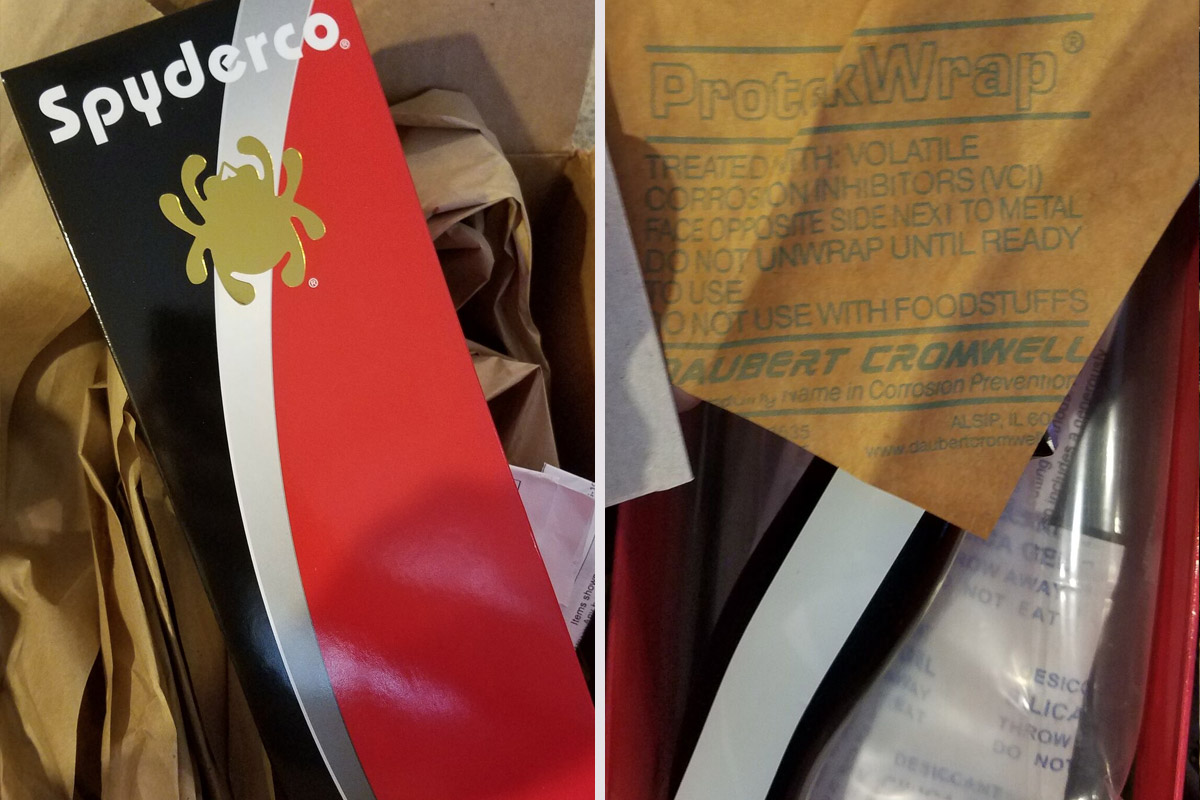 Now that I had carefully unboxed the knife I immediately picked it up and started to handle it…And wow!
Fit & Finish:
I was immediately impressed by the fit & finish of the knife. The handles are beautifully rounded and have no hot spots whatsoever. They fit perfectly along side the full tang blade. And when I say perfectly, I mean perfectly. You can't find any spots where the handle scales protrude above or below the tang. They are perfectly rounded and flush.
Weight:
When you pick this knife up, you definitely feel it in your hand, as it's quite heavy for its blade length. But at the same time it is balanced very well for my liking (with a bit more weight in the handle than the cutting edge).
I am not bothered at all by the weight. It adds to how robust the knife feels. And it gives you a feeling of security, that this knife will put up with a lot of hard use.
Overall thoughts on the blade itself:
The blade on this Bushcraft G10 Knife is so gorgeous. The 0-1 Tool Steel, was in my opinion the perfect choice for this blade. And when I received this knife, it was and I don't say this sarcastically…"Scary Sharp". I have never seen a knife this sharp out of the box.
I have used this knife a lot and can speak for it's edge retention. Even after beating on it for hours at camp, or carving with it for 4-6 hours it will still pop hairs.
It was a breeze to resharpen when I felt the knife eventually needed some edge maintenance. This is attributed to how easy the 01 Tool Steel is to resharpen. I typically use my Spyderco Sharpmaker (soon to be reviewed) and it will put a phenomenal edge back on it. As will Arkansas stones or my homemade leather strop.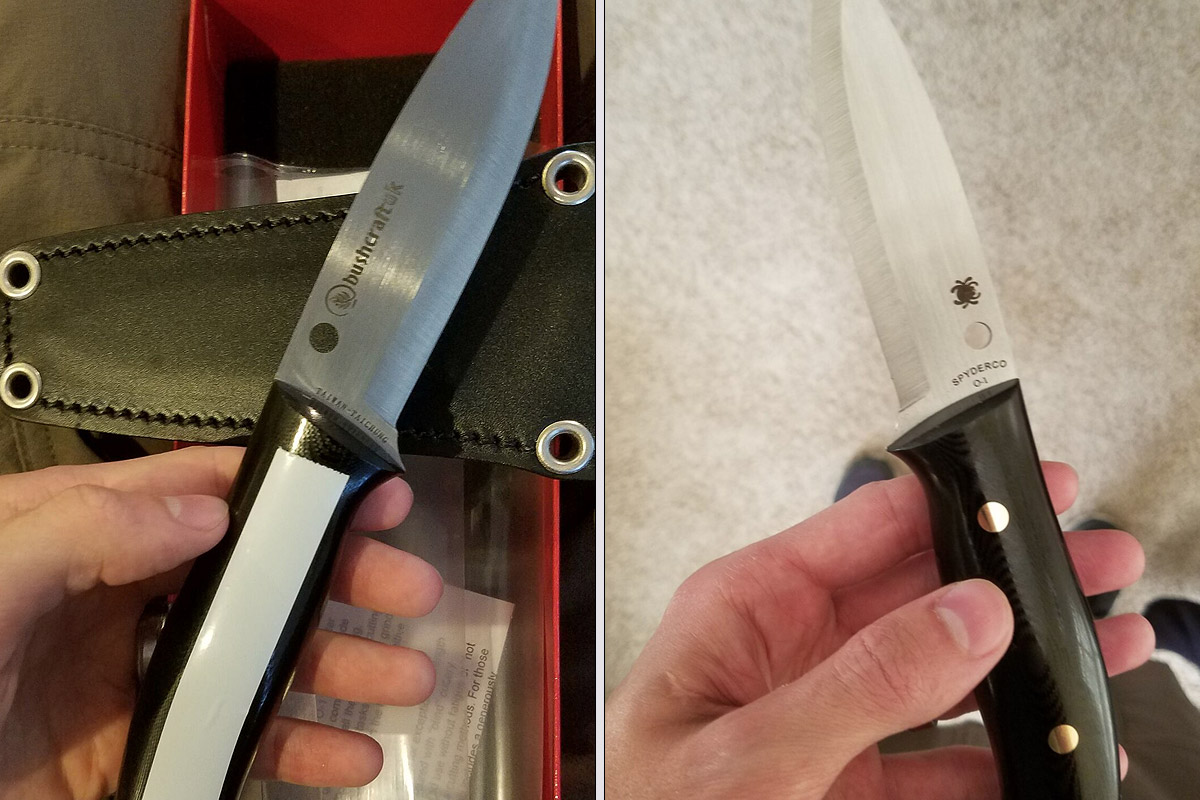 Feel in Hand:
I've already mentioned that this knife has some heft to it in terms of weight. So, now i'm solely talking about how it feels in hand. And I have to say, it feels like a glove. The palm swells that are created by the smooth G10 handles fill your hand perfectly. You're able to get a strong purchase on the knife.
The G10 is smooth as I said above. So, don't expect to receive a knife that is extremely grippy like other knives that utilize a rough textured G10 material. Does it bother me that this G10 is smooth? Absolutely not. In fact, I prefer it on this knife. This is a knife that you will be using for hours on end. A rough handle would chew your hands up during extended use. While this smooth G10 will leave your hands feeling comfy at the end of the day.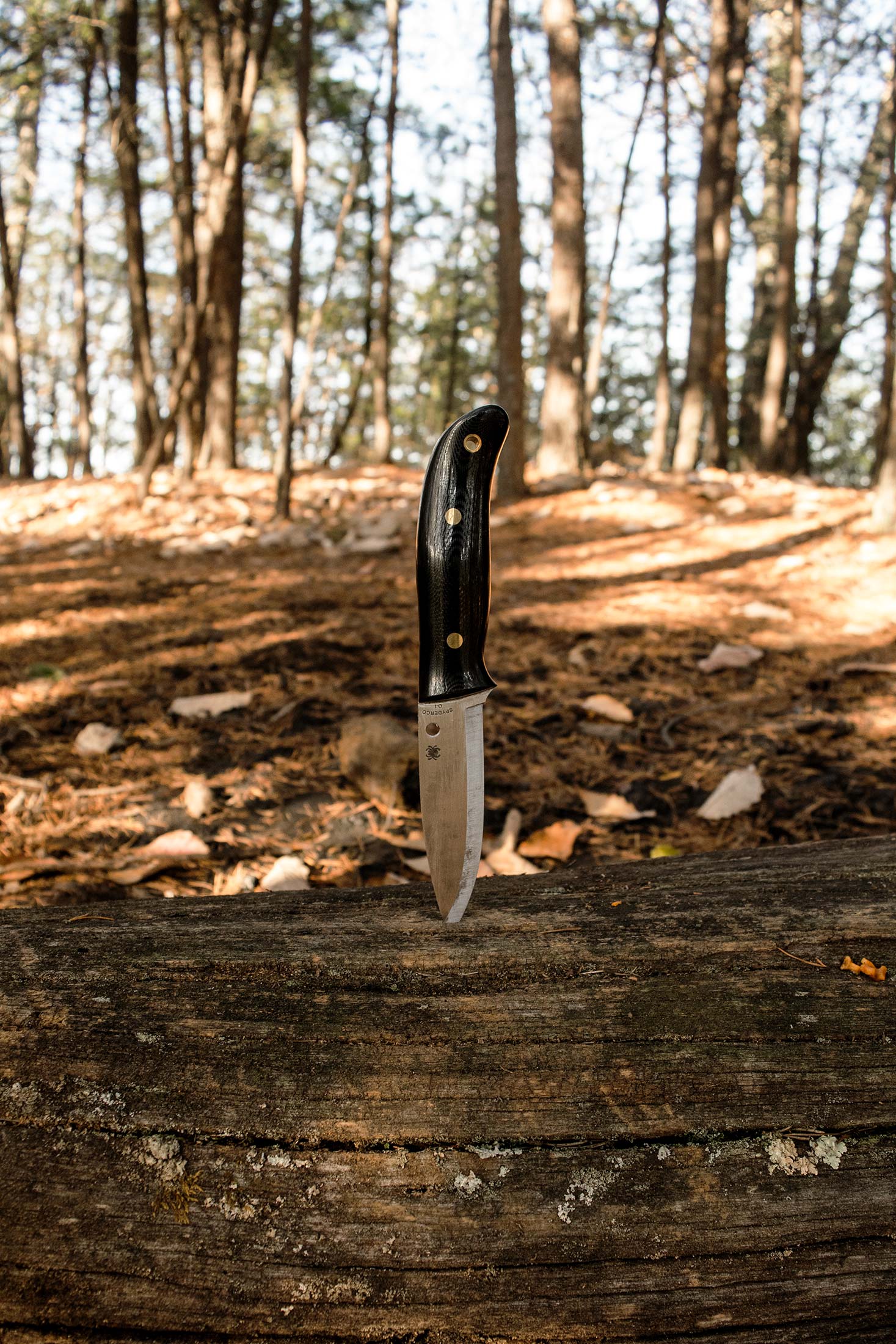 Field Use with the Spyderco Bushcraft G10:
I've been using this knife a lot over the past few months. I've used it to create fires, make shelters, do general camp chores and perform some hobby/bushcraft tasks like spoon carving. I'll break it down into some categories below and share how it has performed:
Firemaking with the Spyderco Bushcraft G10:
Pros:
The knife has an incredibly sharp 90° spine on it. Which is ideal for using with a ferrocerium rod. (It throws some insane sparks)
Again with the 90° spine: It is capable of creating some really fine wood shavings.
Hands down, this knife feather sticks better than any other knife that I own.
It will baton small kindling with no problem.
Cons:
Since the blade length comes in just shy of 4″ it is not my ideal knife to reach for when I need to baton larger wood. This is due to it's slightly shorter blade length. For that task I would either reach for a larger axe, tomahawk, or a 6+" blade.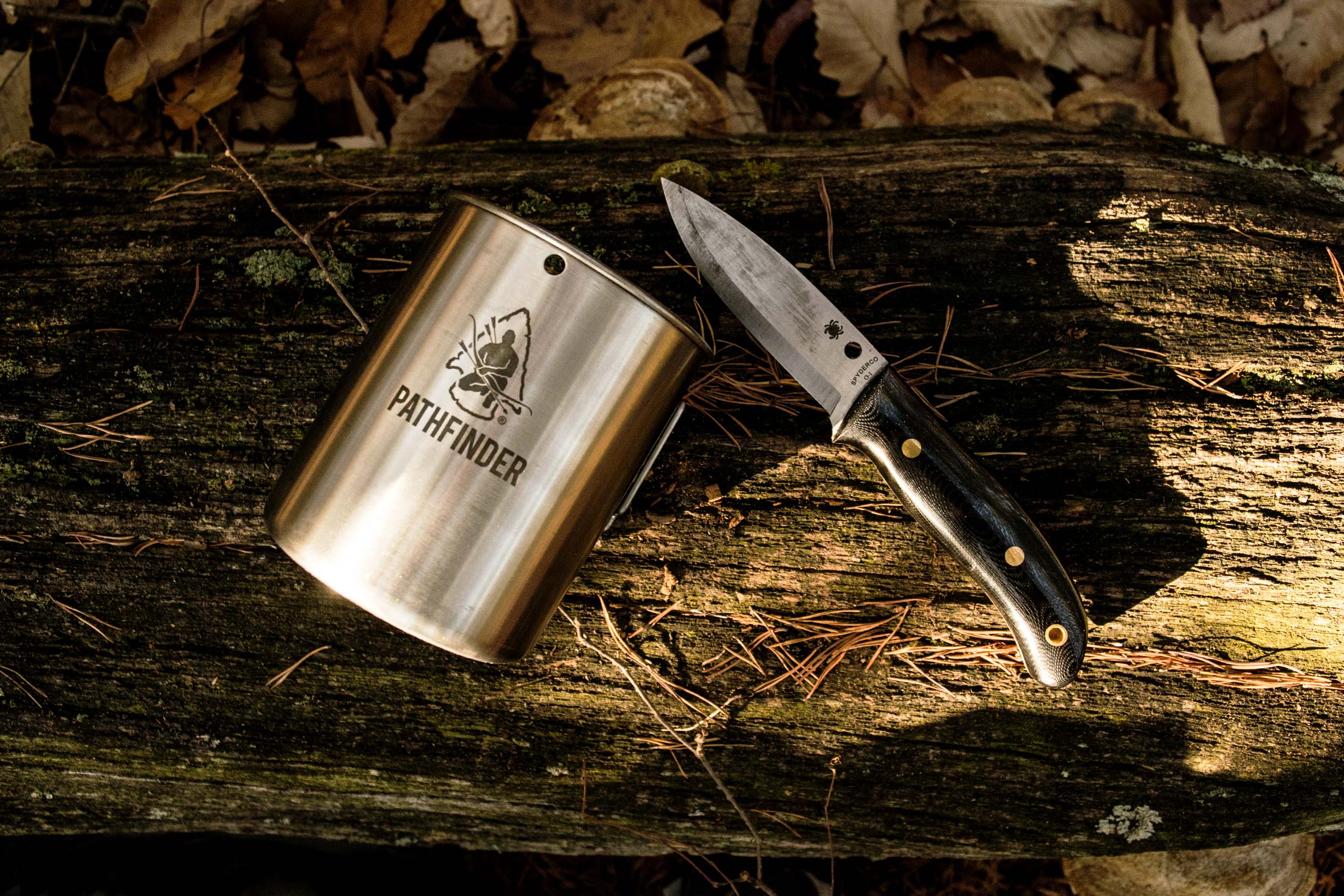 Camp Chores/Bushcraft:
Pros:
It made short work of creating improvised tent stakes, tripods and the like.
It handles any generalized camp chore with ease: Cutting cordage, opening small packages, some general food prep, etc.
The Spyderco Bushcraft is one of my favorite knives for spoon making and tasks along these lines. The scandi grind bites so incredibly deep that it makes short work of carving something, like a spoon. And it's incredibly sharp, so it simply glides through wood.
It's surprisingly agile when doing fine/detailed wood carving work. However, I typically reached for a smaller/more delicate blade at that stage in my carving.
Cons:
For extended use, in a wood carving scenario the 90° spine can rub your thumbs raw. But that's a tradeoff i'm willing to take for its fire making ability, which I mentioned above.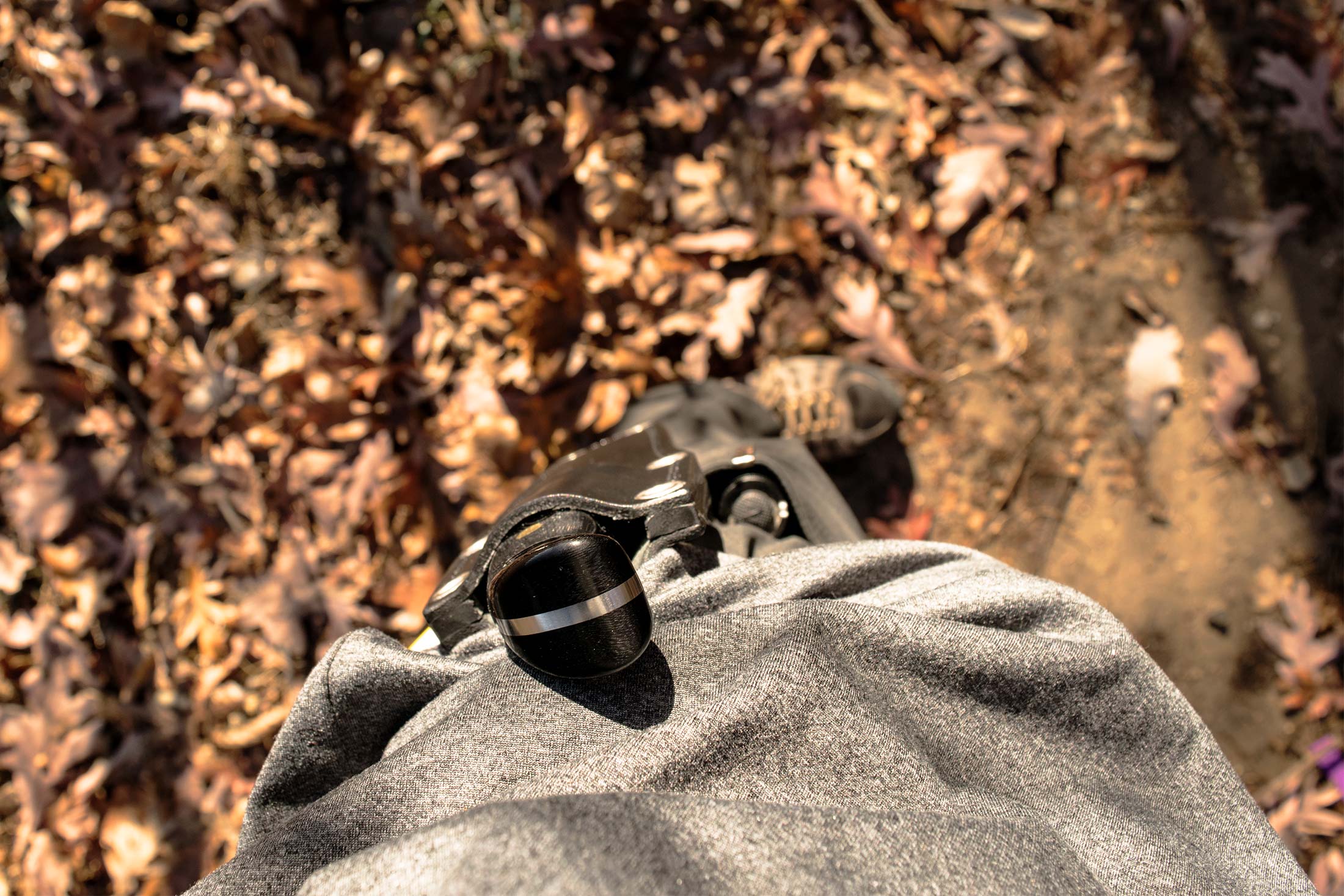 How does the leather sheath carry?
I love it! It carries at the perfect height for me (leaving the tip of the handle an inch or two above the belt line). The sheath is leather, as I have mentioned. It has a generous belt loop which accommodates my 1.75″ belt with no problem.
The leather is thick and feels premium. Spyderco also put a kydex/plastic liner inside, to avoid cutting your leather every time you sheath or un-sheath. I can really appreciate this.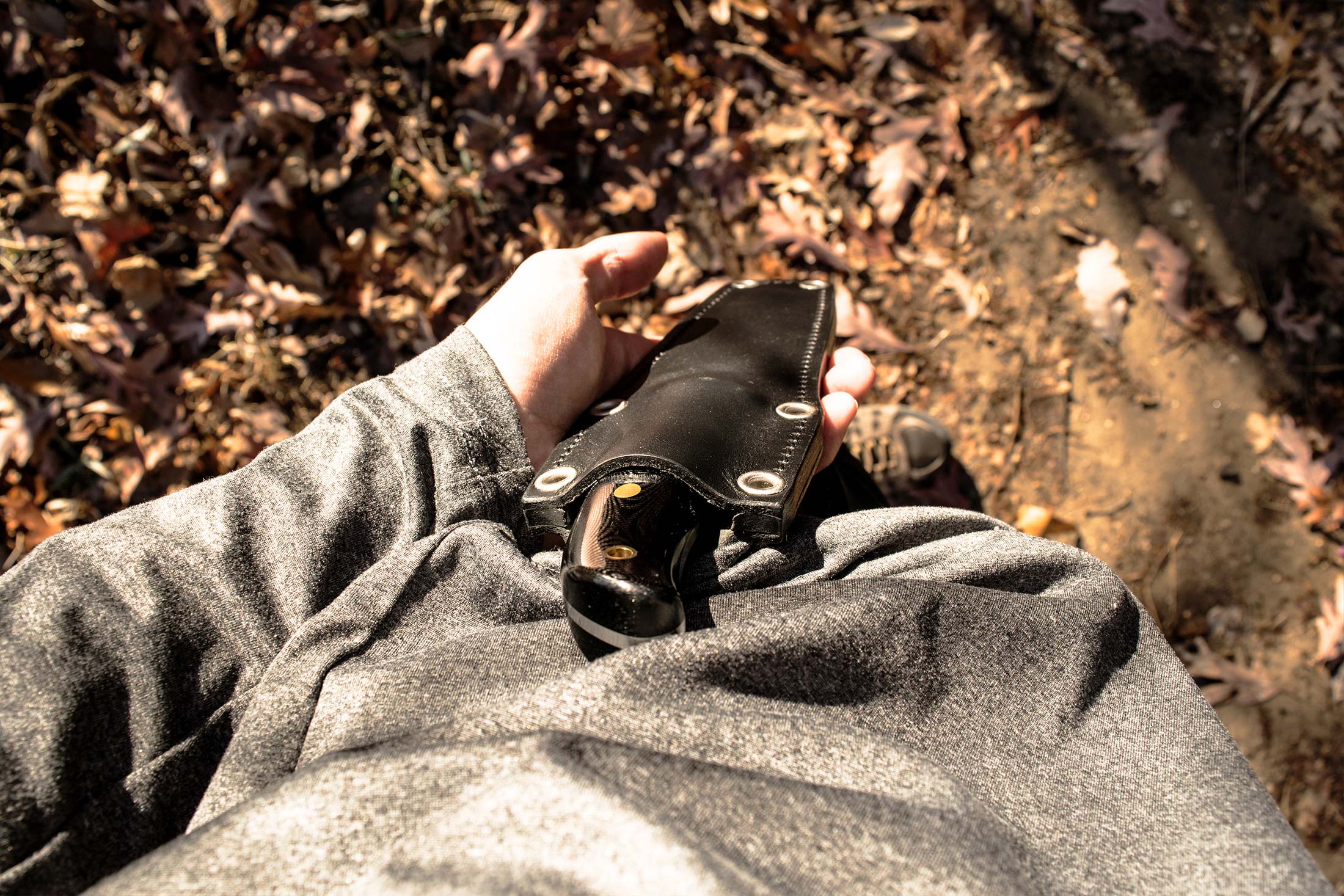 Who would love the Spyderco Bushcraft G10:
I believe anyone who enjoys a handmade or premium-production knife would love this one. It spews quality and is in my opinion worth the high price tag. It's certainly my nicest feeling & looking fixed blade.
It is certainly a specialized knife for me, that falls within the bushcraft genre. I personally reach for it when i'm doing my bushcraft types of tasks. So, I would recommend the Bushcraft G10 to anyone who is serious about their bushcraft hobby/lifestyle.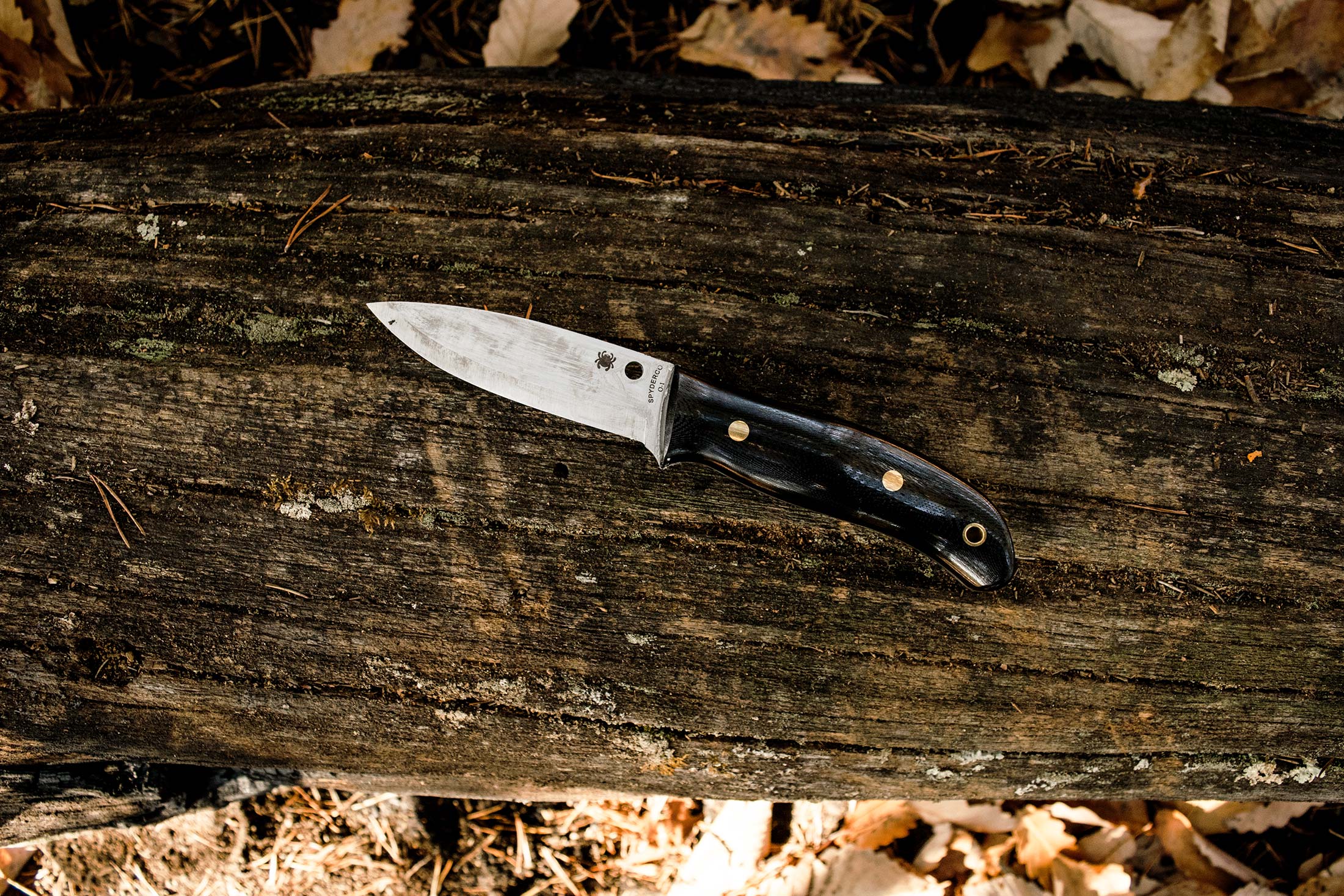 How does the Spyderco Bushcraft G10 fit into my kit?
This knife resides in my wilderness/bushcraft bag. It is accompanied by a small hatchet or tomahawk to handle heavier wood processing. I also throw in a small knife like the Mora Eldris, Mora Classic or Mora 511 to handle fine carving work. With this gear pairing it allows me endless capability.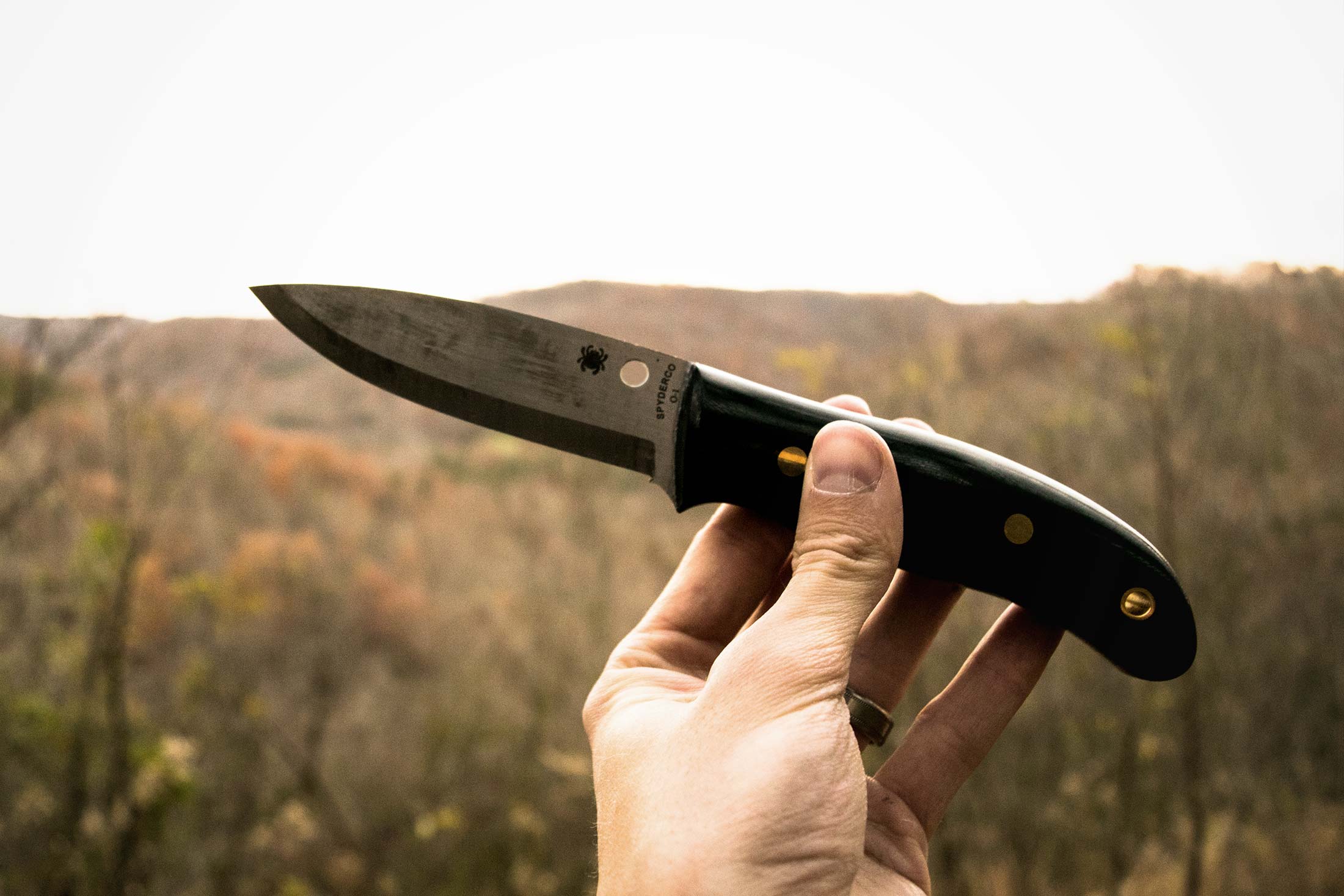 Overall thoughts & score for the Bushcraft G10 (9 out of a 10):
The Spyderco Bushcraft G10 certainly fills a void that was missing in my outdoor/bushcraft kits and I will not be replacing this knife anytime in the foreseeable future. It performs in a way that none of my other knives do. And it's flat out gorgeous!
Why didn't it get a perfect 10 out of a 10 then? I struggled with this rating, because I really love this knife and I can't complain about it's usability/quality/etc. However, I know the price tag is holding this knifes popularity back. $200+ is a lot of dough for the average Joe to cough up and I can relate to that. So with that said, I believe if this knife were a bit cheaper more people would hop on it.
Price Aside: It is certainly named appropriately as Spyderco's bushcraft knife. This knife is a total winner and I fully recommend it for my fellow bushcraft enthusiasts!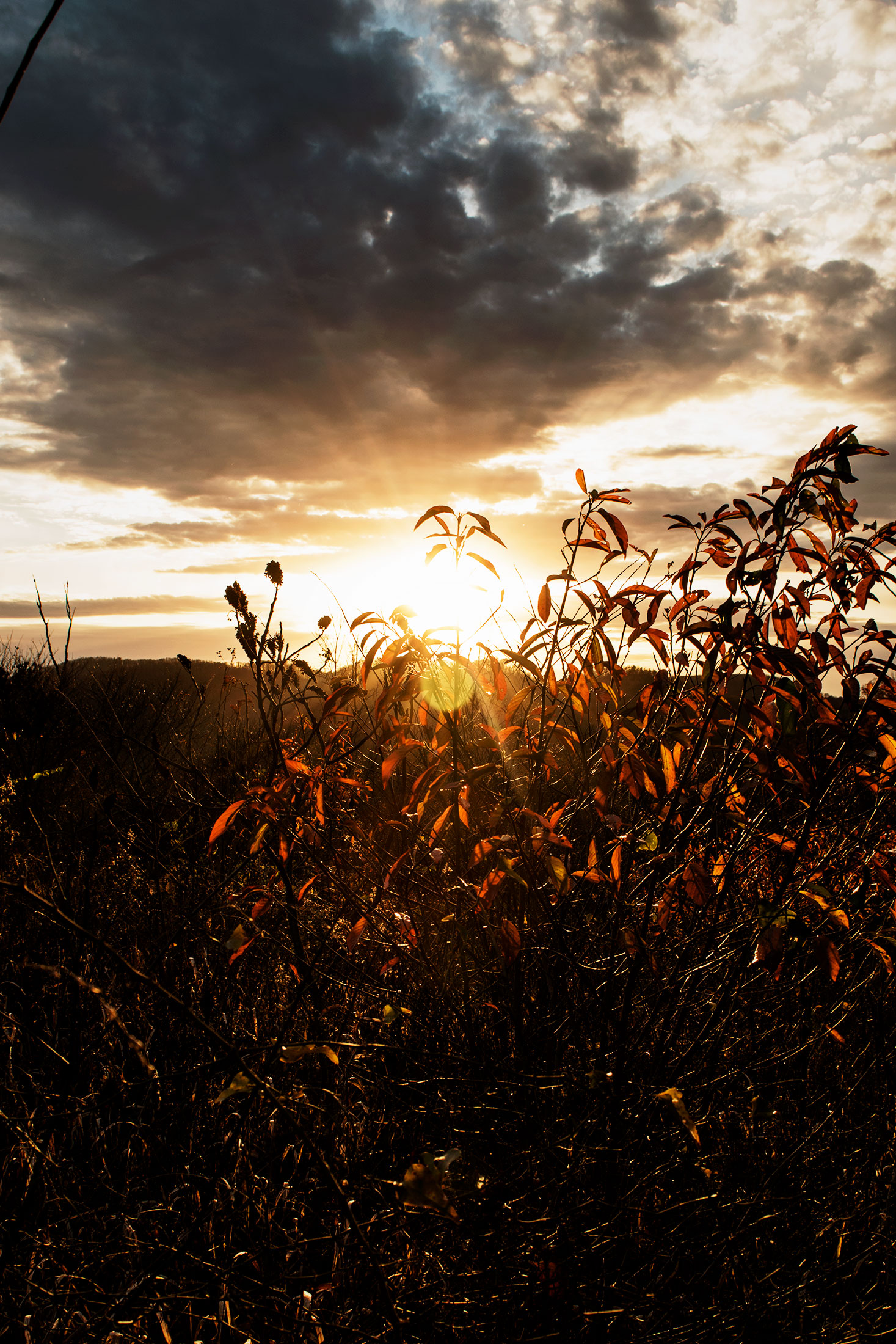 Follow Me on Instagram & Facebook:
If you're not already, please follow me on Instagram and like my brand new Facebook Page. I post on my social networks almost every day and you'll get updates when new gear reviews are posted here as well.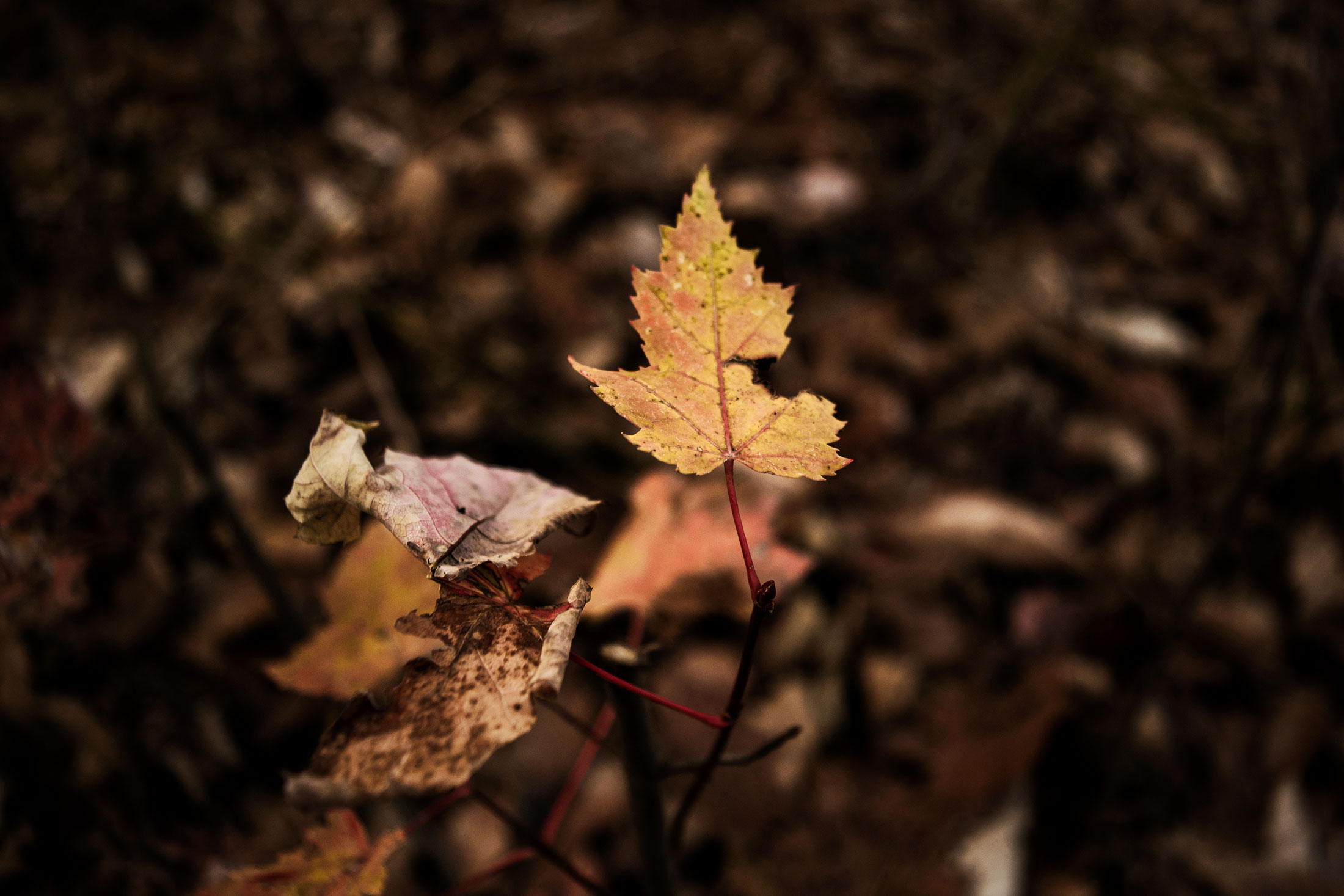 Looking to buy the Spyderco Bushcraft G10?
If you're looking to purchase this knife for yourself please consider purchasing through my Amazon link below. When you purchase through my link(s) I receive a small percentage of each sale, which helps me out in purchasing new products for reviews.
---