Welcome back to another gear review, everyone! I featured the Spyderco Sage 5 in one of my recent Monthly Adventure Gear Series articles. But I wanted to dive deep about this knife and let you all know what I think about it, in this full Spyderco Sage 5 Review.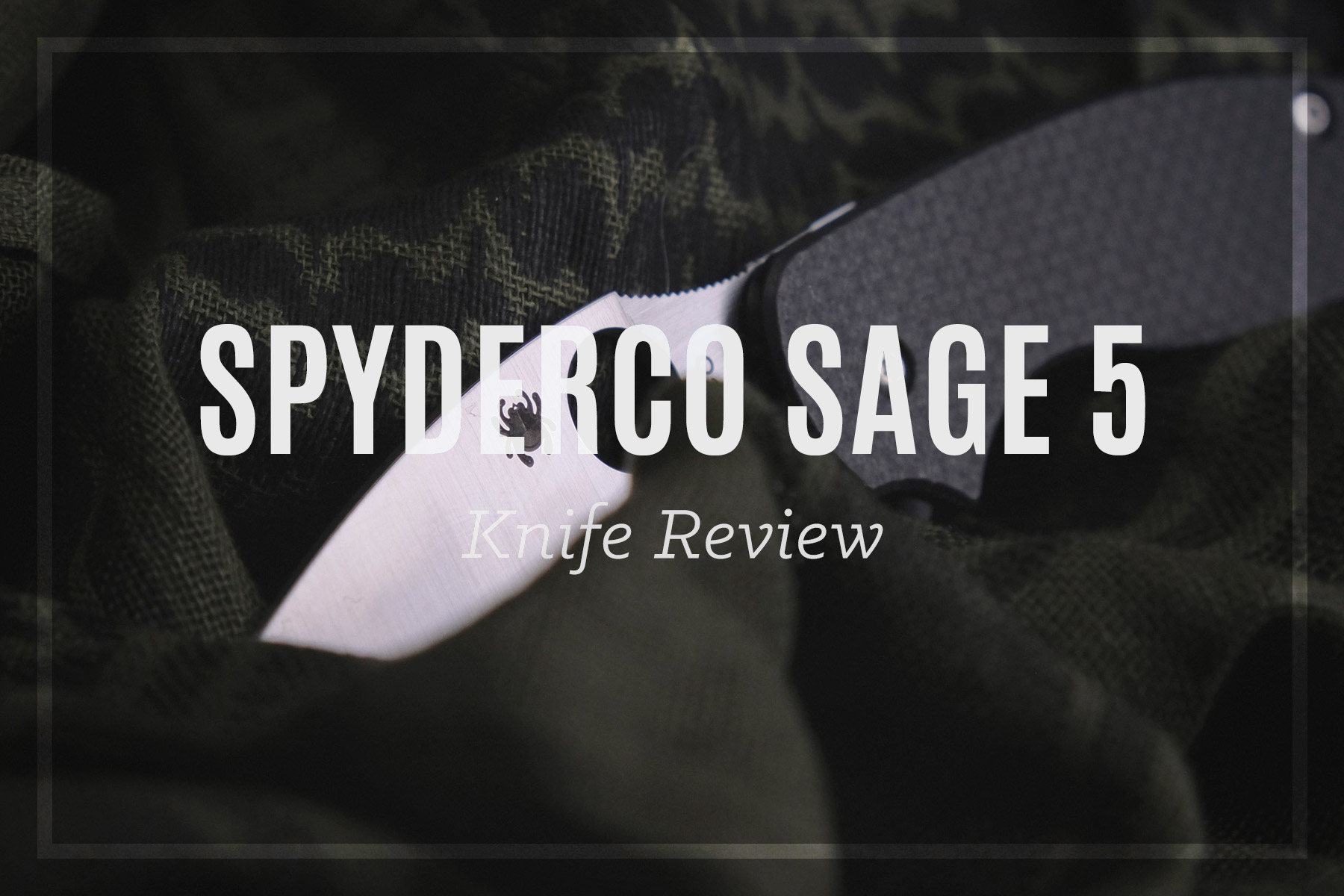 Spyderco Sage 5 Review
Back in April, as part of my Monthly Gear Series I showed you all the Spyderco Sage 5. I used this little knife exclusively through April, and a few days into May (ie: alternating no other knife into my EDC).
I performed all sorts of tasks with this knife, all of which are pretty common across the board for my everyday-carry chores. I opened packages (mainly Amazon Prime haha), I cut up veggies for dinner, cut rope at camp, whittled away at projects and plenty of other things along those lines.
I have to say up front – The Sage 5 by Spyderco quickly impressed me. I could tell within the first few days that this knife was going to be a winner.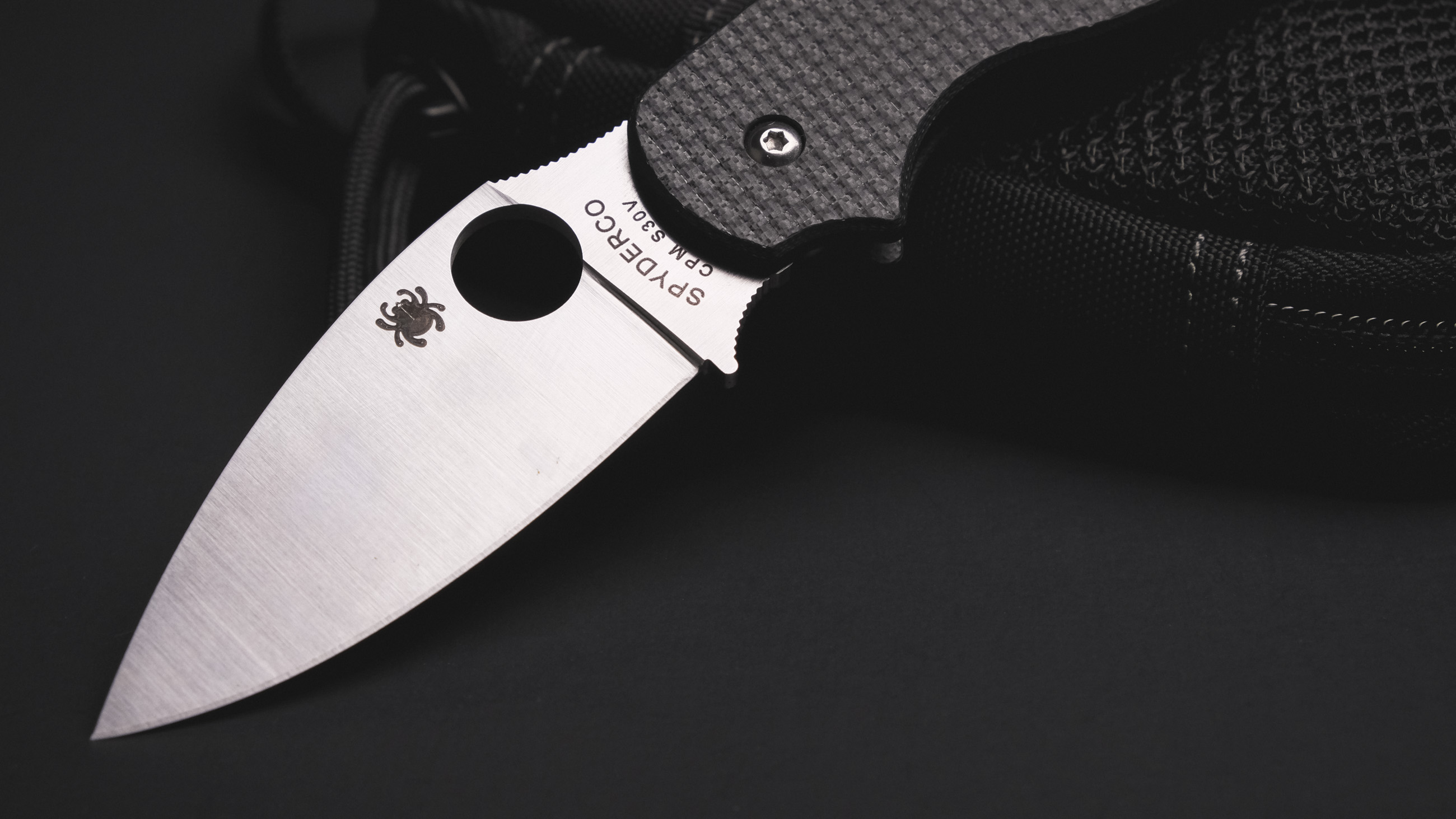 Spyderco Sage 5 Overall Ergonomics & Feel
This knife feels incredible! It's noticeably smaller compared to the Paramilitary 2 (more on this later), but it fills the hand well and allows you to get a nice 4 finger grip either in the forward choil, or behind it.
Speaking of the finger choil – I love when Spyderco adds these into their knives. I fell in love with them on the Paramilitary 2 and this knife is no different.
Moving on to the handles – The Sage 5 features carbon fiber/G10 laminate scales. And they feel phenomenal. They are less aggressive than typical G10, so you run no risk of tearing your pockets up. But, paired with the excellent gimping & finger choils they provide enough traction so you won't lose your grip.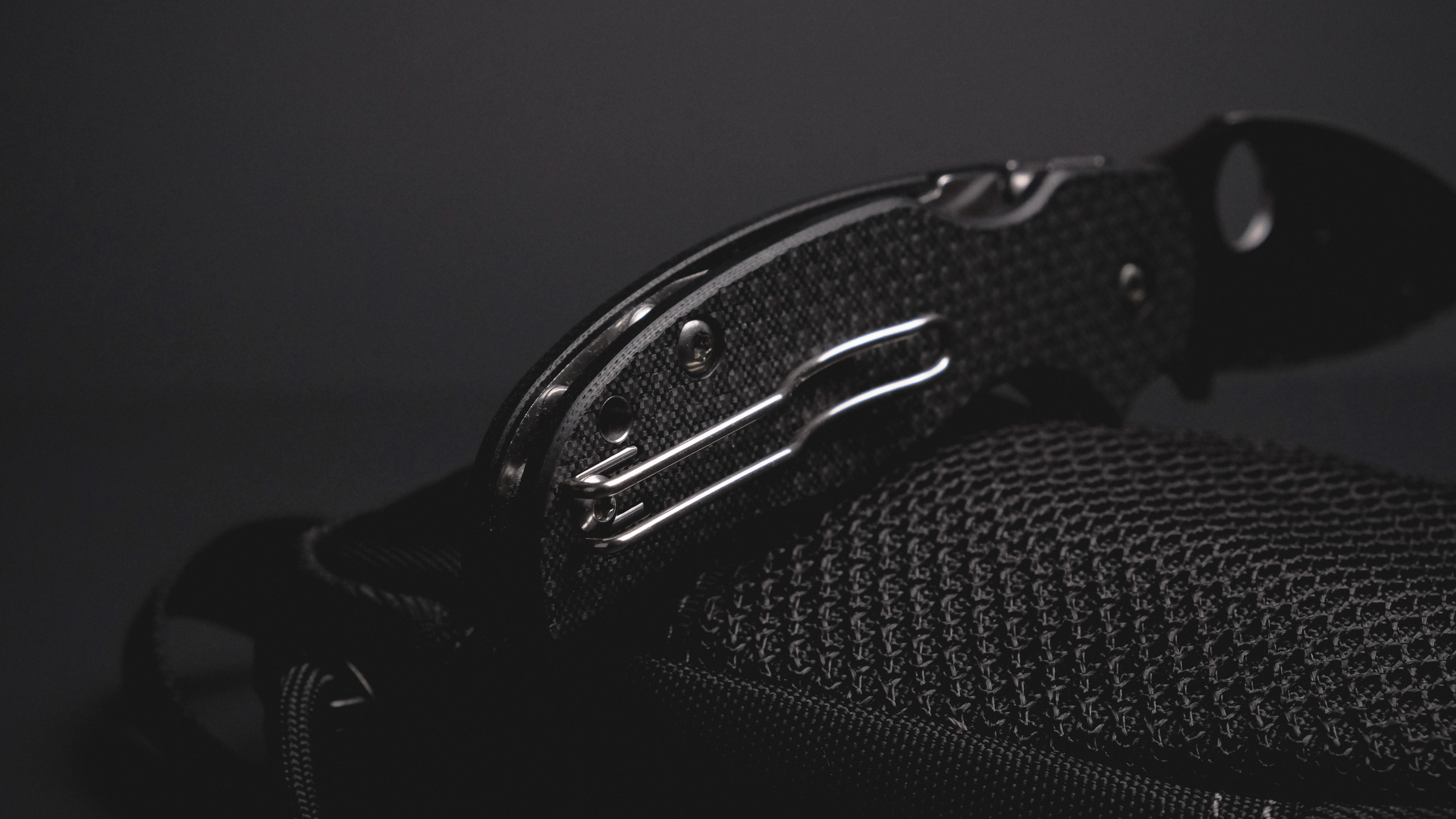 Spyderco Sage 5 Pocket Clip
The Sage 5 wire pocket clip is my favorite from Spyderco yet. It is a deep carry clip, meaning the knife totally disappears in your pocket. The wire clip is extremely minimal and non-obtrusive. Which makes it a real pleasure to use for extended periods of time. I know this clip wouldn't fit the intended use or aesthetic of every Spyderco, but I sure wish it would be included on more of their knives after using it on this one.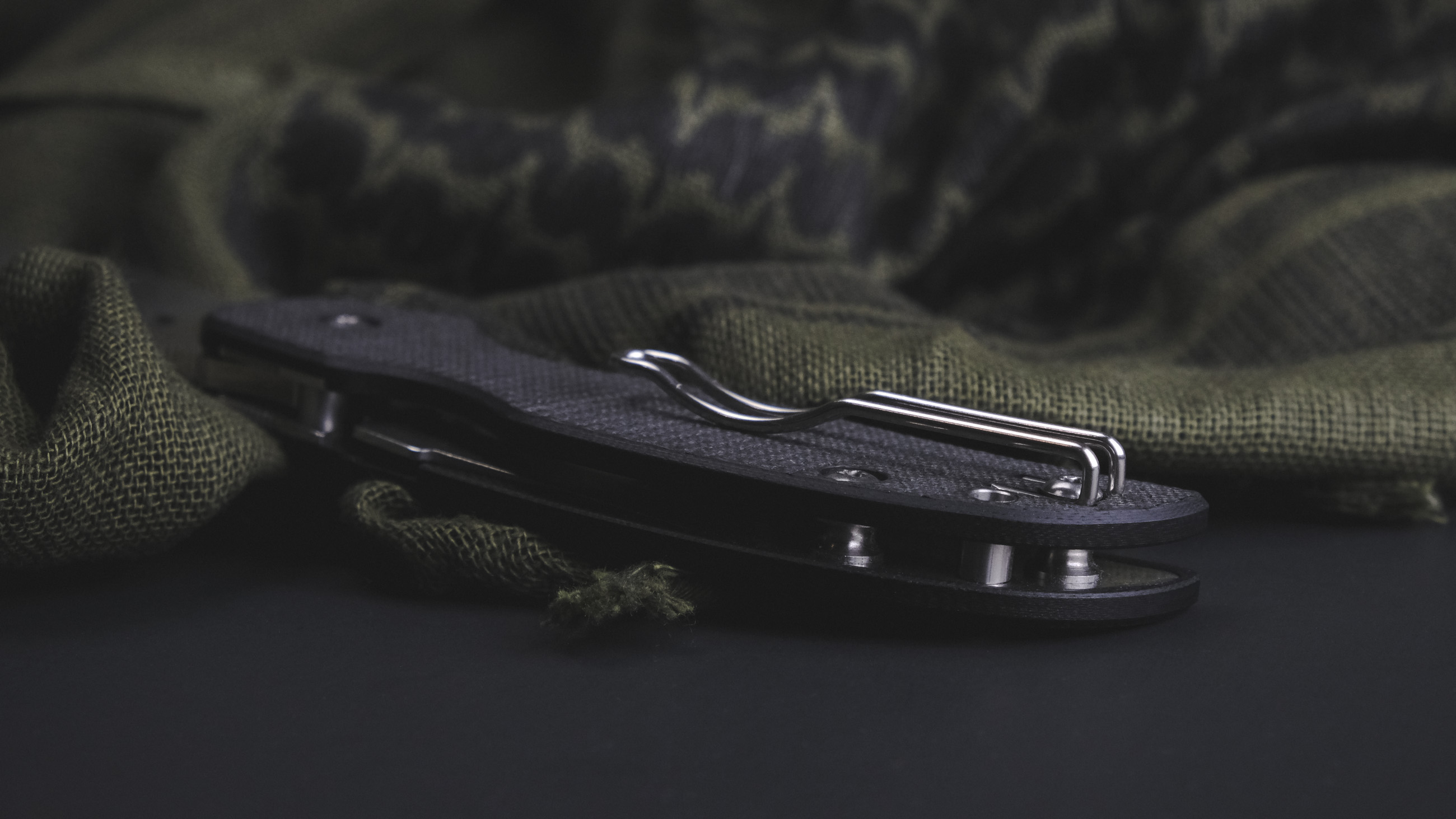 Spyderco Sage 5 Open Construction & Weight
I've mentioned this in past reviews, but I am a huge fan of open constructions on pocket knives. Not only do they reduce weight, but they allow you to clean out pocket lint and whatever else you encounter a lot more easily.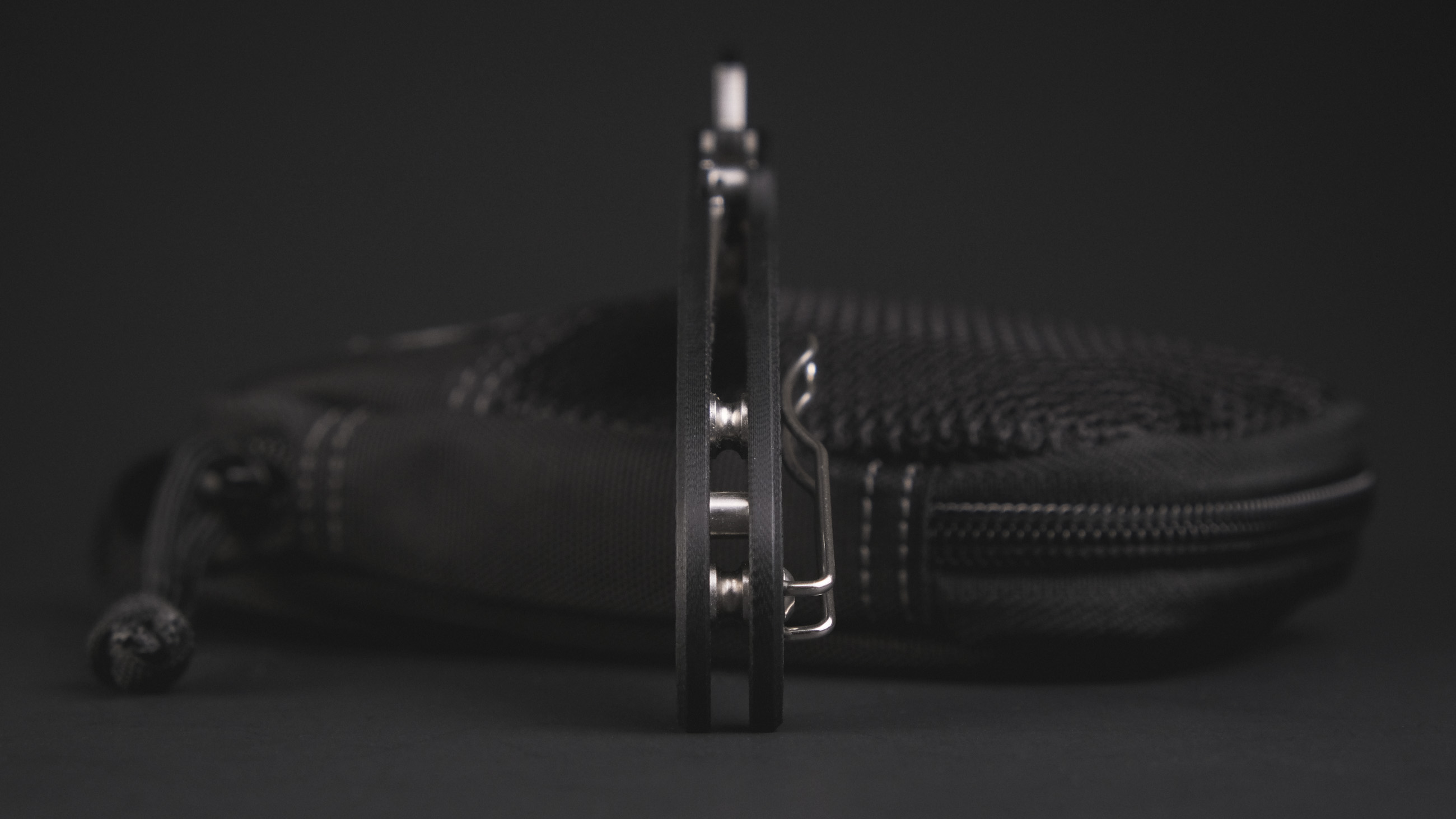 Speaking of weight, the Sage 5 is LIGHT! It is a mere 3.1 oz. I've come to really appreciate a lightweight knife, especially in the summer months.
Plus – Look at those back-spacers….It looks phenomenal!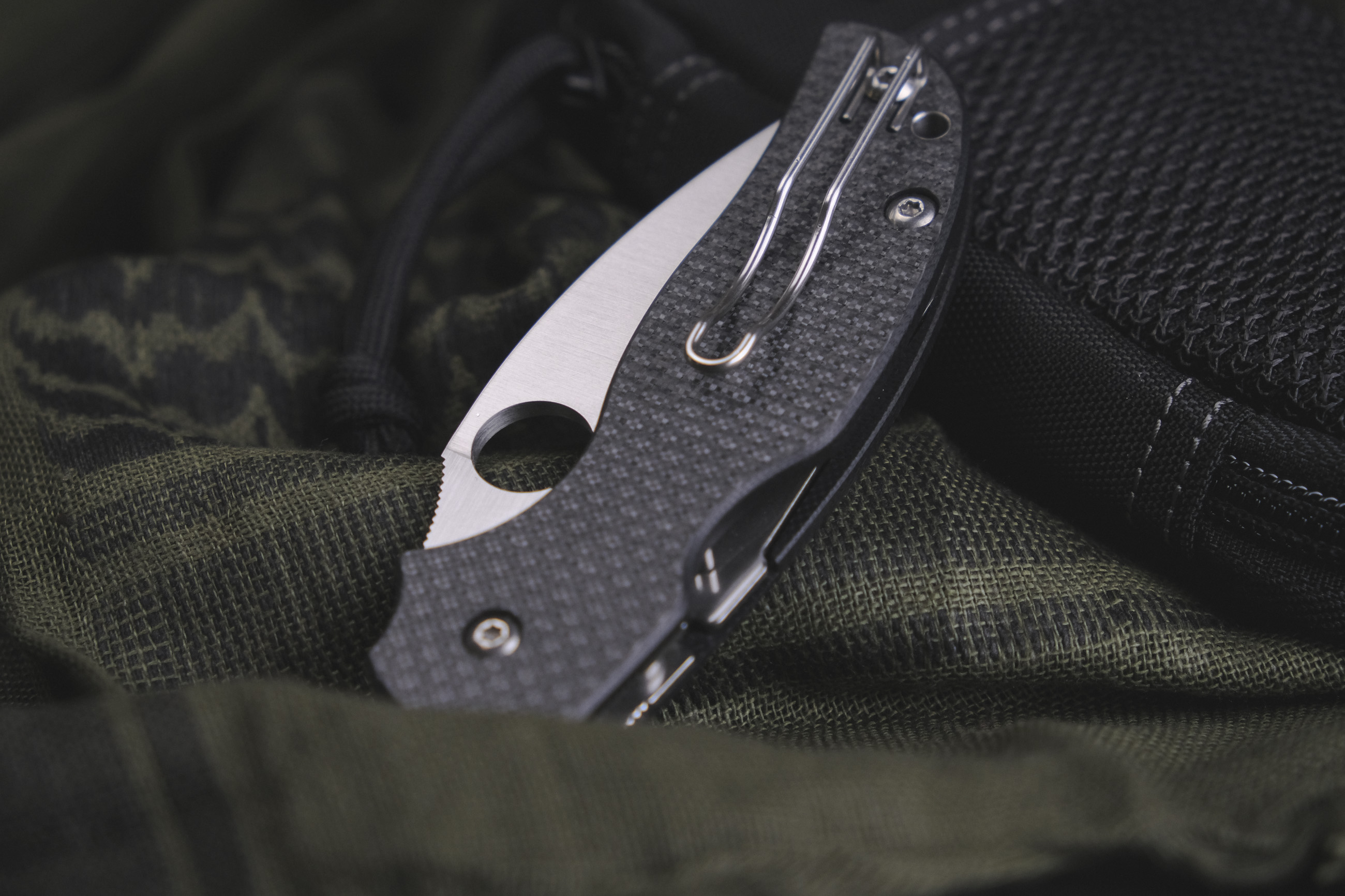 Spyderco Sage 5 Compression Lock
The compression lock by Spyderco is my favorite locking mechanism for an everyday carry knife. I became familiar with this locking system on the Paramilitary 2 and have loved it ever since. It is the perfect locking mechanism if you're seeking a knife that will allow you to operate it 1 handed.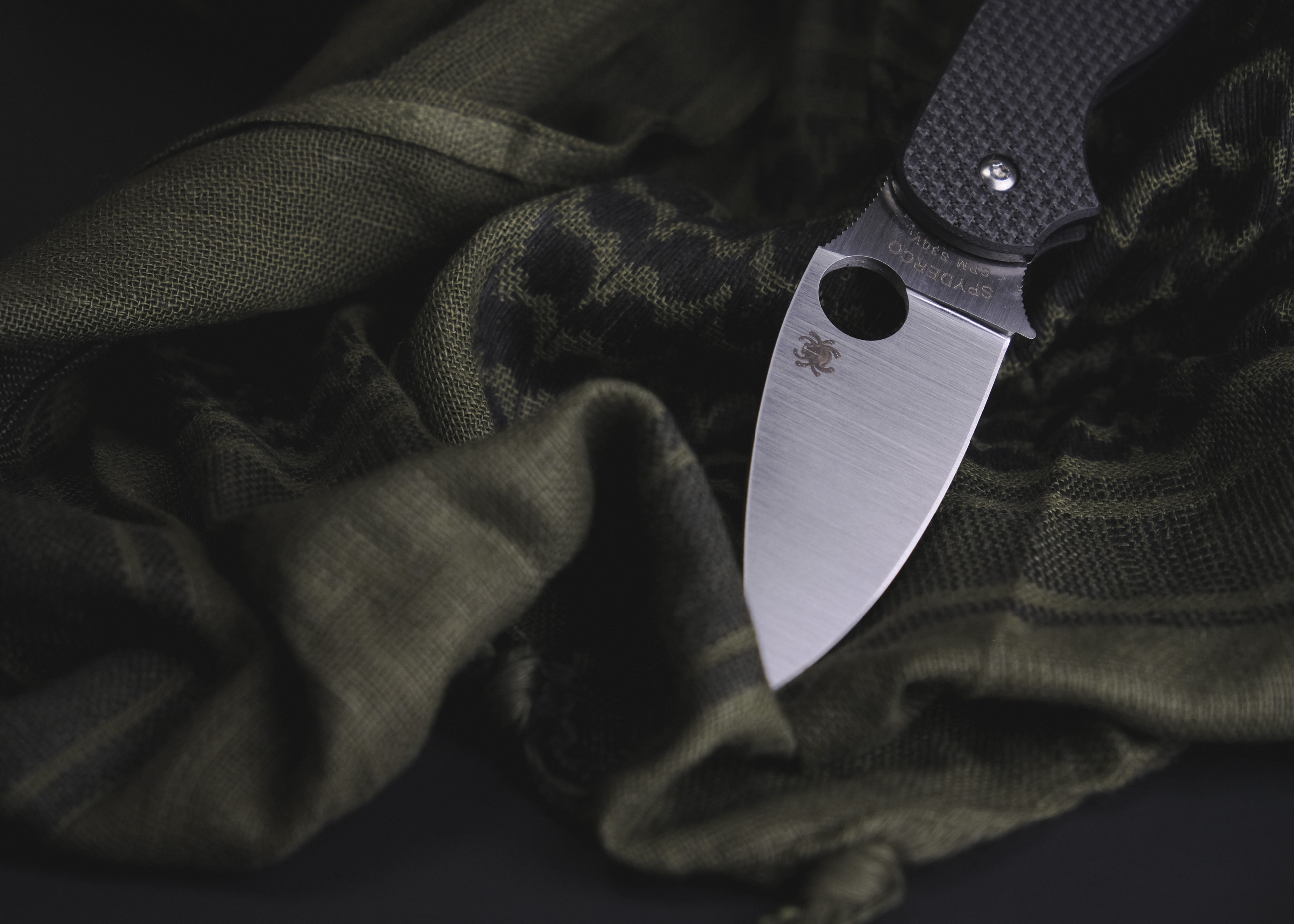 Spyderco Sage 5 Blade Steel
The Spyderco Sage 5 utilizes CPM S30V blade steel. Which is the same steel found in my Paramilitary 2. My experience with this blade steel has been phenomenal. In fact, during my month of testing with the Sage 5 I never once had to lay it to a sharpening stone. I only stropped it once. But other than that, it has held an immaculate edge and proved plenty sharp/resilient enough for 100% of the tasks I encounter on a daily basis.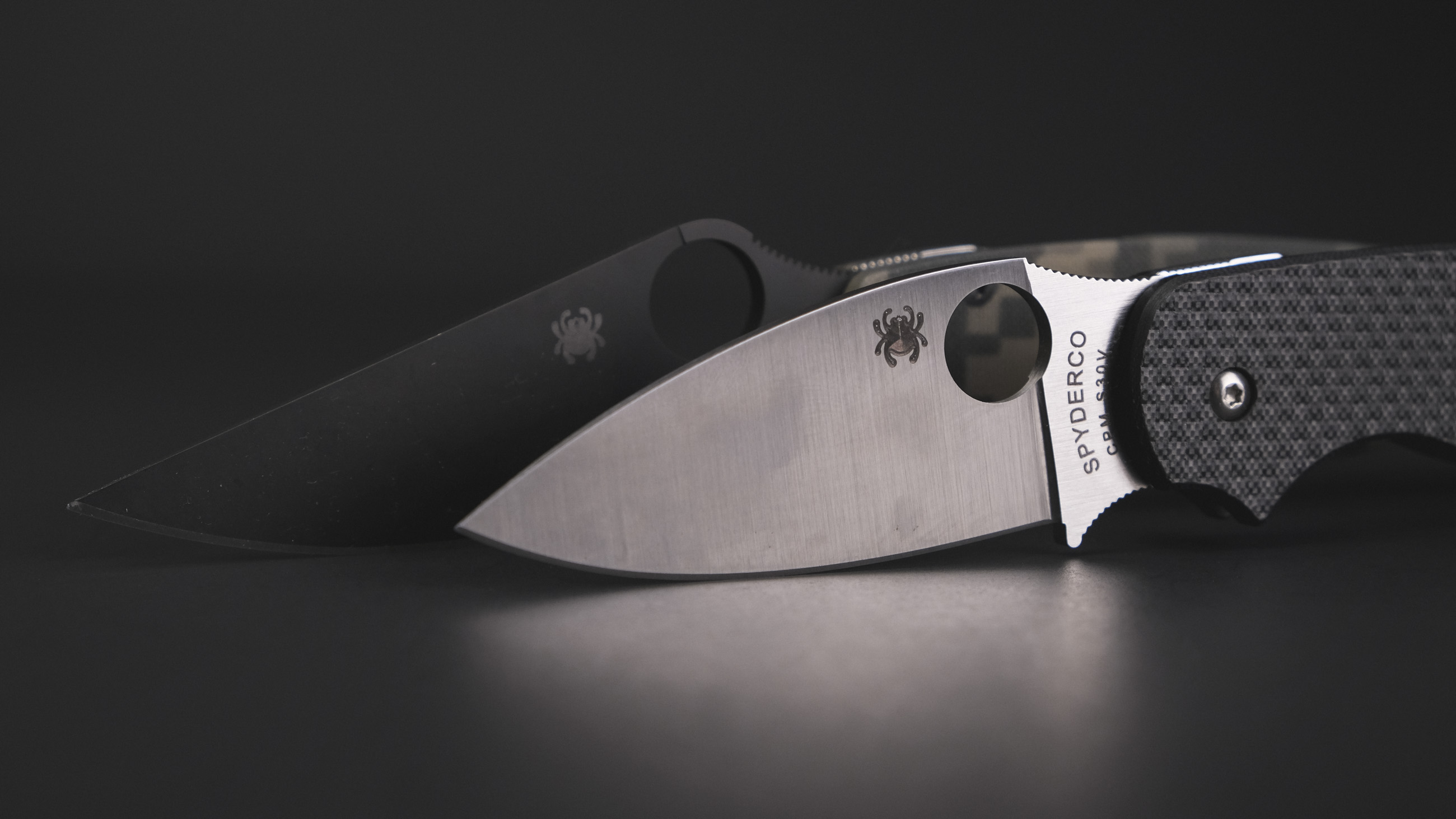 Spyderco Sage 5 vs. Paramilitary 2
Anyone that knows me, knows that the Paramilitary 2 is my favorite everyday carry knife. But has the Sage 5 took the coveted spot as #1 knife in my EDC rotation? I would have to answer, yes it has.
The Sage 5 boasts many of the same features that I love about the Paramilitary 2. Such as extremely durable/sharp blade steel (CPM S30V), the compression lock, forward finger choil, great gimping and overall ergonomics. But the Sage 5 kicks it up a notch for me. It is a bit lighter, slimmer/shorter, has a better pocket clip and is a little classier looking (which I kind of enjoy when I don't want everything to look so tactical).
I would absolutely still recommend both of these knives. In fact, they're my top 2 favorites from the Spyderco lineup. But I give a very slight edge (pun intended) to the Sage 5 as my favorite between the 2.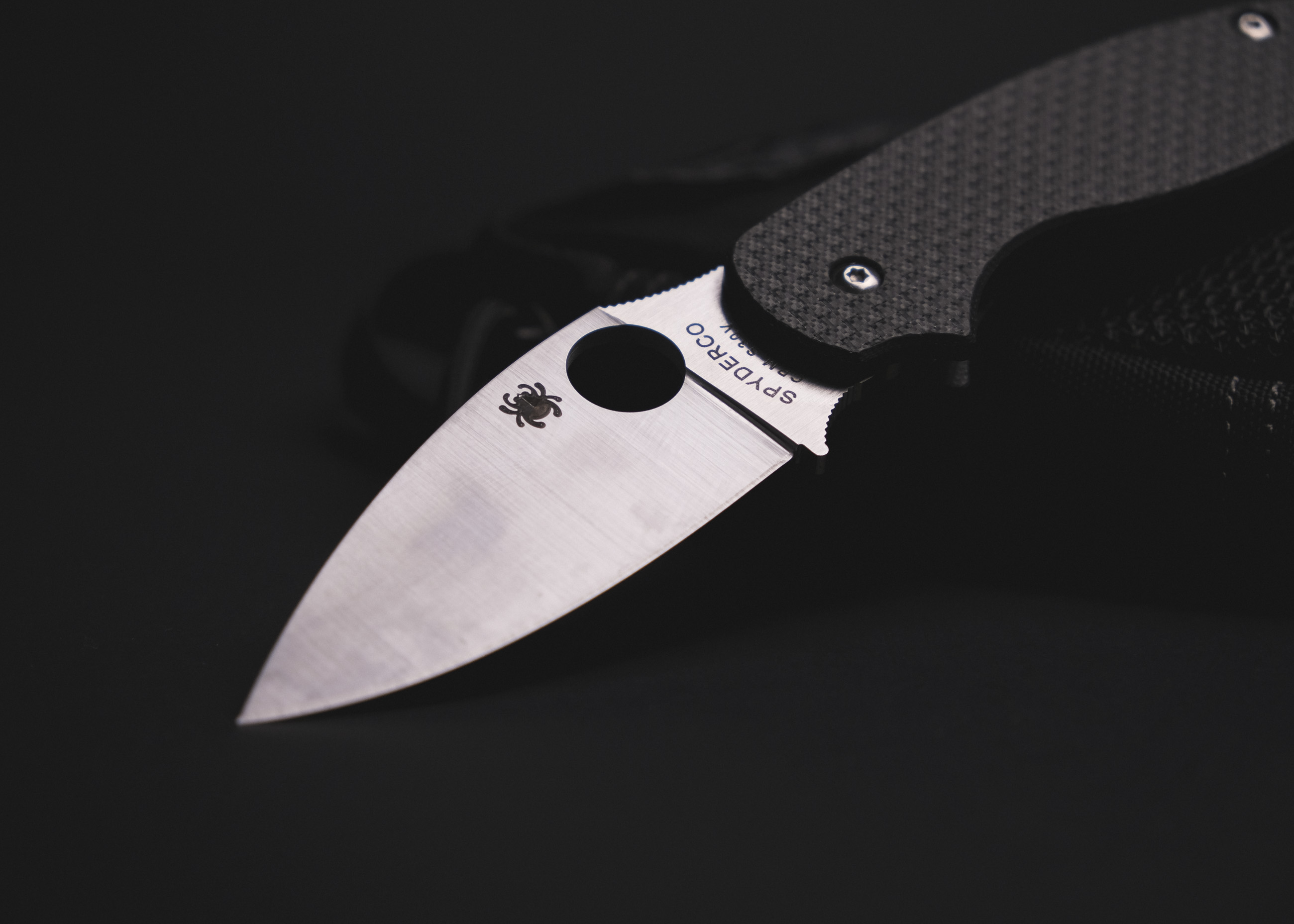 Spyderco Sage 5 (10 out of a 10)
I often times feel like I get too excited about a product that I test here. And I don't want to be guilty of throwing out a 10 out of a 10 review, all willy-nilly style. So, I try my hardest to be objective and find drawbacks on products. But I could not find anything that I didn't like about the Sage 5. This knife is perfect for everyday carry and it will be a favorite of mine for many years to come.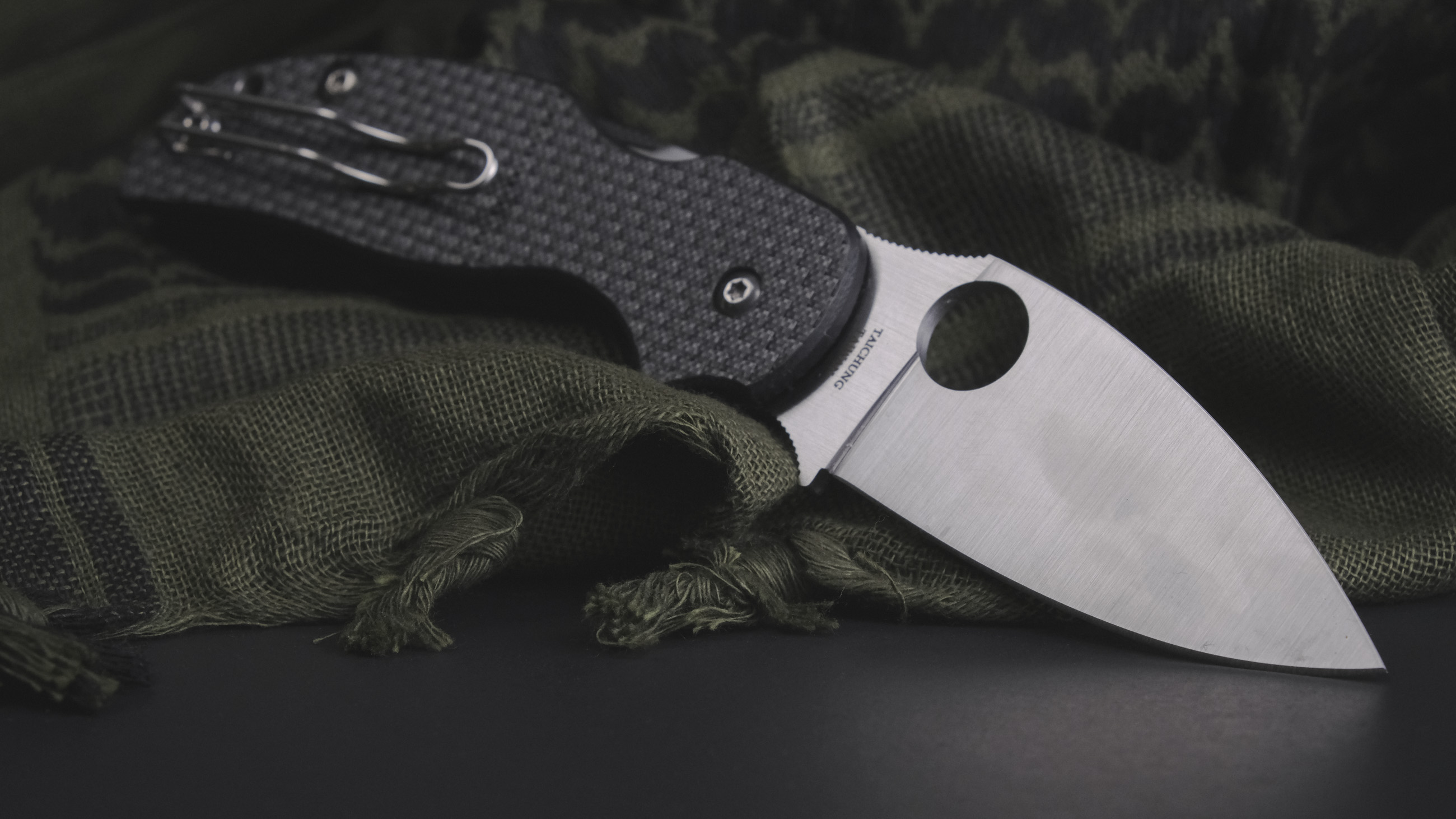 Follow Along on Instagram & Facebook


Looking to purchase the Spyderco Sage 5?
If you plan on buying the Spyderco Sage 5 please use my Amazon Affiliate Link below. Your support in purchasing from these links help to purchase future gear for reviews. And goes towards adventures/trips to test the gear.
---